Before settling into our rental condo in Vancouver, BC over the 4th of July weekend, we bypassed the city and continued north to the Sea to Sky Gondola.  We worked in Georgia's (our 18-month old) afternoon nap to occur right after crossing the US-Canada border (luckily she cooperated!) so we needed to continue driving to fill her sleep tank before a big afternoon and evening of exploring.
The Sea to Sky Gondola is located in Squamish, BC, about halfway between Vancouver and Whistler.  The gondola opened in 2014, and takes visitors from "sea level" at the Howe Sound to "sky level" at their Summit House in the mountains above.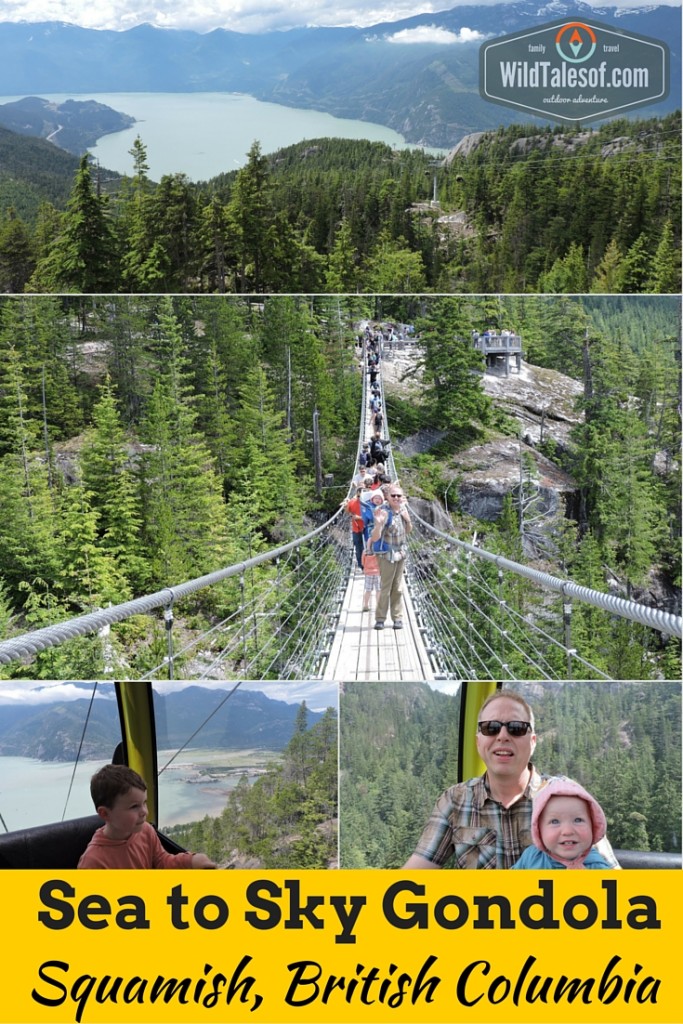 We suggest you factor a lot more time than we did into your visit, because there is so much to see and explore at the summit.  We only had about an hour before we had to head off to check into our condo rental, but still managed to fit in quite a bit. The ride up to the top is thrilling and almost gave me that stomach dropping roller coaster feeling as we glided high and higher.  All four of us were in awe of the view!
Upon reaching the top, we took some time to survey our surroundings, along with the rest of the visitors on this busy Saturday.  Next we opted to cross the 100 meter suspension bridge that connects the Summit House to the trail system and another viewing platform.  Slaed had Georgia in our Thule backpack, and she shrieked with delight as we made our way.  Bergen and Slaed thought it was a lot of fun to try to get the bridge to sway, while I on the other hand couldn't wait to get off!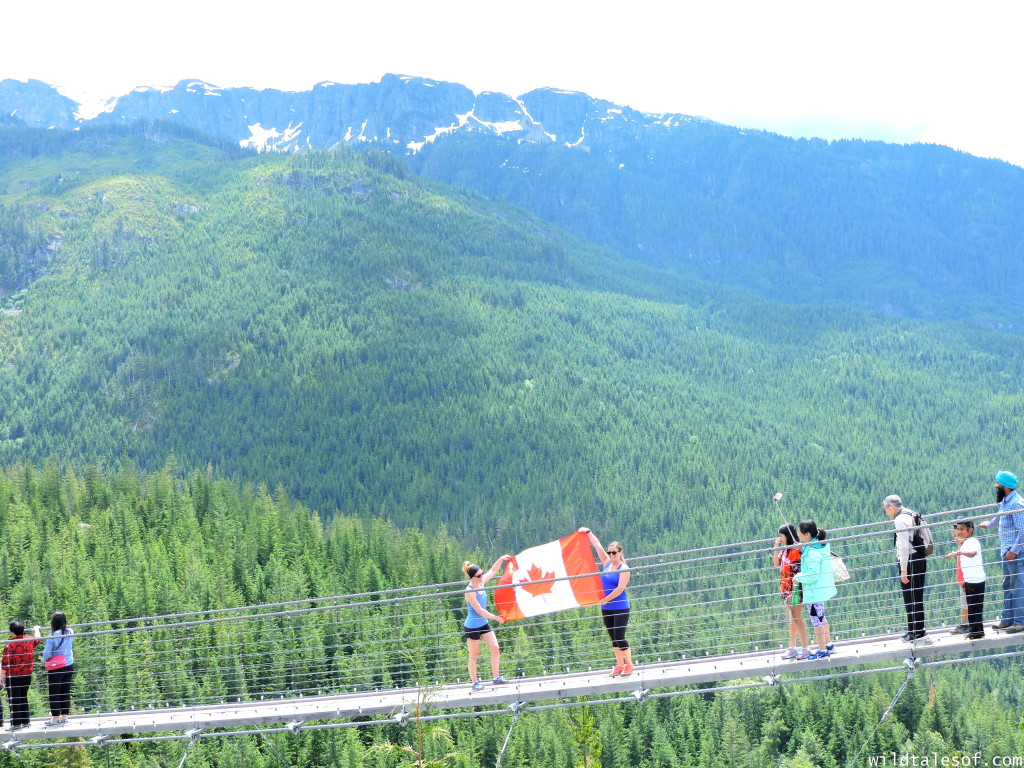 I barely stopped to take photos, thinking that I would suddenly lose my balance, and go toppling over the side of the bridge, and into the gap between ridges below.  This of course is completely ridiculous, as the bridge is actually quite safe and sturdy, but for some reason after birthing two babies, I've become a complete wimp!
Lucky for me, my wish of not having to cross back over the bridge to return to the main summit area came true, and as we wandered the trails, we saw that there was a way to walk around.  Along the way, we found a little play area where Bergen and I stopped and he attempted crossing one of the slack lines that they had set up.  As usual, when faced with a little challenge, he was determined to hold his balance for at least a portion of the slack line.  After a few tries, he actually took a few tiny steps! By then, Slaed was calling us back over to the Summit House to join him for a beer.  We watched the gondola cars go up and down, took in the view more, and then decided it was time to head down ourselves.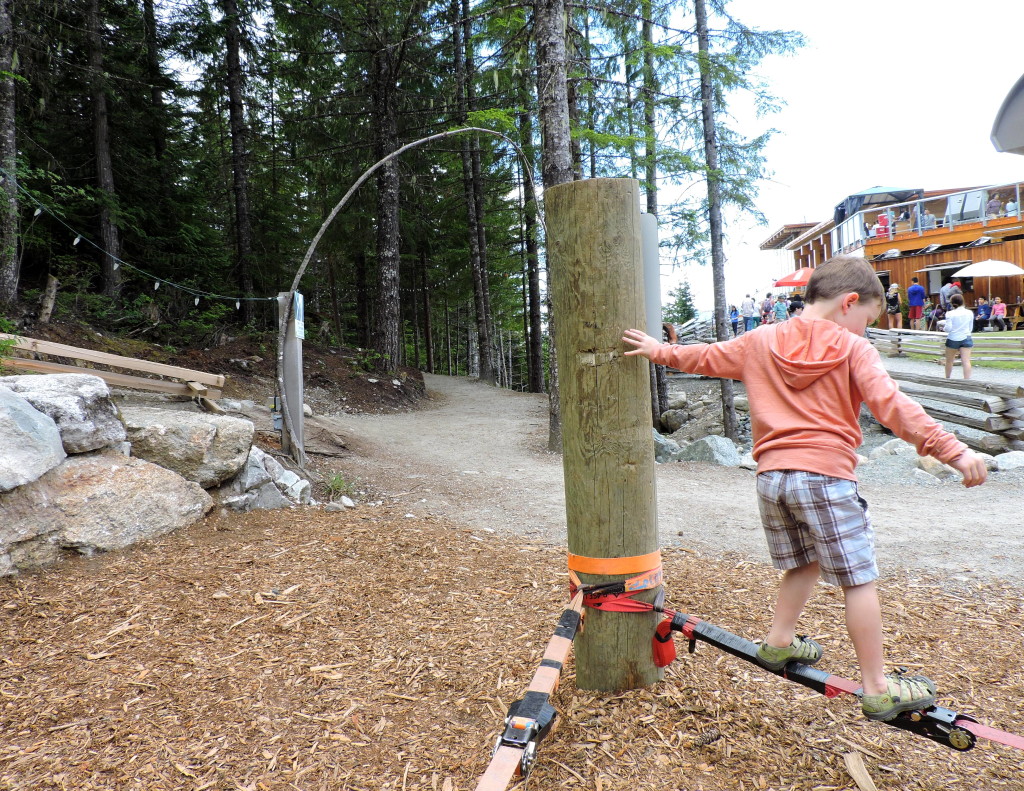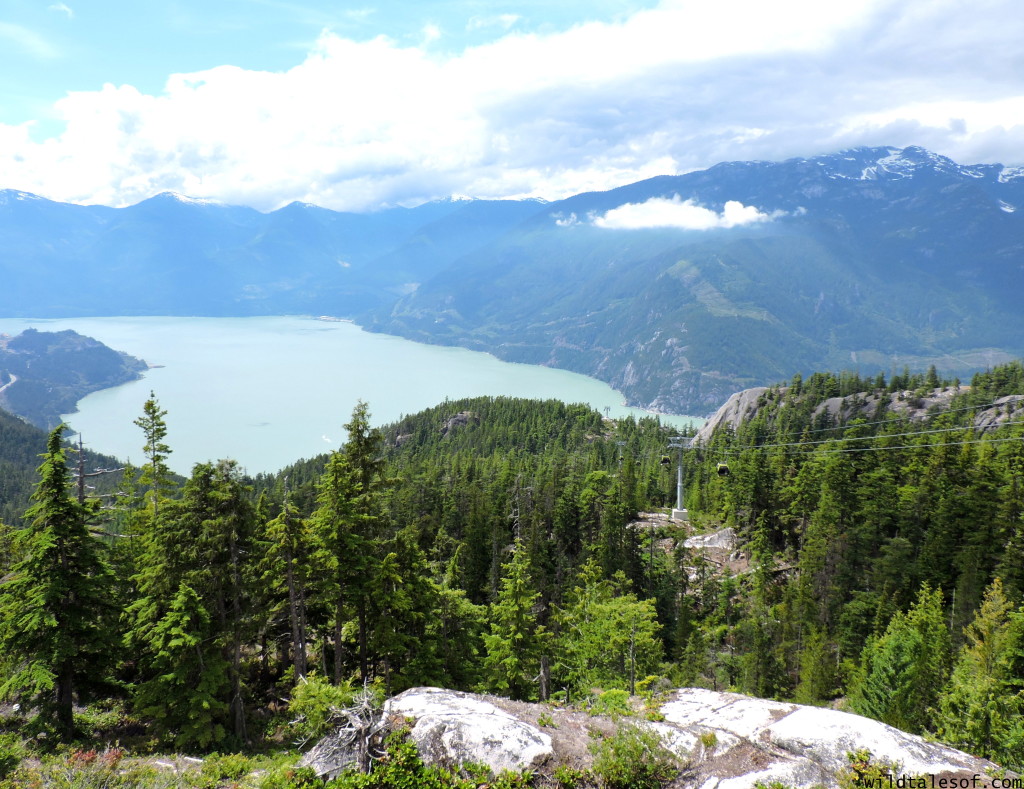 To my surprise, both on the way up and on the way down, staff aren't shy about packing the cars with more than just your "party".  After initially worrying and thinking our kids would disturb our fellow passengers, we learned that it was actually a lot of fun to enjoy the experience with others.  When you share something so special with someone, no matter who they are, you almost feel bonded, even for just moment.
When we reached the end, we weren't able to stick around much longer, but there is a coffee shop, gift shop, and playground for those with more time.  We will be back though! As I mentioned in my Vancouver itinerary post, we've already planned a return trip in the fall to do the gondola again, and also attend a Canucks Hockey game in the city.
To give you an idea of the experience at the Sea to Sky Gondola, I put together a video of the highlights:
Sea to Sky Gondola with Kids Info to Know:
The Sea to Sky Gondola is located in Squamish, British Columbia, approximately 1 hour from Vancouver:
Ticket Pricing:
Strollers are allowed on gondola cars, though we opted to carry our 18-month old in our Thule Hiking Pack.
Check their calendar for upcoming events!
Have you taken an aerial gondola ride? Tell us about your experience!
Special thanks to the folks at Sea to Sky Gondola for providing us with complimentary tickets in exchange for sharing our honest experience on the blog.  All opinions expressed here are my very own! 
Come join the conversation! You can keep up to date with each and every post by subscribing to the blog via email. We'd also love to have you join us on all of our adventures by "liking" our facebook page, following us on twitter, and exploring with us on Instagram! If you enjoyed this post, please "like it", "tweet it" or "pin it"! **Affiliate links are used in this post to direct readers to resources in our Amazon store.