While visiting Wenatchee, Washington last fall, we were treated to a wine tasting from Chateau Faire Le Pont, a winery in the north end of town close the the confluence of the Columbia and Wenatchee rivers.  We arrived in the late afternoon in order to beat the evening crowd, and take advantage of some free time before dinner elsewhere in the city.
Things can go terribly wrong when wine tasting with kids, if you're not prepared (our tips here), but our experience at Chateau Faire Le Pont was lovely, and I wanted to share a few of the reasons why this particular place felt special to me.  I know when we're back in town, I'll certainly want to stop back in, and maybe someday, we'll even have the pleasure of enjoying a meal in their dining room.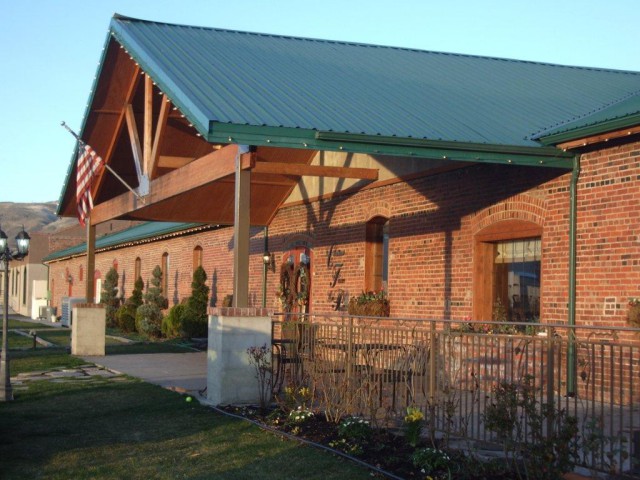 5 Reasons to Visit Chateau Faire Le Pont Winery
Beautiful Space.
Since Chateau Faire Le Pont is located outside of Wenatchee's charming downtown, and the building is a renovated 1920's fruit staging warehouse, you might not expect the space to be all that nice.  Not the case! From hand painting each and every brick on the inside of the building to the cozy two-sided rock fireplace that creates a center piece for interaction, the owners have taken great care in creating a pleasant place to enjoy wine.  And since we were visiting on a cold evening in late fall, we were merely scratching the surface of what the entire venue has to offer–gorgeous outdoor space awaits us for a spring and summer visit!
Casual yet Elegant.
I appreciate the balance of feeling like I was in a special place, without the feeling of stuffiness.  Nice enough to come enjoy a fancy dinner, but welcoming and relaxed enough to bring our 11-month old & 4-year old! We also had the chance to tour their basement cellar where all their wine is located and aged in french oak barrels. Such a neat space with murals painted by local artist, Sarah Morgan.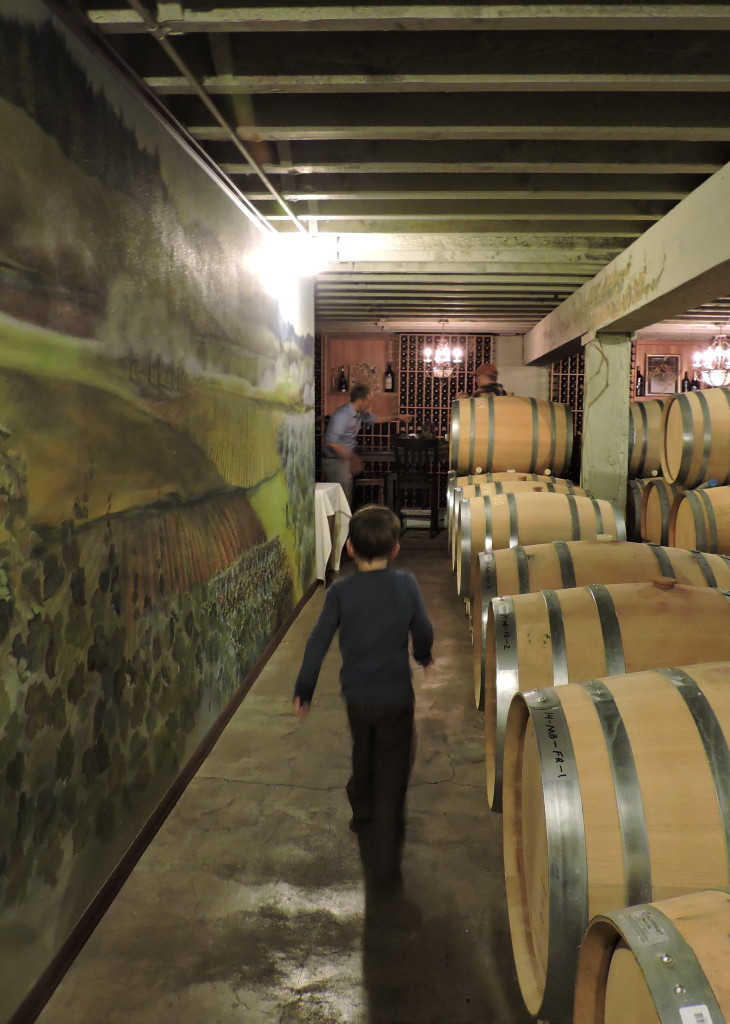 Knowledgeable and Enthusiastic Staff
So many tasting tidbits including flavor notes to expect when sipping, and the perfect meal, snack or dessert to pair with each variety were provided by our sommelier (wine steward)! She gave us so much food for thought, which really added to the experience making it much more interesting than the average tasting.
Kid & Pet Friendly
Our kids were welcomed from the start, and we felt comfortable with them at the tasting bar.  Georgia (11-months at the time) camped out in the baby bjorn and snacked on crackers while Bergen colored by the fire with crayons and coloring books that were provided by the staff.  We noticed that dogs are welcome as well, and the winery even has a a special "Yappy Hour" in the summer where dogs are free to hang out with their owners on the property, and money is raised for the Humane Society!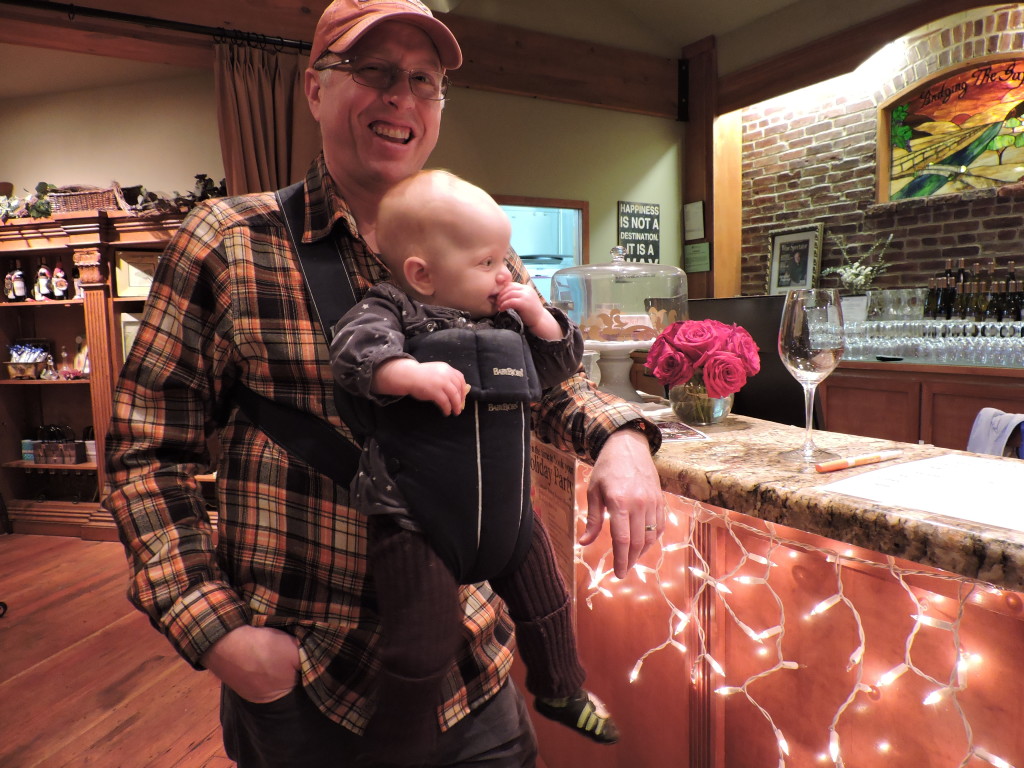 Excellent Wine!
Most importantly, the wine at Chateau Faire Le Pont is excellent! We often take home at least one bottle of wine when we go to tastings, and we had a hard time deciding which was our favorite! I really enjoyed the Sangiovese, but we ultimately decided on their Provence, which is a nice red blend with a good balance of fruitiness (berries, especially) with notes of dark chocolate.
Info to Know:
Chateau Faire Le Pont is located in a few miles north of downtown Wenatchee:

1 Vineyard Way
Wenatchee, WA 98801
509-667-WINE (9463)

Winery Days & Hours Open:

Sunday & Monday 11-6pm
Tuesday-Saturday 11-9pm

Restaurant Days & Hours Open:

Tuesday-Saturday Lunch 11-2
Tuesday-Saturday Dinner 5-9
(Closed Sunday and Monday)
Have you spent time in Wenatchee? Tell us about your experience!
Special thanks to the Wenatchee Valley Chamber of Commerce for setting up a complementary wine tasting at Chateau Faire Le Pont.  As always, all opinions expressed here on the blog are our own! First photo of the winery exterior is provided by the Chateau Faire Le Pont.