Due to it's close proximity to our home in Seattle, we usually explore Snohomish County, Washington via weekend day trips.  Less than an hour, depending on our specific destination, north of us, we can enjoy all the culture, recreation, shopping, and outdoor adventure the region has to offer, and still get home for naps or bedtime.
Last fall though, we got to do something a little different. We actually stayed the night! As I mentioned in my recent staycation post, planning a trip close to home has so many benefits.  One of those benefits is that you get more time to enjoy the destination.  We were able to pack so much fun and adventure into a short weekend in Snohomish County! Today I'm sharing our family friendly recommendations for things to do (indoors and out), places to eat and drink, and where to stay.
A note before we start: Snohomish County, Washington is quite a large area (over 2,000 square miles), so this is by no means an exhausted list of all the area has too offer! We're just scratching the surface of this rich region.

Play and Explore Snohomish County, Washington
Imagine Children's Museum
Located in downtown Everett, Imagine Children's Museum has so many unique exhibits that encourage families to actually play together! One of Georgia's (nearly 2 at the time) favorite was the "Imagine Air-7CM7, which is an airplane with tons of interactive capabilities.  Besides pretending to fly the plane, kids can load luggage onto the cargo belt and practice their plane etiquette as passengers! Bergen (5 years old) couldn't get enough of the mini golf course and construction zone. My favorite area in the museum is their Rooftop Adventure! It's an outdoor play space that's all about exploring with a special emphasis on paleontology. Imagine often has special events, there was a Halloween-themed event when we were there, and discount or free opportunities, so make sure to check their website before you go!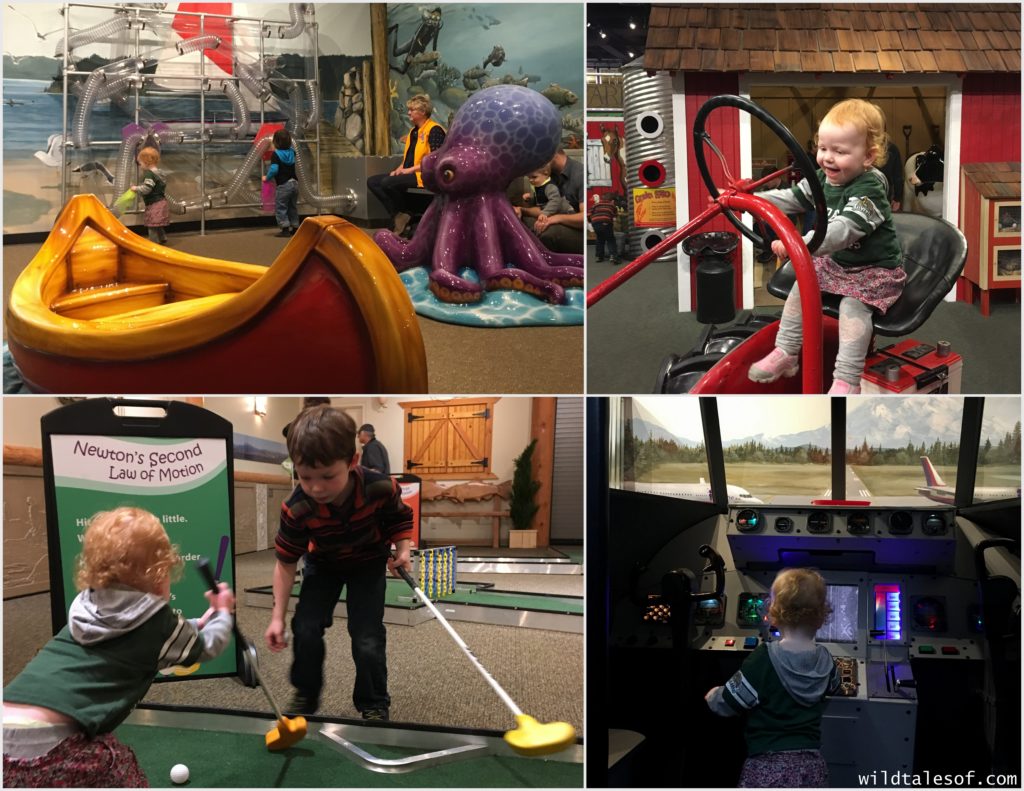 Schack Art Center
You might think twice about bringing two little kids into an art center featuring glass art, but even for just a few minutes, the Schack Art Center is worth your time to stop in! Bergen was mesmerized watching the blown glass artists at work, and it was neat for him to be able to see what a finished product would look like through their amazing displays. Admission is free and there are also classes available and other special events, so check their website! Schack is located just down the street from the children's museum on Hoyt Avenue in downtown Everett.
Altitude Trampoline Park
This was our first experience with a trampoline park, and I was so impressed with the facility and staff at Altitude (located in Marysville).  While Georgia napped back at the hotel with Slaed, Bergen and I got to have a special mother-son adventure.  We had a blast jumping around, and participating in their activities including basketball, jousting, and diving into their big foam pit.  Safety is a big concern here, and I noticed that the staff does a really good job of keeping participants protected from accidents.  There is also a designated area for younger children, and an area for parents to just relax while their kids play, though I was having so much fun with Bergen I didn't use it! Great way to burn off some energy on a rainy day.
Hibulb Cultural Center
The Hibulb Cultural Center is located in Tulalip, about 10 minutes north of Everett.  This is a gorgeous space that allowed us to dive right into the history and traditions of Snohomish County's first residents.  The center does an amazing job of engaging it's visitor's through interactive exhibits, beautiful artifacts, and research library.  Kids are welcome here.  Bergen and I particularly enjoyed their temporary exhibit dedicated to color and it's impact on people, which is geared toward children from preschool to third grade.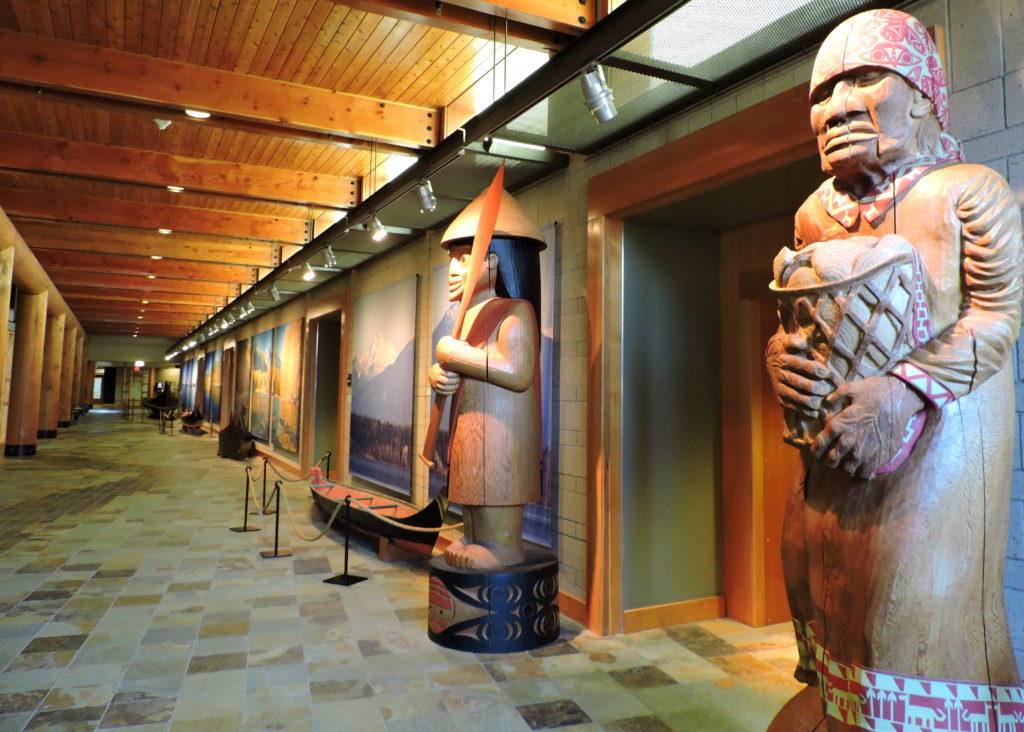 Everett Silvertips Hockey
Part of the Western Hockey League since 2003, the Everett Silvertips provide a family friendly atmosphere to watch this entertaining sport  The games can get loud, especially when the 'Tips score, so kids sensitive to noise might need ear protection.  Our kids have always been delighted by the experience, we try to attend a game at least once a season.  Some games are more family-friendly than others, so check the schedule for earlier start times and kids activities available during intermissions.  Not visiting during hockey season, but still interested in sports? Everett's minor league baseball team, the Aquasox play throughout the summer.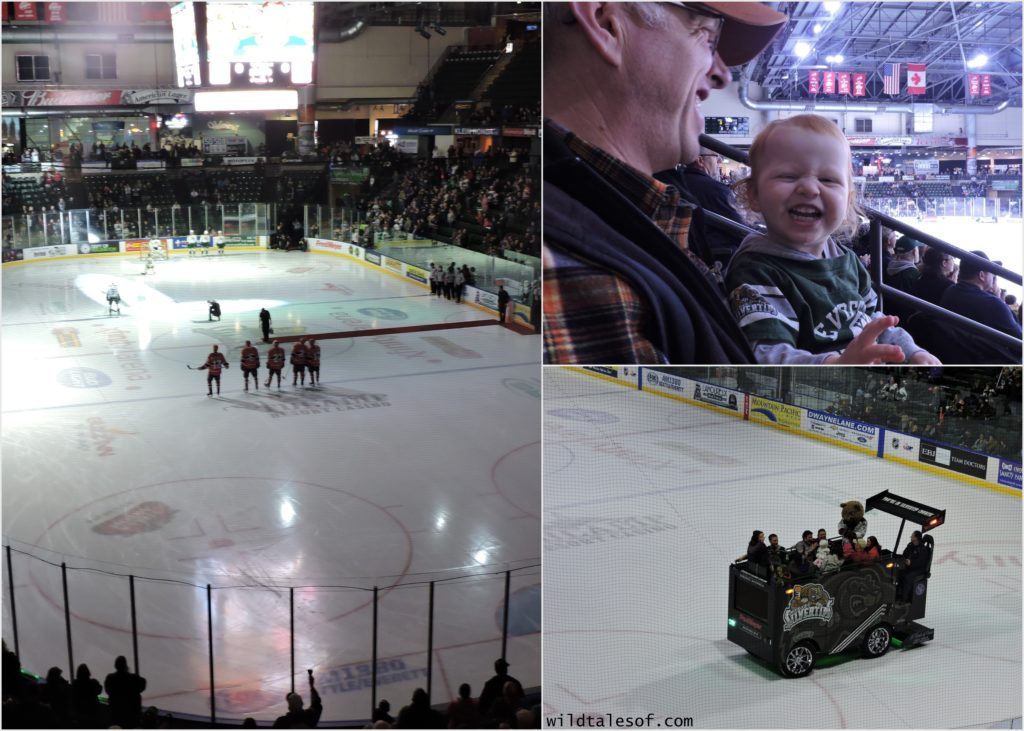 Town of Snohomish
Downtown Snohomish has so much charm and beauty! The town is well known for it's numerous antique shops, which to my surprise was something I could actually enjoy with my 5-year old! Bergen loved looking at old collections, and learning about things used in the "old days" such as typewriters and telephones with cords. There's also a lovely walking path along the Snohomish River accessed right from Main Street.  See our food and drink section for eateries not to miss.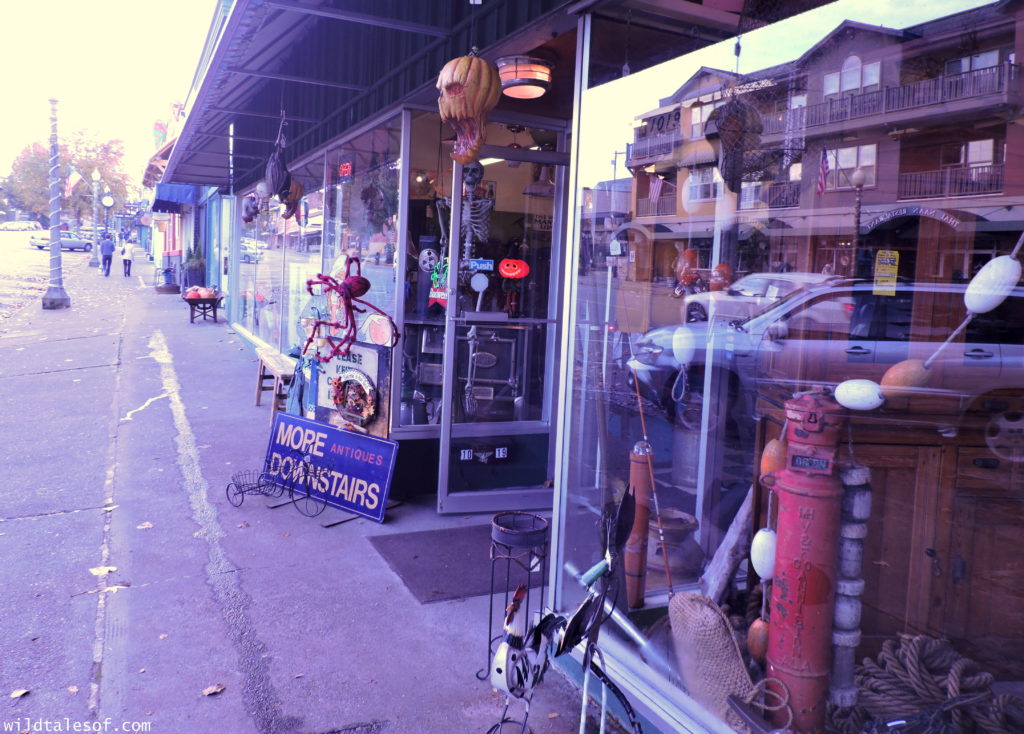 The Farm at Swan's Trail
A visit to the Farm at Swan's Trail in the fall is a must.  We've visited almost every year since Bergen was a baby, and I'm always impressed with everything there is to do.  Apple picking, pumpkin patch, farm animals, hay rides, duck races, shows, and a 12 acre corn maze themed after Washington State are just the beginning! We also love the fall treats served at their bakery.  Just thinking about their tasty pastries and hearty chili makes me wish it was fall again! On clear days, yes they do exist here in Western Washington, the views of the surrounding mountains are amazing.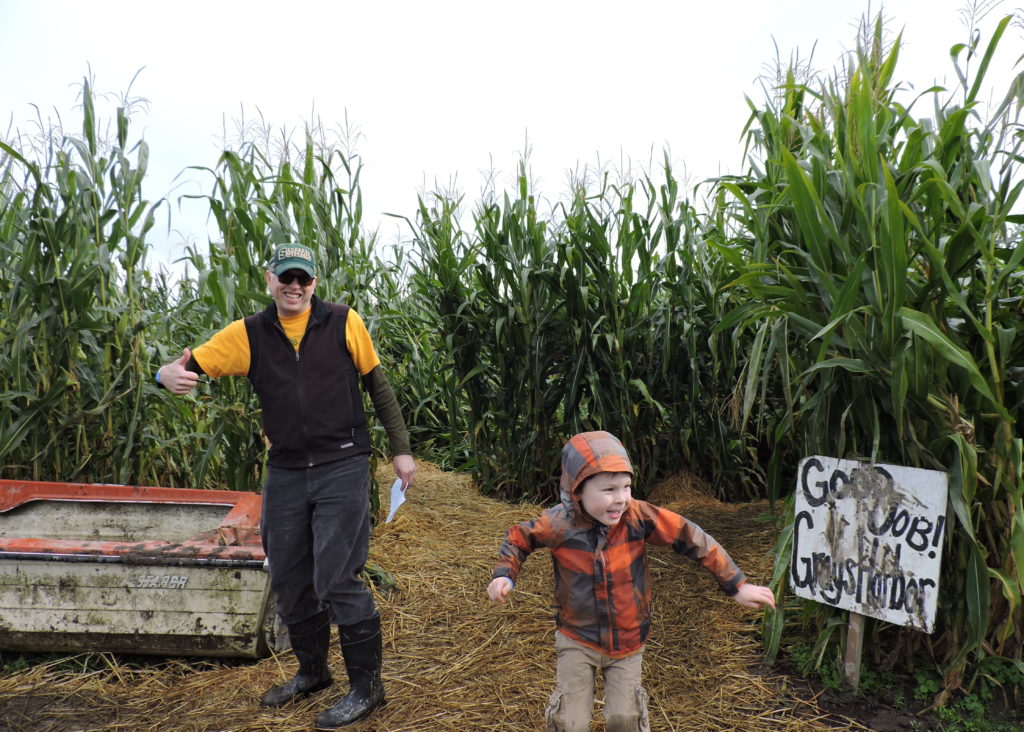 Hike:
Snohomish County has countless parks and hiking trails for families to get outside and explore the natural beauty of the region.  Here's a sampling of trails and parks we love: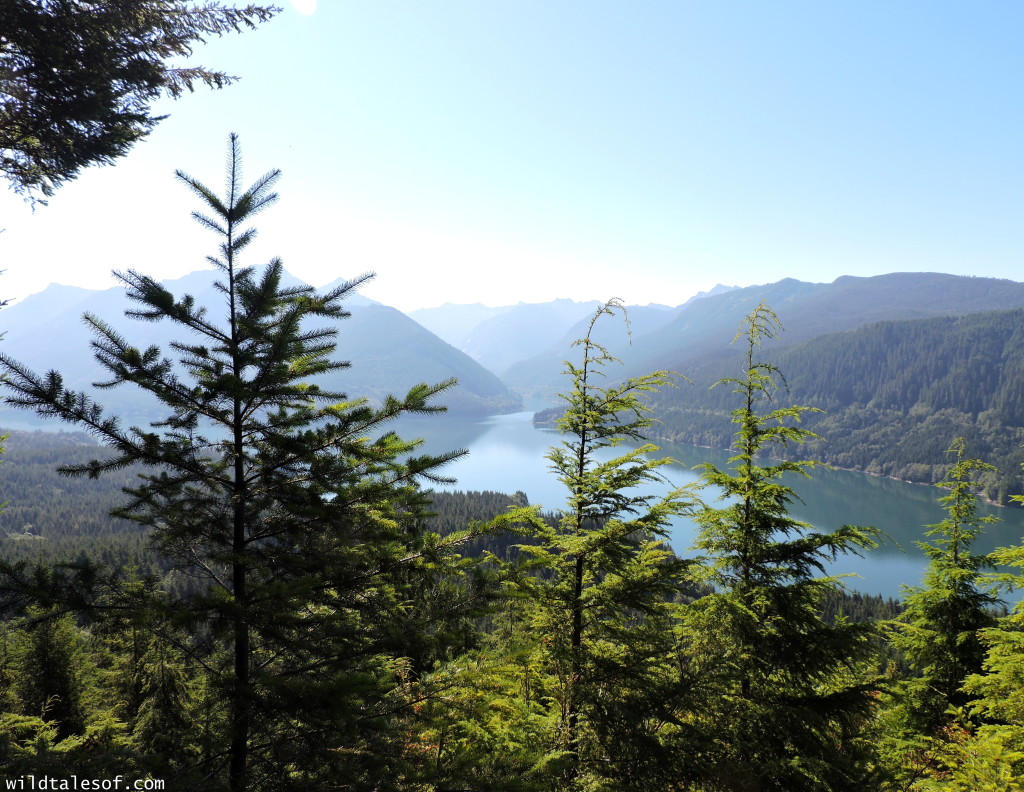 Eat and Drink Snohomish County, Washington
Scuttlebutt Brewing
Boy were we relieved when we finally arrived at Scuttlebutt! We made the mistake of walking…in the rain from our hotel to the restaurant thinking it was just a mile a way.  Turns out it's almost 2 miles! We were welcomed in right away, and treated to excellent service.  Our food came quickly, and our server was great about allowing us to try out a couple of the beers before settling on a pint.  In case you're wondering, we both loved the Golden Mariner–a very Pale Ale that we ended up liking so much that we bought a few bottles to take home.
We went the seafood route for this visit to Scuttlebutt, but their wide selection of burgers look super tasty! Starting the meal with steamed clams warmed us right up thanks to the delicious broth made with white wine and garlic.  Bergen and I enjoyed their buttery fish and chips, and Slaed was quite pleased with his tiger prawns.  Scuttlebutt has a great (and inexpensive) kids menu, which to Georgia's delight has a delicious bowl of macaroni and cheese!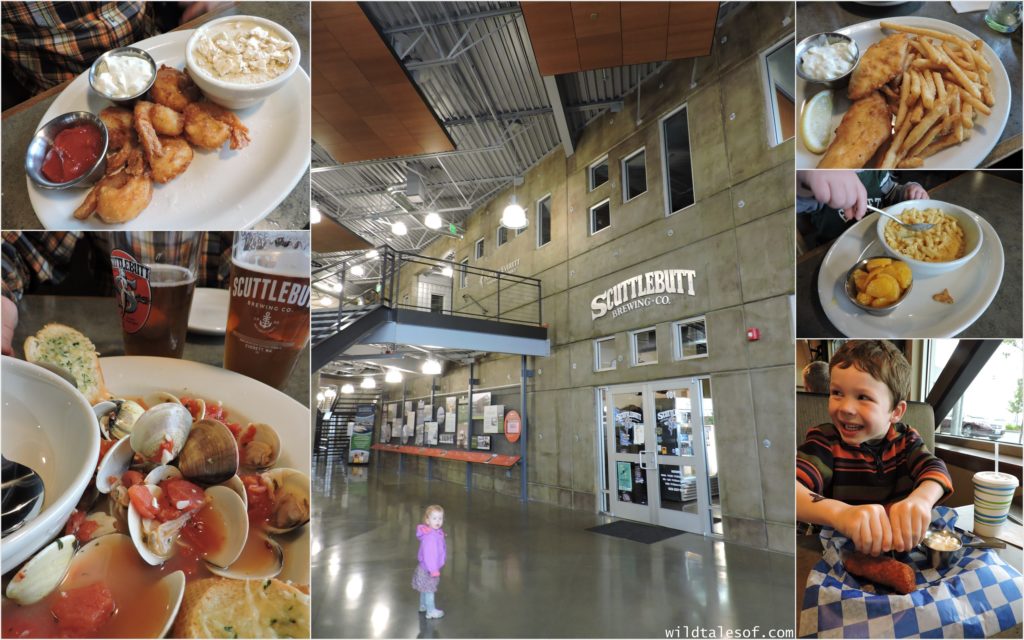 Kama'aina Grindz
If you are looking for a unique dining experience that's casual, kid-friendly, and full of amazingly flavors, you'll love Kama'aina (means "child of the land" in Hawaiian) Grindz, a Hawaiian Asian fusion restaurant.  We were on cloud-9 the moment we stepped in the door.  The staff was so warm and inviting, and knowing we were just a few weeks away from our actual visit to the Hawaiian islands, we soaked up all the Aloha they had to offer.
We opted to order several things, and dine family-style.  Some of our selections included poke, loco moco, spam musubi (spam+rice+nori seaweed)–all delicious and loved by the whole family.  We were also treated to their Hawaiian sweet bread "break-sert" (breakfast/dessert), which combined all that you could love about fall and Hawaii: french toast bites topped with five-spiced pumpkin mousse, toasted coconut clusters and drizzled with a pineapple mint syrup–Yum!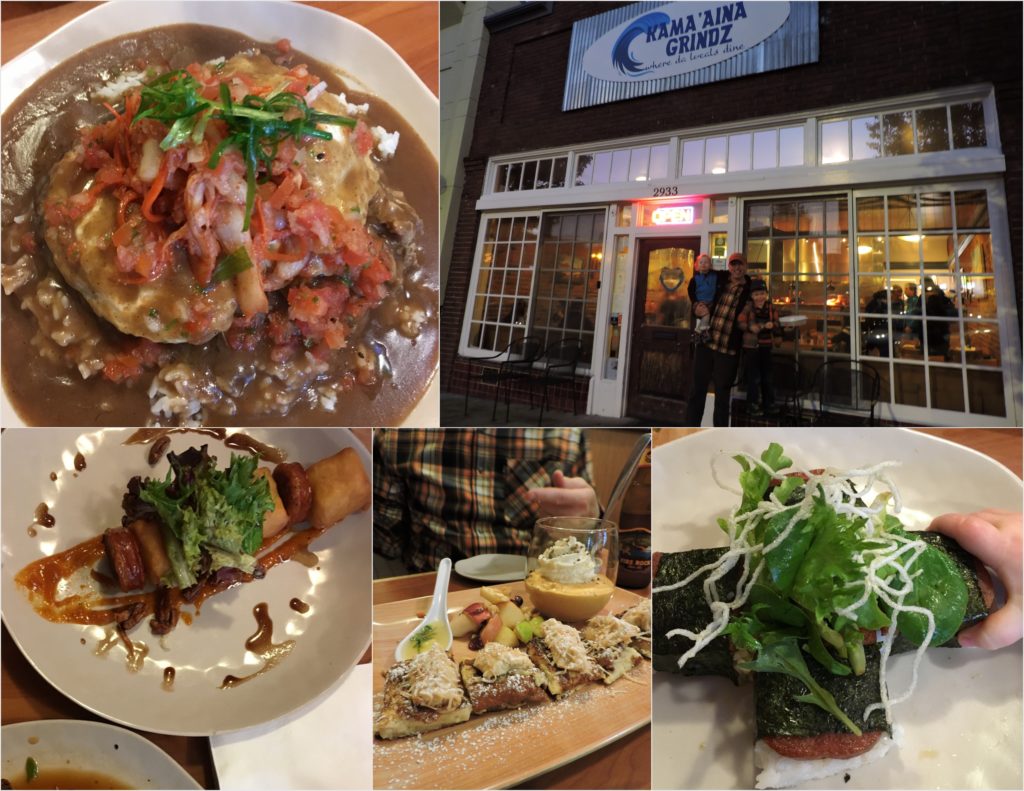 Snohomish Bakery
We stopped into the Snohomish Bakery for coffee and a little post breakfast treat.  Great to grab a coffee and bite to eat, but there is also plenty of room to dine-in and stay a while.  Make sure to check out the giant statue of a baker rolling out dough–it actually moves! Their pastries are baked fresh everyday using local ingredients.
Snohomish Pie Company
We didn't stop-in to the Snohomish Pie Company on this particular visit since it was closed, and we'd already had our fill with breakfast at the hotel and treats at the bakery.  However, we highly recommend a visit! The boys treated me to lunch here for Mother's Day a couple of years ago.  I love the rustic, cozy atmosphere.  The pie, voted best in Western Washington, is absolutely scrumptious, but good luck choosing a flavor from their impressive selection!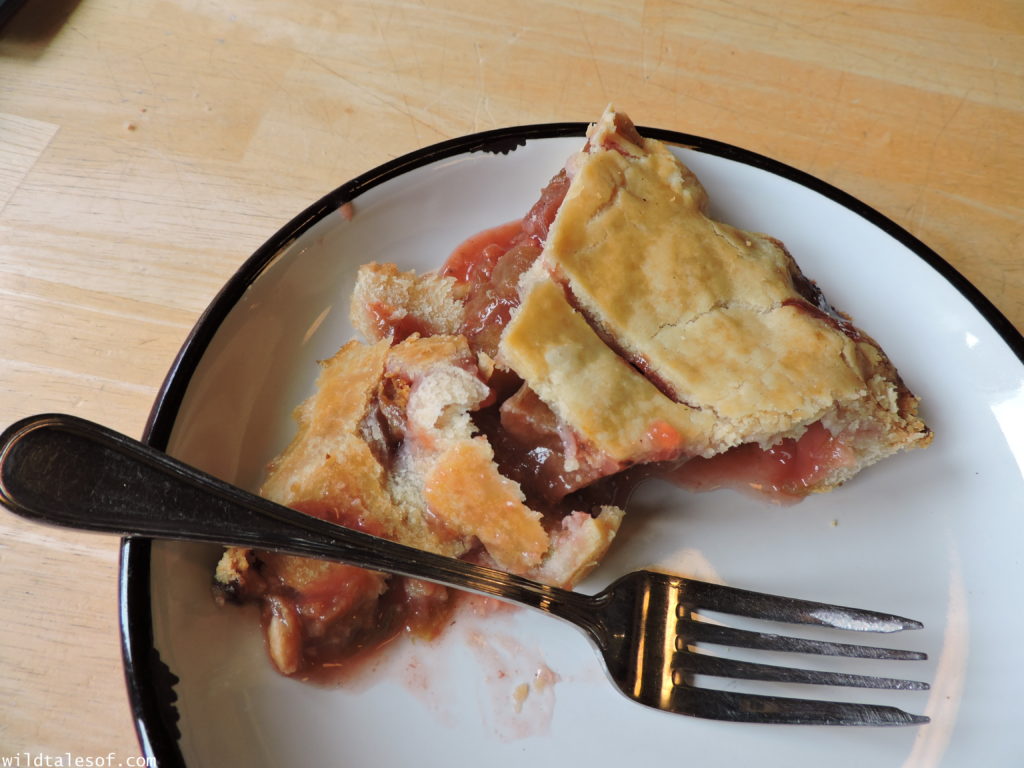 Maltby Pizza and Pasta
Lunch here at Malby Pizza and Pasta was deliciously filling after a full morning of visiting the farm and pumpkin patch.  In fact, I was able to take half of my calzone home to enjoy the next day! Friendly staff, casual atmosphere, and we even got to catch part of the Seahawks game while we dined. Definitely seems to be a local favorite since we saw a lot pizza being picked up and taken away!  This pizzeria would also be a great lunch spot for a post-hike meal after exploring the Paradise Valley Conservation Area.
Where to Stay in Snohomish County, Washington
Opening in early 2015, the Hampton Inn Seattle/Everett is one of the area's newest hotels.  We appreciated the central location, and found many of our activities (children's museum, Silvertips game, art center, and restaurants) to be within walking distance.
The staff was accommodating, allowing us to check-in early in order to get settled, and to be able to give Georgia her afternoon nap.  While this particular Hampton Inn does not have suite style rooms available, for families who need more space, it is possible to reserve 2 adjoining rooms.  We found the rooms to be spacious, and equipped with everything we needed including a mini refrigerator, comfortable beds, coffee maker, and free & fast wifi service.
While I put Georgia to bed and got organized for the next day, the boys enjoyed swimming in indoor pool and treated themselves at the snack shop.  We also appreciated the complimentary hot breakfast, and loved the location on the top floor! The Hampton Inn brand also just puts a smile on my face with fun little jokes and witty sayings around every corner–just look at their coffee cups!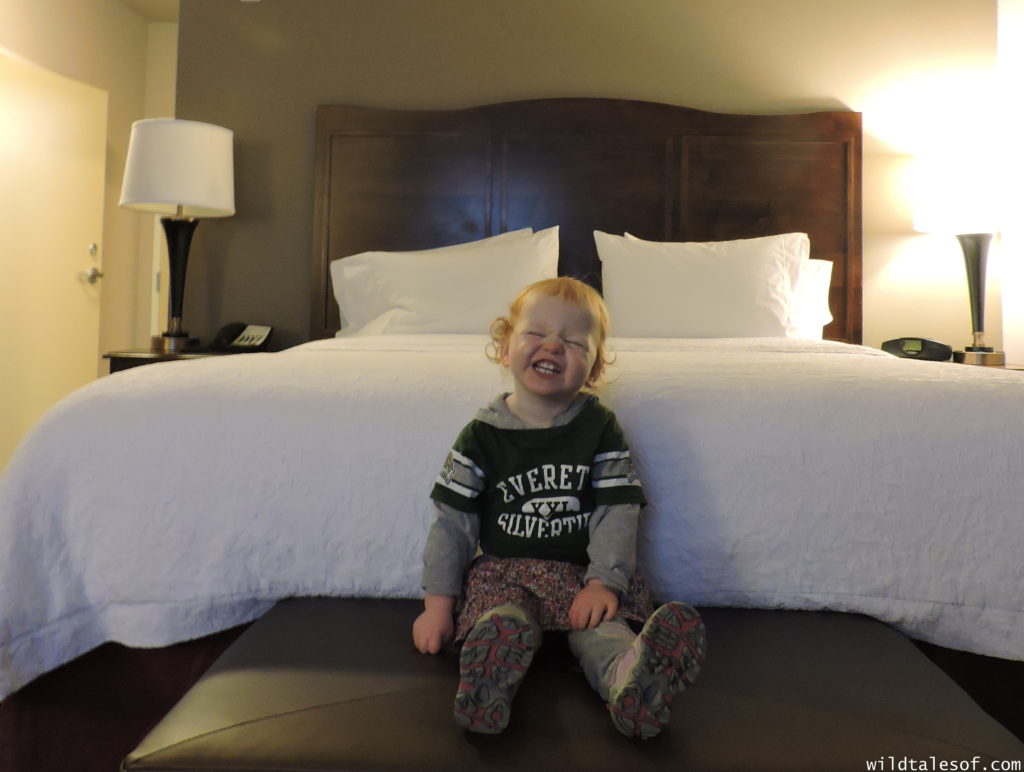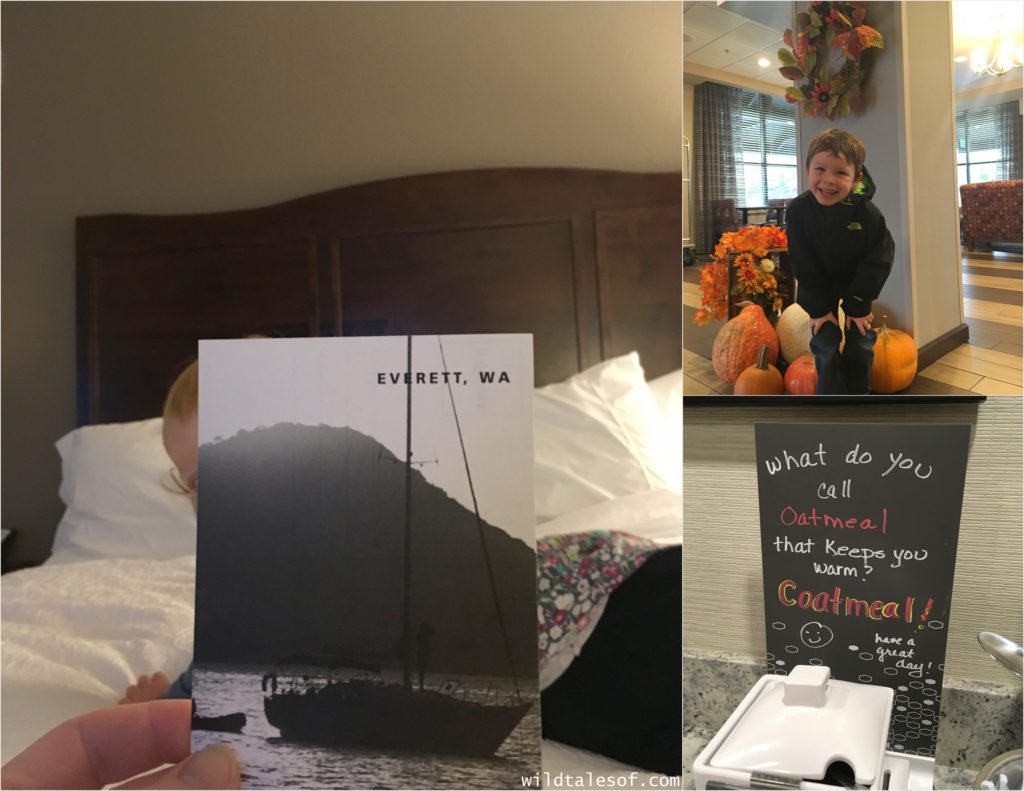 Do you live in or have you visited Snohomish County, Washington? We'd love to know your favorite spots to explore and eat! Would you consider "vacationing" in an area close to your home?
A very special thank you to the Snohomish County Tourism Bureau for hosting us (including hotel stay, meals, and activities) and arranging our itinerary during our stay in town. As always, all opinions expressed here are my own.
Come join the conversation! You can keep up to date with each and every post by subscribing to the blog via email. We'd also love to have you join us on all of our adventures by "liking" our facebook page and following us on twitter! If you enjoyed this post, please "like it", "tweet it" or "pin it"!