So many of our hotel stays within the last year have been for one night only, because we were limited on time or just passing through on our way to another location with a rental home, so it was nice to set-up roots so to speak for two whole nights for a visit to Wenatchee, Washington.
We traveled to Wenatchee last fall in collaboration with the Wenatchee Valley Chamber of Commerce to show off all that this area in North Central Washington has to offer.  We were lucky to get to lodge at one of the small city's newer hotels: Springhill Suites Wenatchee by Marriott.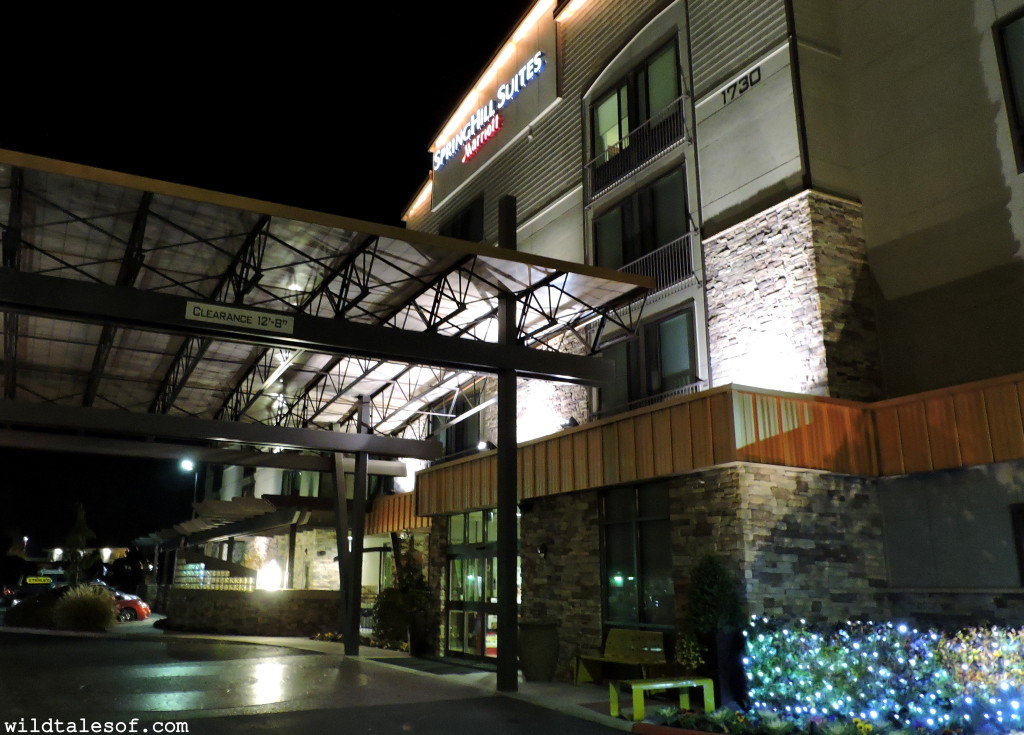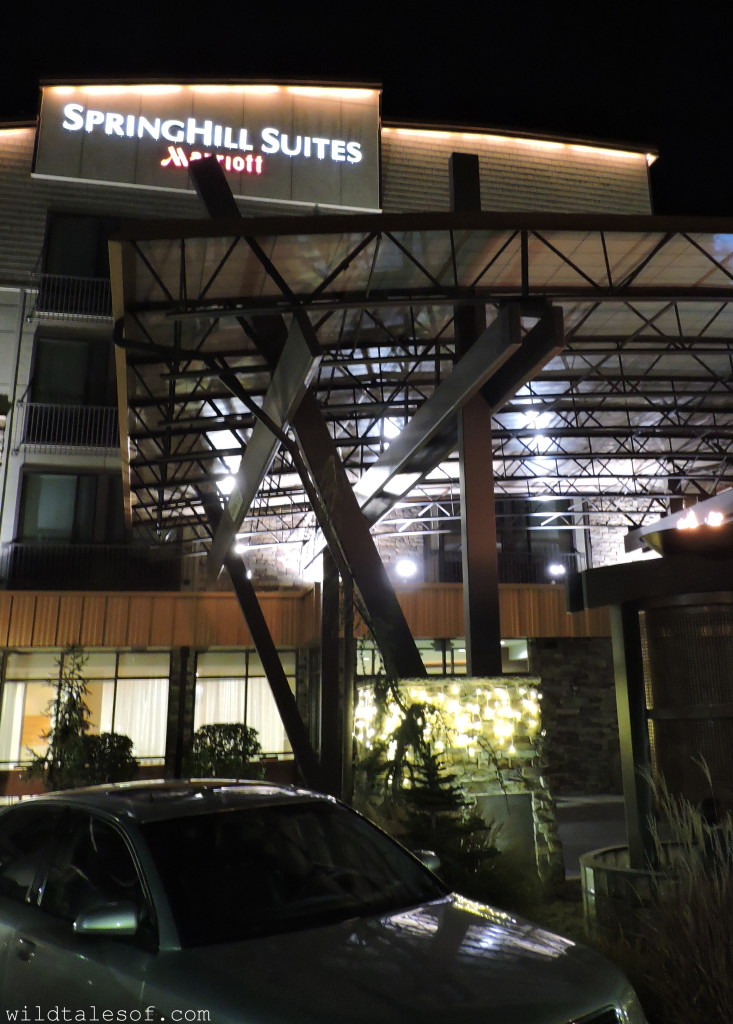 If you are looking for more an overview, including what to do and where to eat in Wenatchee, make sure to reference our Wenatchee Travel Guide.
Our Rooms
We were pampered with a set of 2 rooms with an adjoining door allowing us to spread out. I love the clean and modern design of these rooms.  It seems that great care was taken in ensuring the space is utilized well.  We took advantage of the space by creating separate sleeping areas for the baby (11 months at the time), our 4-year old, and the two of us.  Our kids sleep so well in their own rooms at home & we love our kid-free time from 8-10pm(ish), so we really try to create this on when traveling!
All the rooms at Springhill Suites Wenatchee (and all the rooms in the entire Springhill line) are considered suites, but since the definition of a suite can vary from hotel to hotel, I thought I'd explain the general layout of a Springhill Suite.  King (1 king sized bed) or Queen/Double Suites (2 Queen/Double beds) are offered.  Each of those options includes a space with a desk, sleeper sofa, and a small kitchenette with microwave and mini-fridge.  The space however is not separated by a door, but often rather a dividing wall .
All four of us slept well thanks to comfortable, yet firm mattresses, and fresh, crisp linens and comforters.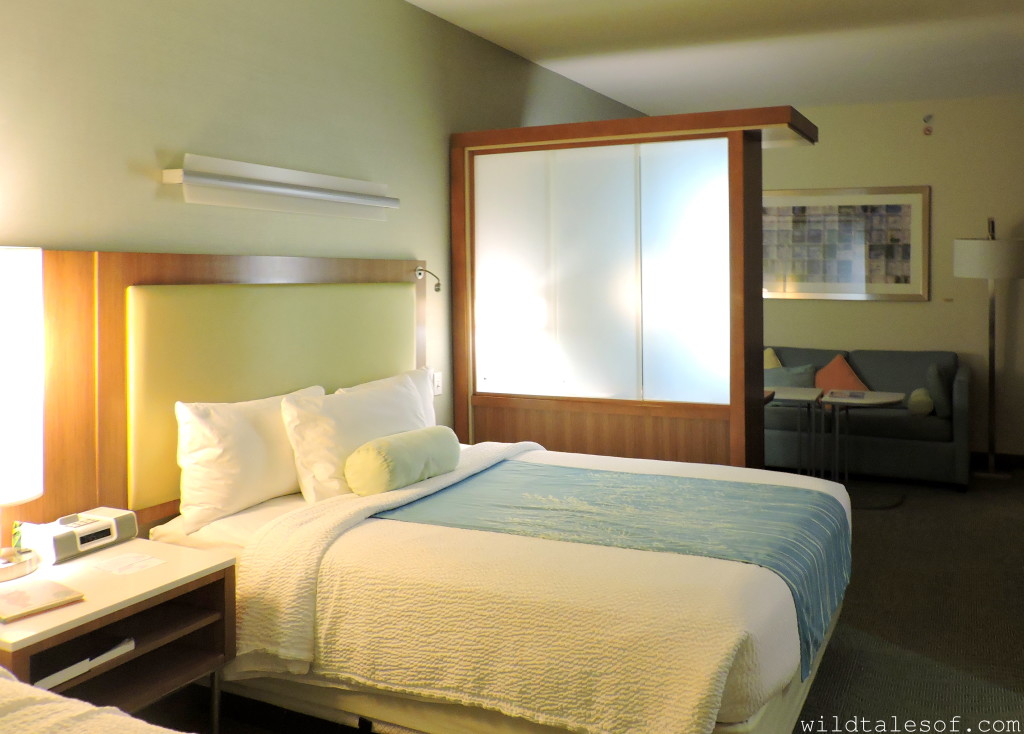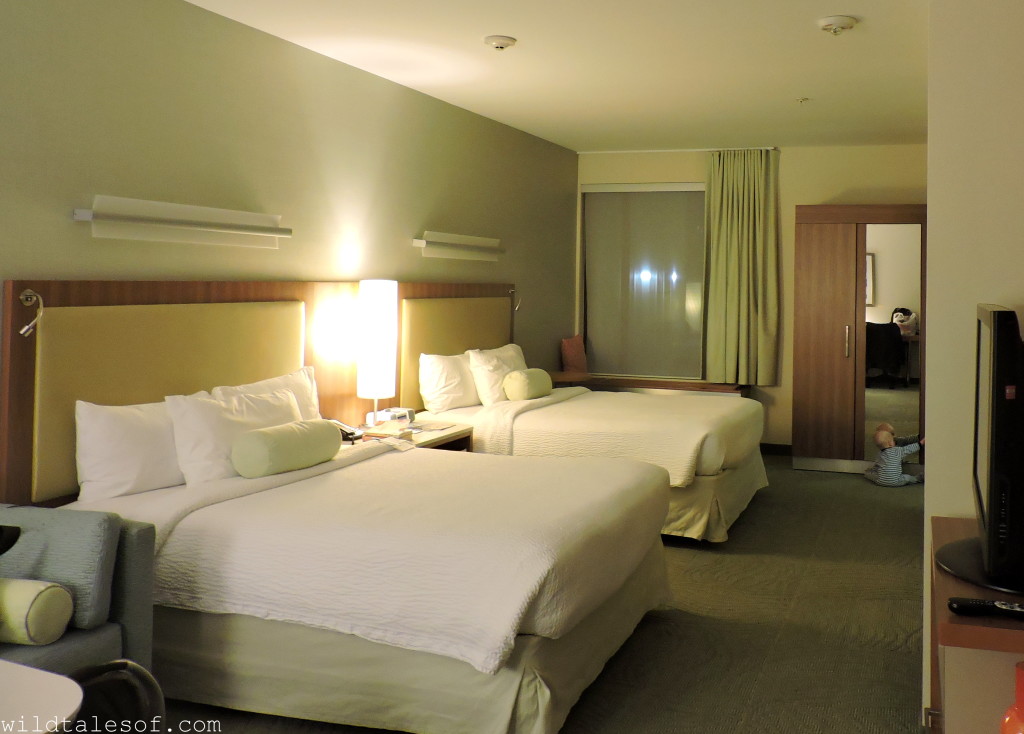 The bathroom is actually separated into two rooms:  A room with a sink & shower or tub, and a room with a toilet & sink.  As you can imagine, we love this particular feature of the hotel.  For one, we were able to fit Georgia's crib into the bathroom that had the shower.  This gave her a dedicated space to sleep, and meant that we weren't disturbing her being up and about after she turned in for the night.  And secondly, since she was only taking up the room with the shower, we still had easy access to the toilet and sink in the other "bathroom".  Even without a baby sleeping in the shower room, two bathrooms just provides more space overall for everyone as they get ready for bed at night, and prepare for the day in the morning.  Note: One of our rooms was handicap accessible, so the overall space is a little larger than than their regular suites.  Either way, the crib would have fit in the bathroom, but the handicap bathroom provided quite a bit of extra room to maneuver around.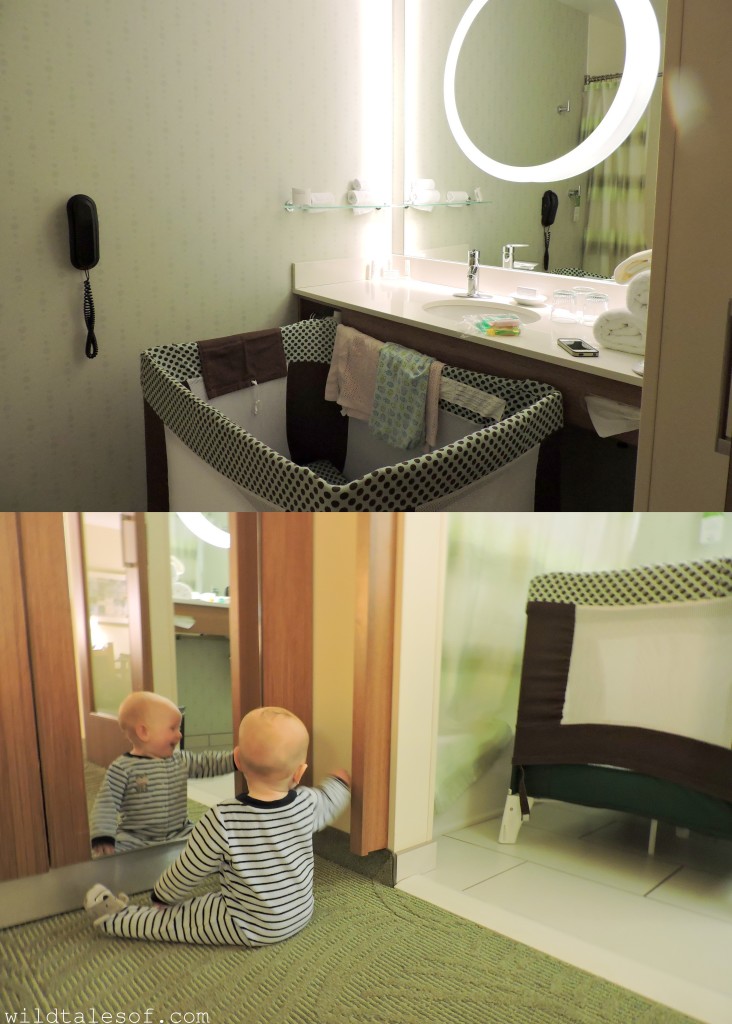 Breakfast & Treats
Breakfast is complimentary at all Springhill Suites, and we certainly appreciated being able to fuel up before we started our big days of exploring.  Typical items are served including cereal, pastries, and fruit, and hot items like waffles (make your own), eggs, breakfast meats, and potatoes.  Plenty of places to sit in this open area with beautiful morning light streaming in, plus a friendly and accommodating staff, made it a great place to begin our morning.
Every evening, Springhill Suites serves cookies and milk, and you might be able to guess who was the biggest fan of this perk! There is also a Manager's Reception from 5pm-7pm Monday-Wednesday, but since we were here during the weekend, we weren't around to participate.  A light meal is served and cocktails are offered.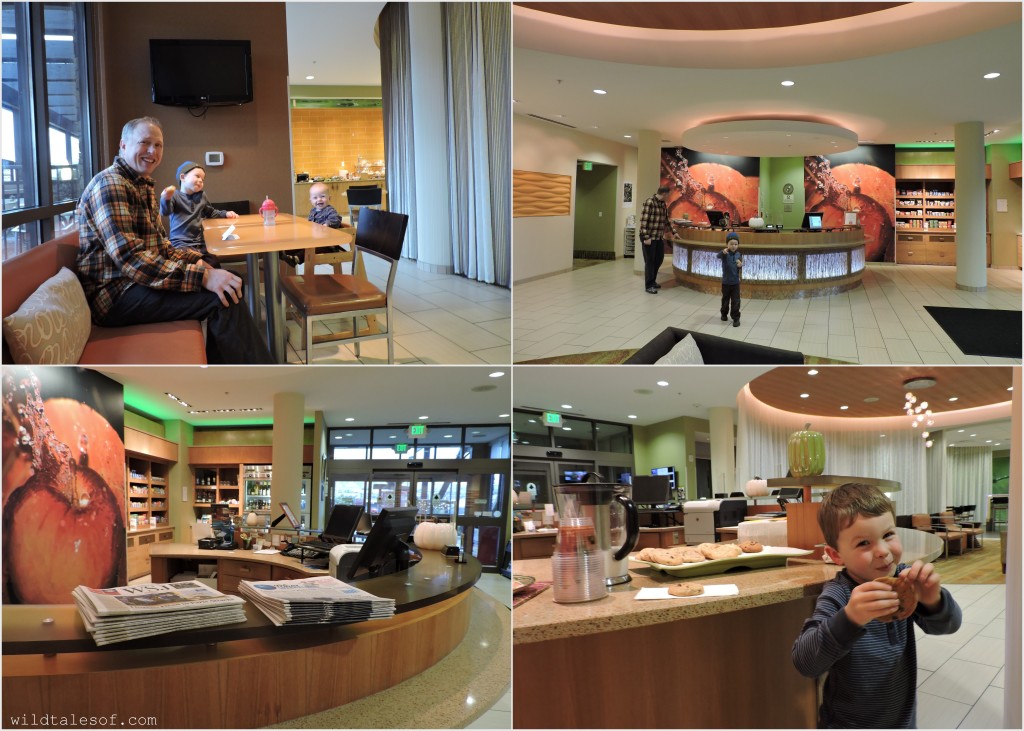 Amenities
Indoor Pool & Hot Tub

: Bergen and Slaed loved coming here while I put Georgia to bed each night.  The streaming waterfall in the pool was a big hit!

Fitness room

: Cardio machines and free weights are available; open 24 hours a day.

Business Center

: 2 computers, plus a printer.

Free High speed internet

: Wifi was easy to access, and worked well in all areas of the hotel.

Market/Snack Bar

: Snacks and other essentials you may have forgotten are available here. We appreciate that Washington State wine was available allowing us to have our own little happy hour when we arrived!
Info to Know:
Springhill Suites Wenatchee is located approximately 1.5 miles from downtown Wenatchee in north central Washington:

1730 North Wenatchee Avenue Wenatchee, WA 98801
509-667-2775

Opened in 2010: 109 suites on 4 floors, rates starting at $149 (Jan. 2016)
Check in 3pm, check out 12pm
No Pets
Cribs available by request
Mini-Refrigerator and microwave in each room.
Non-smoking
Free parking in on-site lot
Nearby Activities & Eats: Full guide to Wenatchee including family friendly attractions & dining recommendations.
A very special thank you to the Wenatchee Valley Chamber of Commerce for hosting us and arranging our itinerary during our stay in town. As always, all opinions expressed here are my own.
Come join the conversation! You can keep up to date with each and every post by subscribing to the blog via email. We'd also love to have you join us on all of our adventures by "liking" our facebook page and following us on twitter! If you enjoyed this post, please "like it", "tweet it" or "pin it"!