Whidbey Island is a place we will return to over and over again.  This easily accessible island north of Seattle is one of my favorite Pacific Northwest getaways.  We've been day tripping and taking visitors here for years, but it wasn't until just recently that we actually stayed the night as a family.
One of the reasons I think Whidbey Island is so special is the arrival.  There are two ways to get to the island: Take a ferry and arrive on the south end of the island or travel across the Deception Pass Bridge and arrive on the north end.
Cruise along the water enjoying amazing views throughout the Puget Sound or journey across a historic bridge stopping to marvel at the way the land meets the water? You really can't go wrong! Because of that, our family usually opts to arrive one way and depart the other.
In the following guide, you'll find our recommendations for things to do with kids on Whidbey Island, family friendly eateries, and our lodging recommendation for families.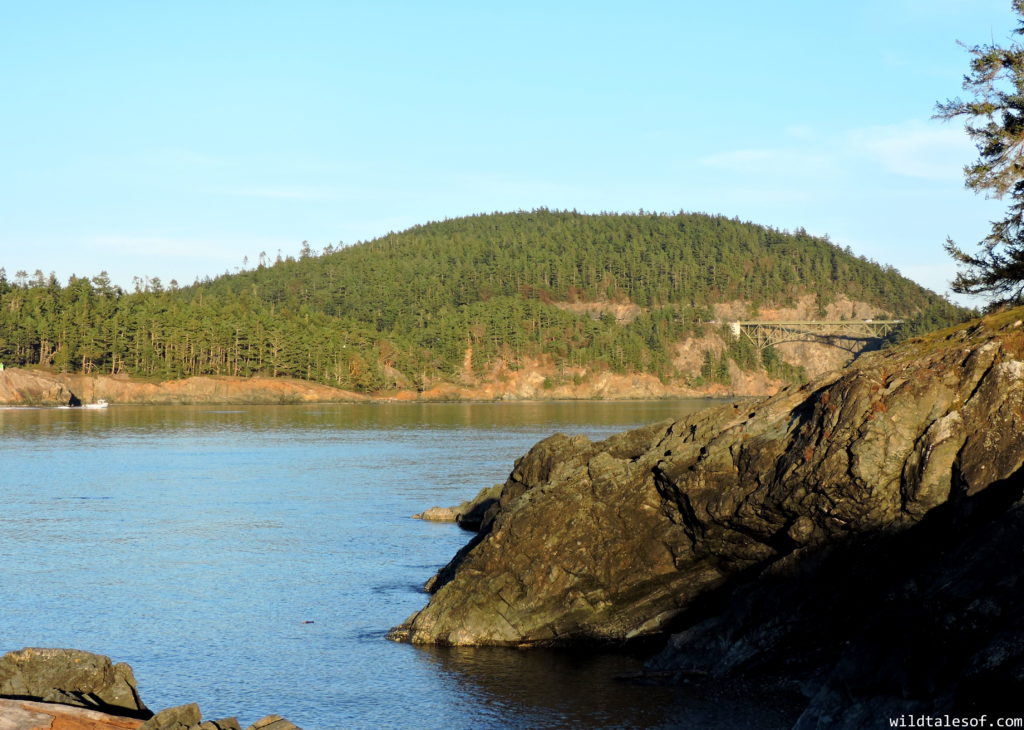 Family Activities on Whidbey Island
Oak Harbor:
Deception Pass State Park
Arguably one of the best state parks in Washington, Deception Pass State Park has so much beauty and history to explore.  If you are arriving on the island from the north, start with a stop at Deception Pass Bridge (there's a parking area just south of the bridge) and take some time to walk along this thrilling passage.  Keep a hand on those kiddos as cars will be zooming by!
When George Vancouver and Joseph Whidbey were first exploring and mapping out Whidbey Island, they actually thought it was a peninsula. They were stopped by shallow waters and difficult navigation when they originally sailed north from the east side of the island.  It wasn't until a month or so later when they sailed north around the west side that they finally determined Whidbey was indeed an island, with a VERY narrow northern pass! Thus the name, Deception pass.
For detailed information, visit the Deception Pass State Park website, but we can recommend two adventures:
North Beach-Located just south of Deception Pass bridge, North Beach is a gorgeous spot for a stroll along the beach with stunning views.  Our kids love collecting beach treasures, throwing rocks into the sound, and building driftwood forts.  As you drive into the parking lot, you'll also see Cranberry Lake, which is a great spot for fishing, and swimming in warm weather.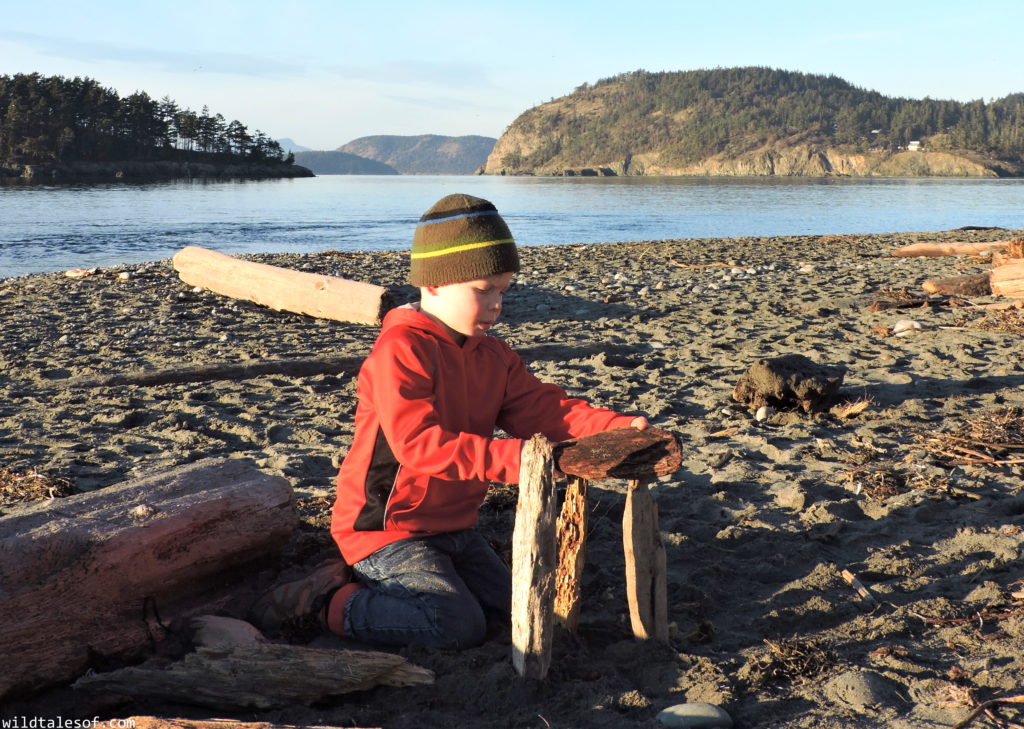 Bowman Bay/Rosario Beach-Located north of Deception Pass bridge (and actually on Fidalgo Island), we enjoyed hiking along Bowman Bay to Rosario Head.  Breathtaking views of the Puget Sound and surrounding islands, and a fairly easy trek.
Downtown Oak Harbor Sculpture Walk
Pick up an Oak Harbor Art Tour brochure at the chamber of commerce, and get to know the charming downtown area through over 15 sculptures and art installations.  We managed to see them all during our weekend visit, and it was a great way to get the kids involved and excited about exploring the town.  Family favorites include the Kraken (keep an eye out for an "extension" of this sculpture on the nearby crosswalk pole), the Flintstone car, and Stumbling Ducks.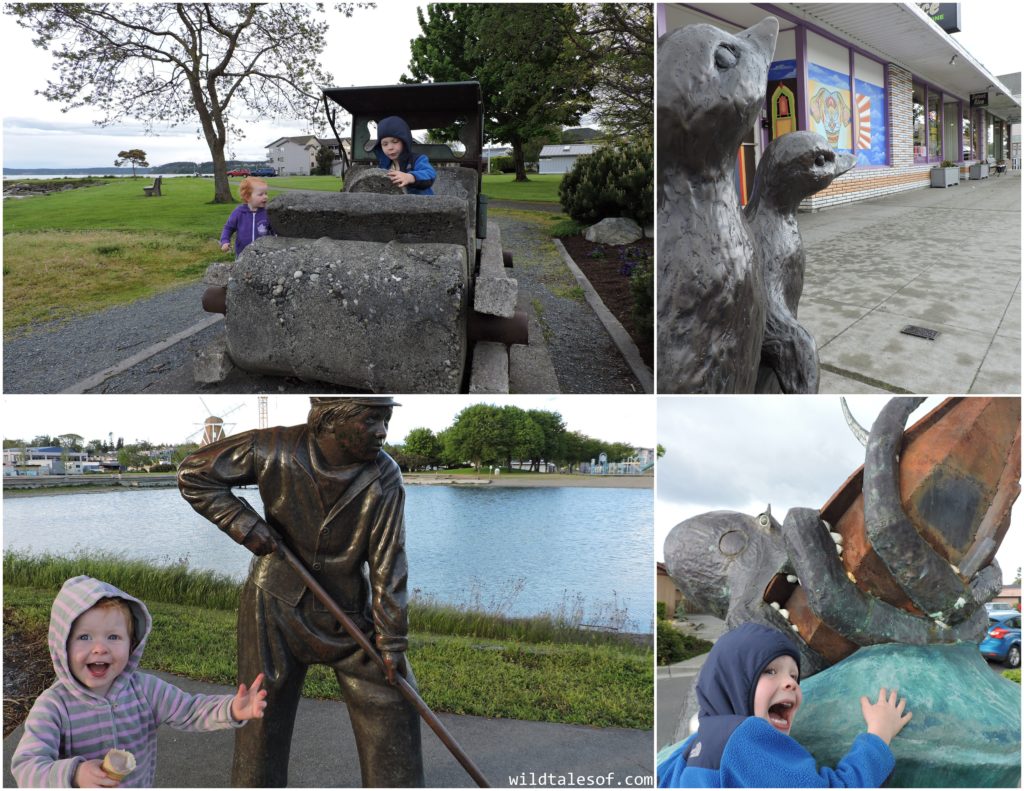 A lovely city park located right on the harbor, Windjammer has two playgrounds, a driftwood scattered beach, a swimming lagoon, and even a special dinosaur fossil dig site!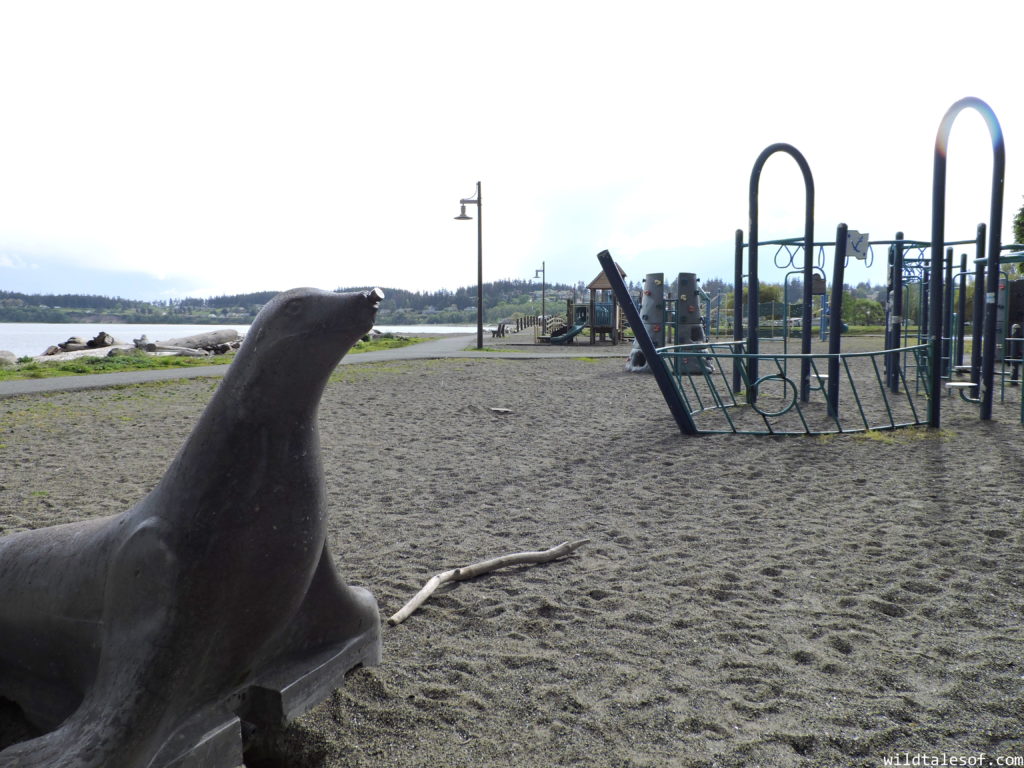 A smaller city park, but worth a stop just to see the Fred Flintstone inspired car, and walk along the long dock to see beautiful water views.
Ebey's Landing:
Ebey's Landing is a unique National Park Service unit that is known as a National Historic Reserve.  To me, it's what makes Whidbey Island an incredibly special place.
Created by Congress in 1978, the 17,572-acre Reserve integrates historic farms, a seaside town, native and pioneer land use traditions, and ecologically significant areas.  A Trust Board manages this national park unity through creative conservation and sensitive planned development. -National Park Service
To try to put it simply, Ebey's Landing is made up of Washington State Parks, the town of Coupeville, acres and acres of privately owned farm land, and other pockets of trails, parks, and recreation areas. The places we highlight below just scratch the surface of all there is to see and explore!
With 25 miles of biking trails and 28 miles of hiking trails, there is plenty to explore.  However, we suggest a hike along Fort Ebey State Park's bluff trail . Spectacular views of the Admiralty Inlet and the Olympic Mountains made us feel like we were in a dream world. Along with exploring the coastline and forests, kids will love getting to poke around in historic gun batteries remaining from World War II. Campsites are also available from May to September.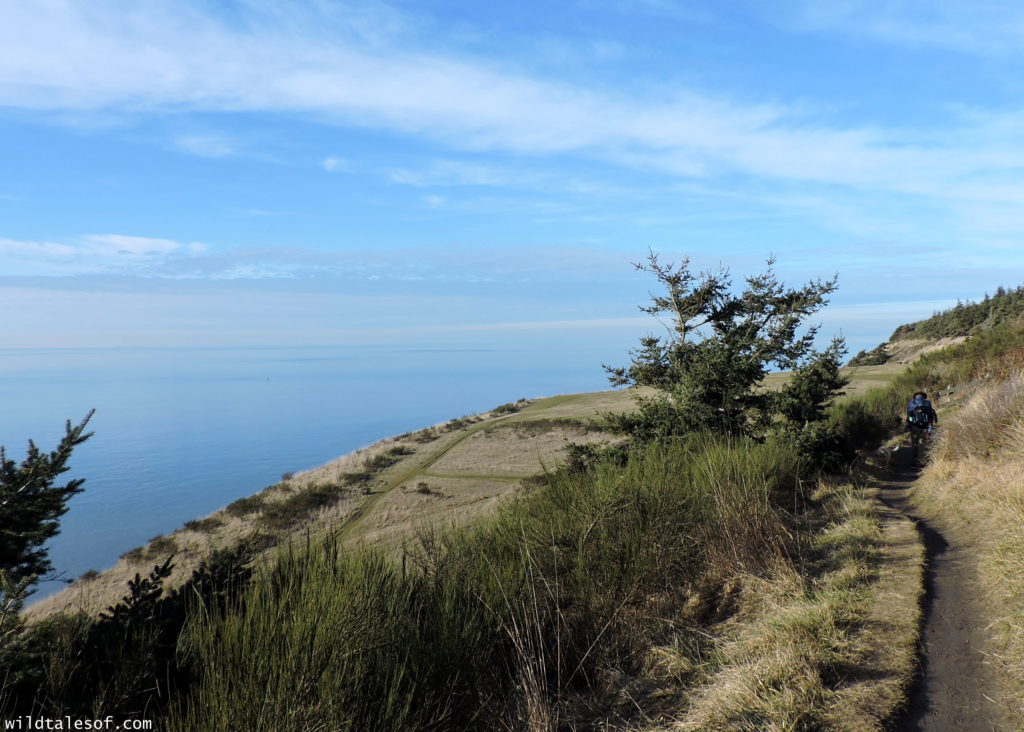 Fort Casey was completed in 1907, and along with Fort Worden and Fort Flagler on the other side of the Admiralty Inlet, it stood as a triangle of defense to guard the Puget Sound area.  It was acquired by Washington State Parks in 1956, and now allows visitors to climb into bunkers and gun batteries, and even check out actual weapons used at war time.  We had a blast walking along the beach, watching the ferry sail from the Kingston terminal to Port Townsend across the water, and wandering around Admiralty Head Lighthouse.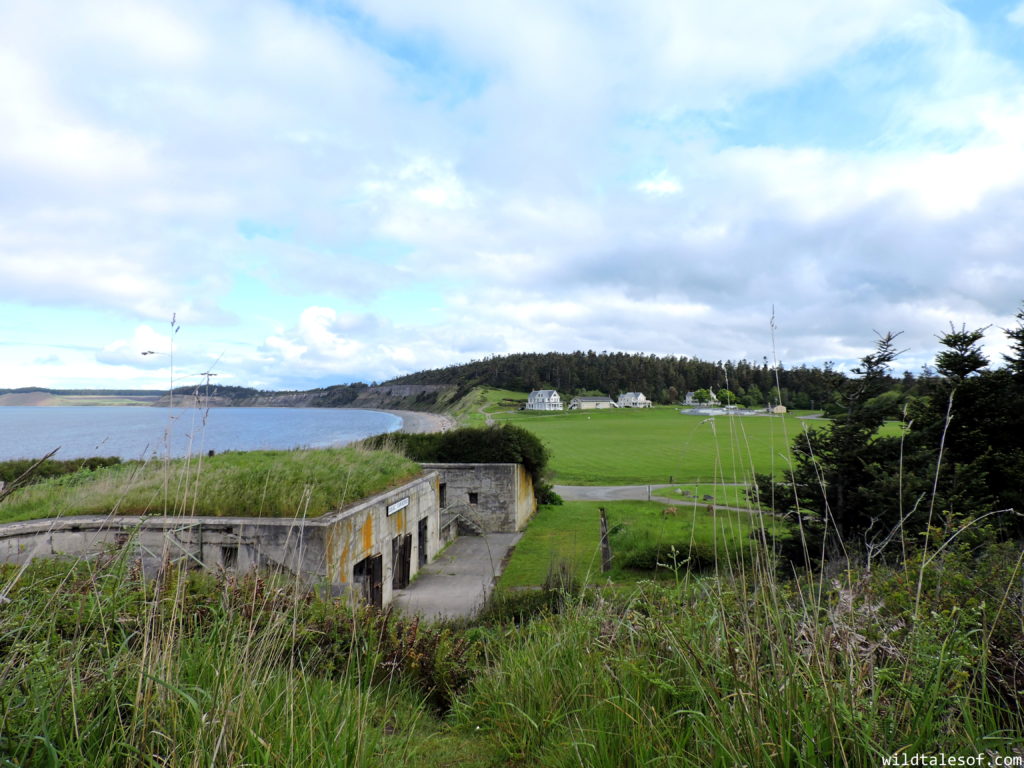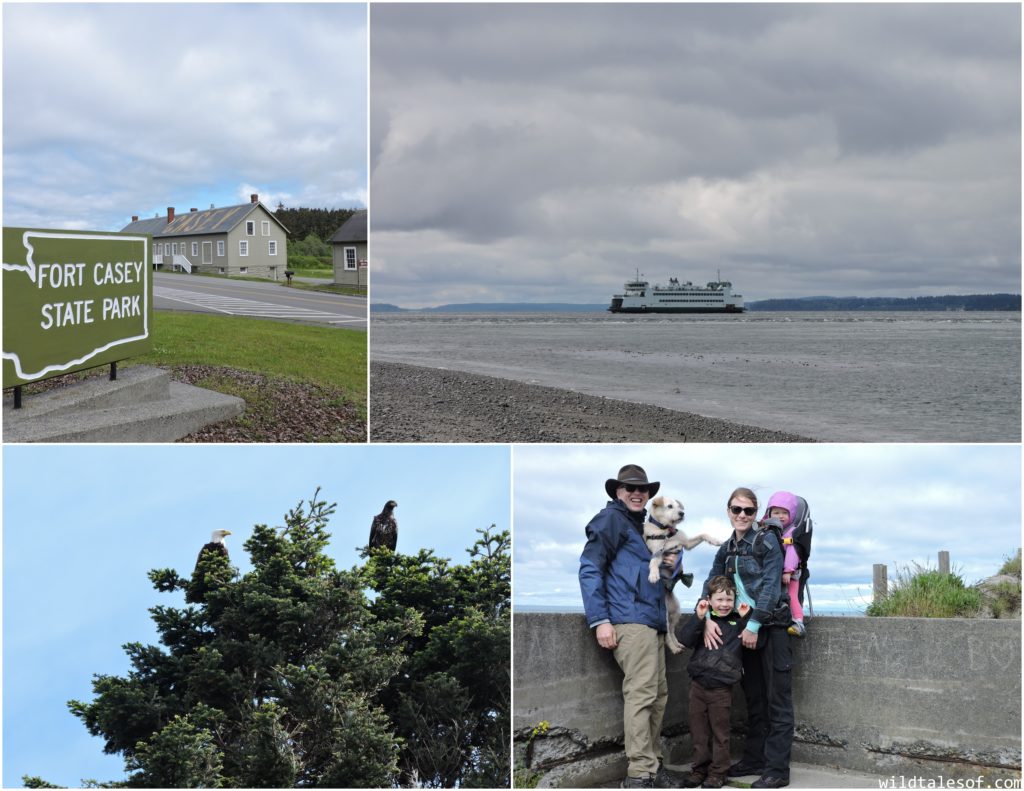 Rustic and charming, Coupeville is a quintessential Pacific Northwest small town.  From festivals to farmers markets and local events, there always seems to be something happening in Coupeville, so make sure to check their community calendar.  Otherwise, families should not miss the historical Coupeville Wharf where you can meet Rosie the Whale, Rudy the Porpoise, and Samson, the Steller Sea Lion (skeletons) hanging from the ceiling, see what those famous Penn Cove mussels are all about, and learn more about the area's natural history.  See below for restaurant recommendations.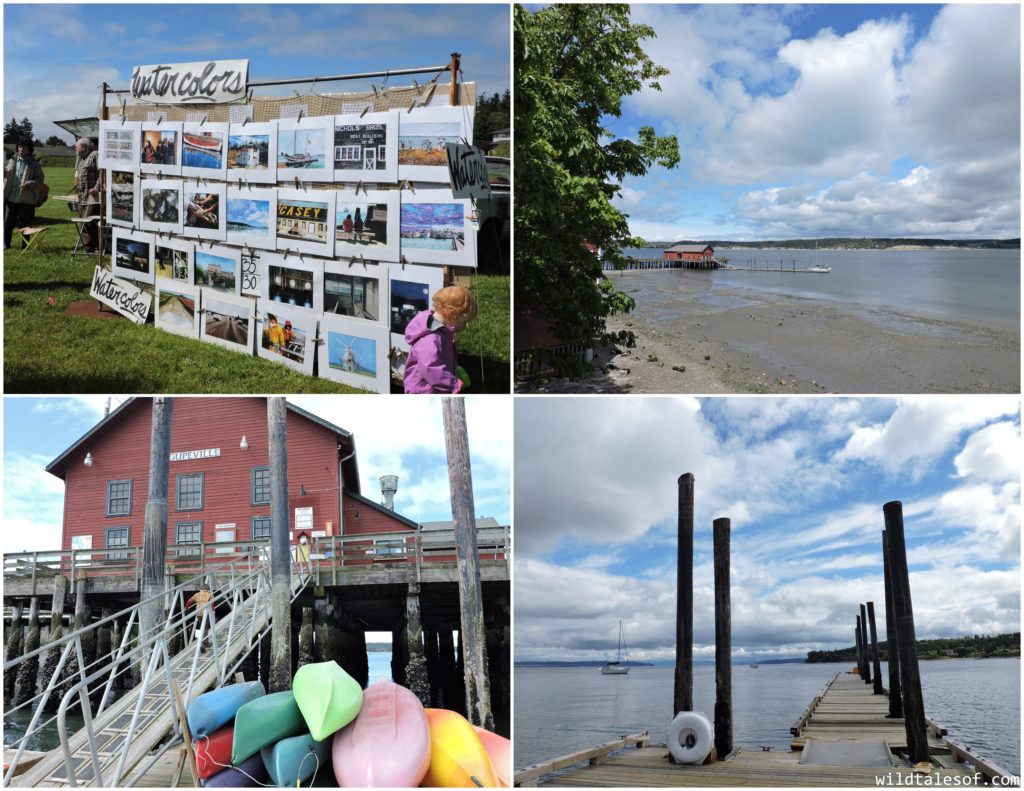 Greenbank:
Greenbank Farm offers visitors over 500 acres of land to explore.  Trails are dog-friendly (off-leash in designated areas) and feature views of the Cascade and Olympic Mountains.  Inside the farm building itself, you'll find Whidbey Pies, opportunities for wine tasting and cheese sampling, art galleries, and more! Greenbank is also wonderful for bird lovers. The kids and I loved exploring the grounds right around the farm building and lake, and saw several herons!
While Meerkerk Garden is best visited in the spring when the rhododendrons are blooming, this magical woodland garden is a lovely place for families to visit.  Wander the peaceful pathways, enjoy the endless varieties and colors of rhododendrons, along with other native Pacific Northwest flora, and see peeks into this family's passion and legacy.  There are plants available in their nursery for purchase, and make sure to check their special events page for fun happenings!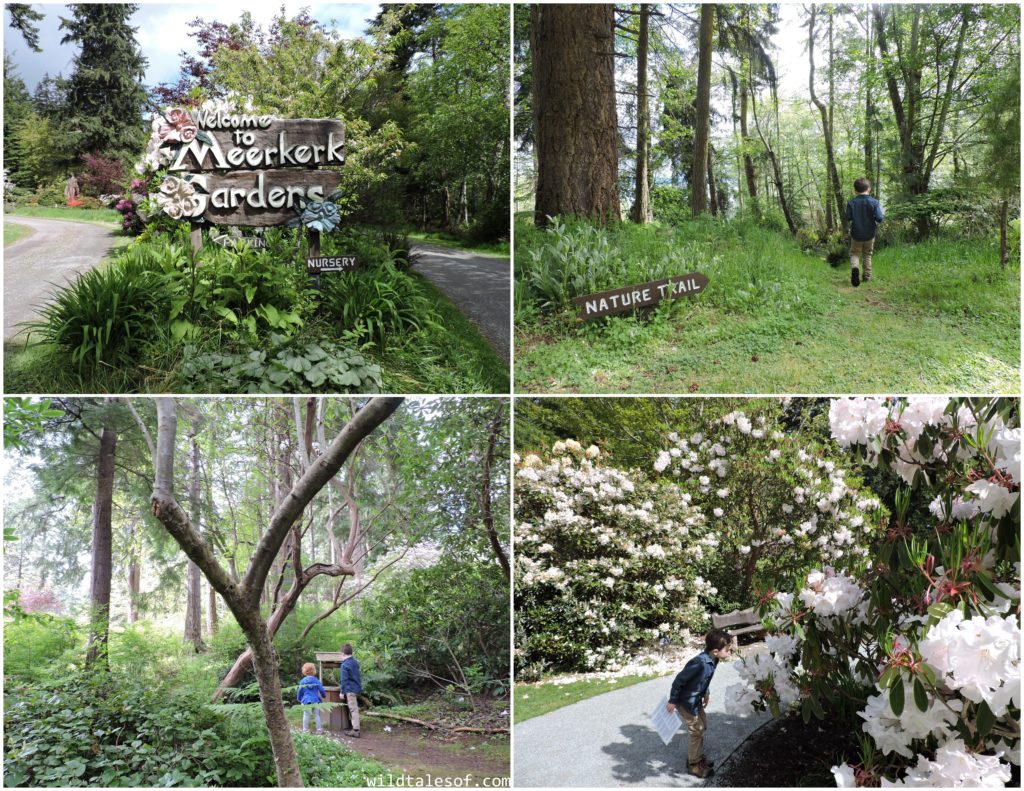 Langley & Freeland:
After eating lunch in Langley, Bergen and I had the chance to pop into the Langley Whale Center, and I was so impressed in just a short visit.  Kids and adults can learn all about our local Orca population through this organization dedicated to raising awareness of the whales of the Pacific Northwest.  There are interactive displays, exhibits, and up-to-date information about recent sightings.  The center also features a gift shop, and has volunteers on-hand to answer questions.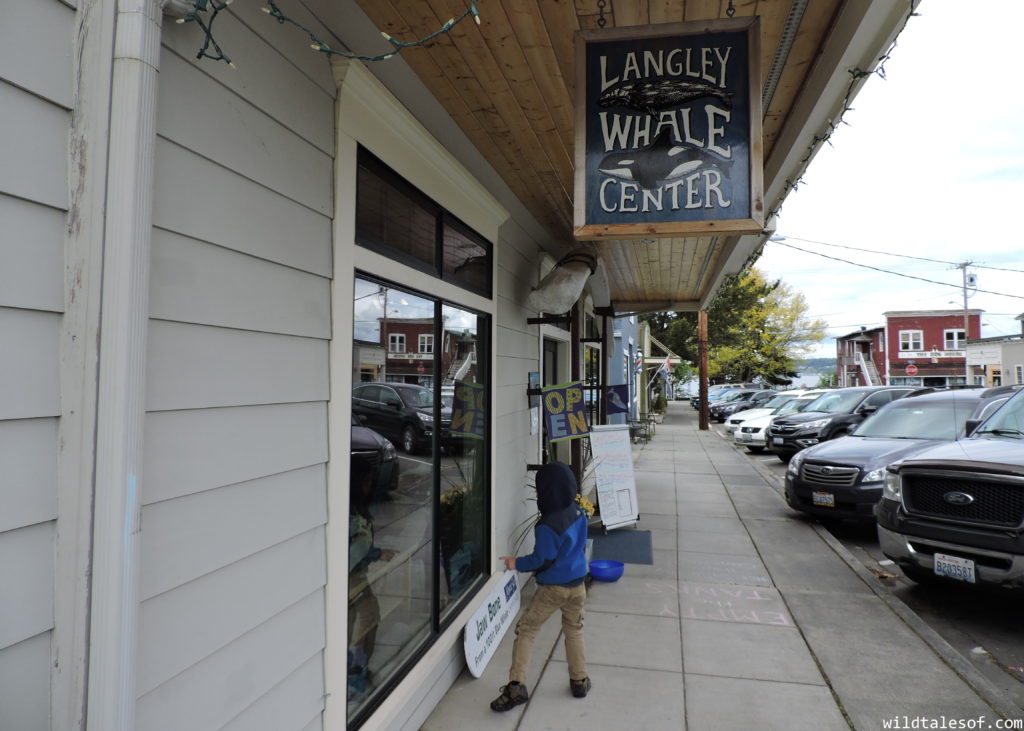 Double Bluff Beach is a gorgeous place to spend the morning or afternoon.  We were excited to be able to let our dog, Norman off-leash so that he could frolic and run freely! The beach is a great place for exploring at low tide, and goes on for about 2 miles.  Our kids loved all the driftwood forts, and the bluffs jutting out make it such a dramatic and picturesque location.  On clear and sunny days, keep an eye out for our surrounding mountains and volcanoes including Mount Rainier, Mount Baker, the Cascades, and the Olympics.  And if you squint hard, you might even see downtown Seattle!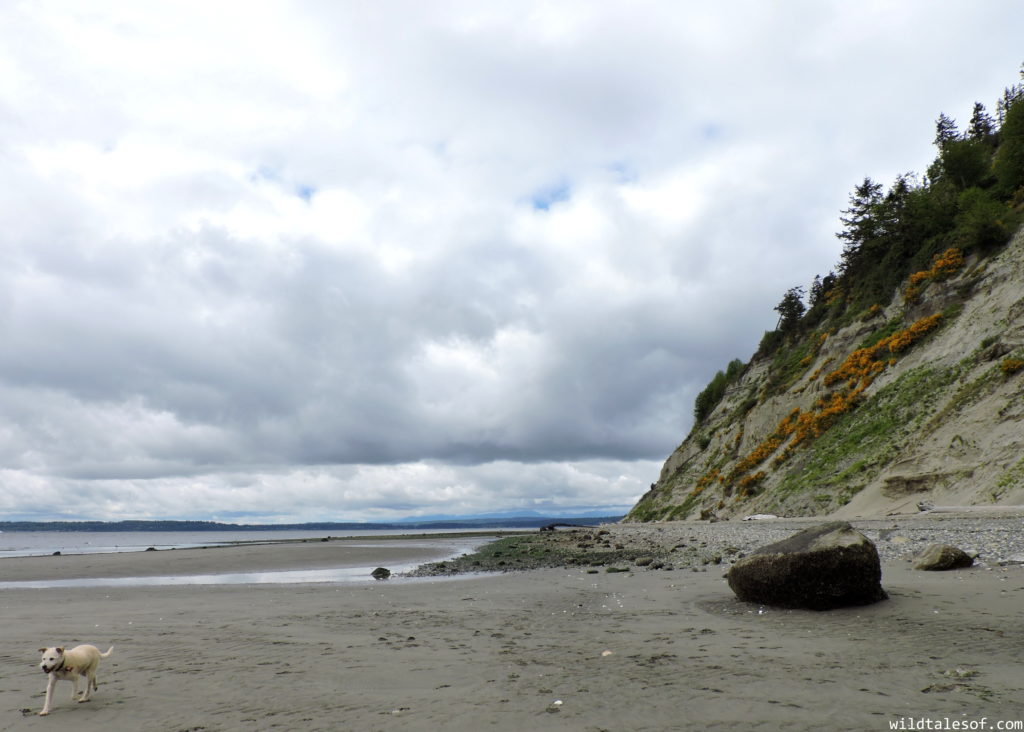 Family Friendly Places to Eat on Whidbey Island
Oak Harbor:
Seabolts is a family favorite for delicious and fresh local seafood.  Depending on your arrival time, you might find yourself with a bit of a wait, but it's worth it! I always order the halibut fish tacos while Slaed sticks with the classic fish and chips.  On this most recent visit, we took a chance on their peel and eat shrimp, and were not disappointed!
We had such a pleasant dinner at this farm-to-table Italian/Mediterranean inspired cafe located in downtown Oak Harbor!  The staff at Rustica was friendly and went out of their way to interact with our kids and make them feel special.  Our timing allowed us to take advantage of their "early dinner" option which consists of three courses: Starter, Soup or Salad, and an entree.
With 6 selections between us, Slaed and I really got a feel for the restaurants offerings and were highly impressed.  One of the  most notable items was the Penn Cove mussels.  Neither of us had ever had mussels in a red wine sauce, and found it unique and delicious!  We also appreciate that the kids menu was more than your standard kid fare with items like flatbread with salami and cheese and chicken alfredo featuring pan roasted free range chicken and fresh pasta.
Dessert did not disappoint either! In fact when Bergen said that he ate all the caramel off of the top of his ice cream, the waitress came back and gave him some more! We also enjoyed the melt in your mouth maple cookie with ice cream!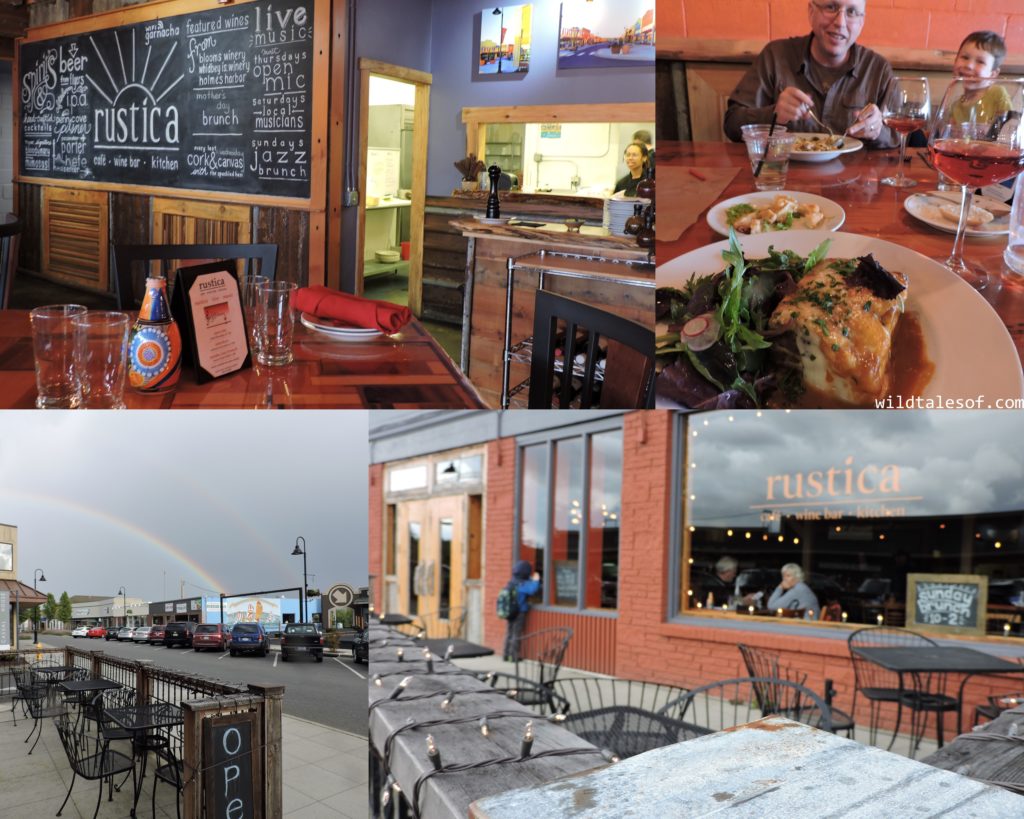 Great spot to grab coffee to fuel up for a morning of adventure! The barista was took the time to chat with us, and even gave us some great restaurant recommendations!
Coupeville:
Ciao serves delicious Neapolitan style pizza in their family-friendly cafe.  We thoroughly enjoyed our pizza selections, and I was impressed with their local ingredient sourcing.  Great beer selections too!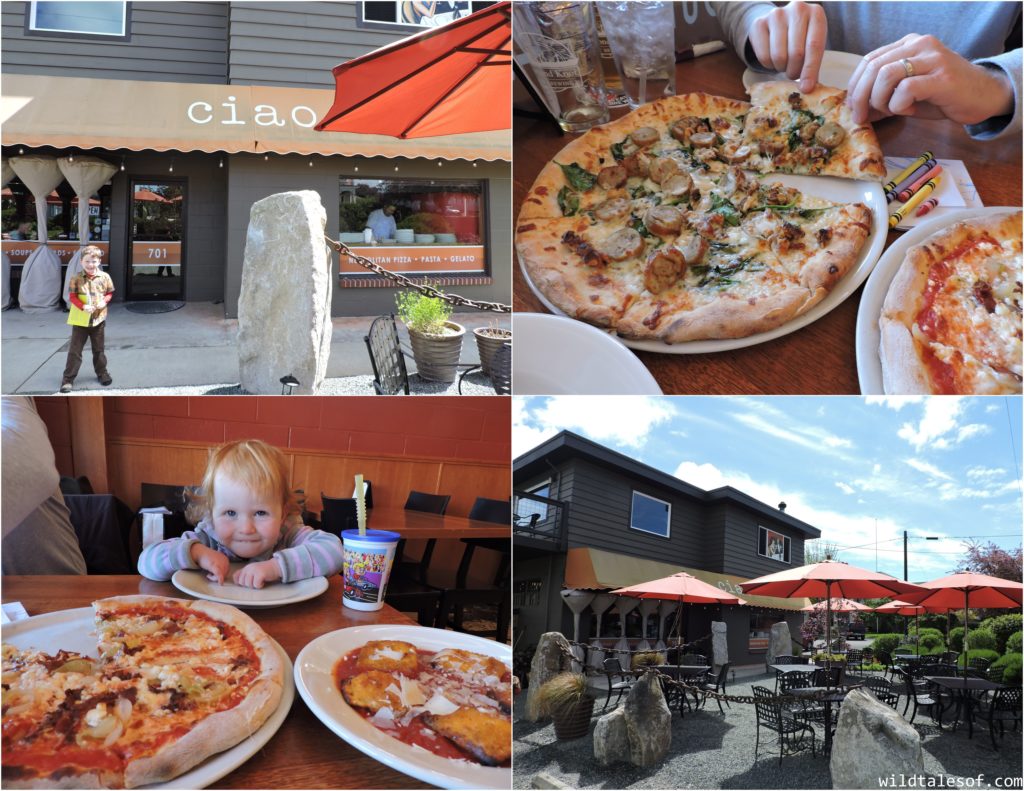 Located right on the Penn Cove, Toby's has been around since the early 60's, but the building itself dates back to 1890.  Visit this Coupeville institution for typical pub fare with a local twist.  Hoping to try Penn Cove Mussels during your visit to Whidbey? This is the place!
Full disclosure, I haven't actually dined (or lodged) at Captain Whidbey Inn, but we love stopping in for a glass of wine, and a walk around their gorgeous property.  On our most recent visit, we watched folks harvest shellfish on the beach below, checked in on their resident ducks, admired their garden, and got to frolic around their pond and open grassy field.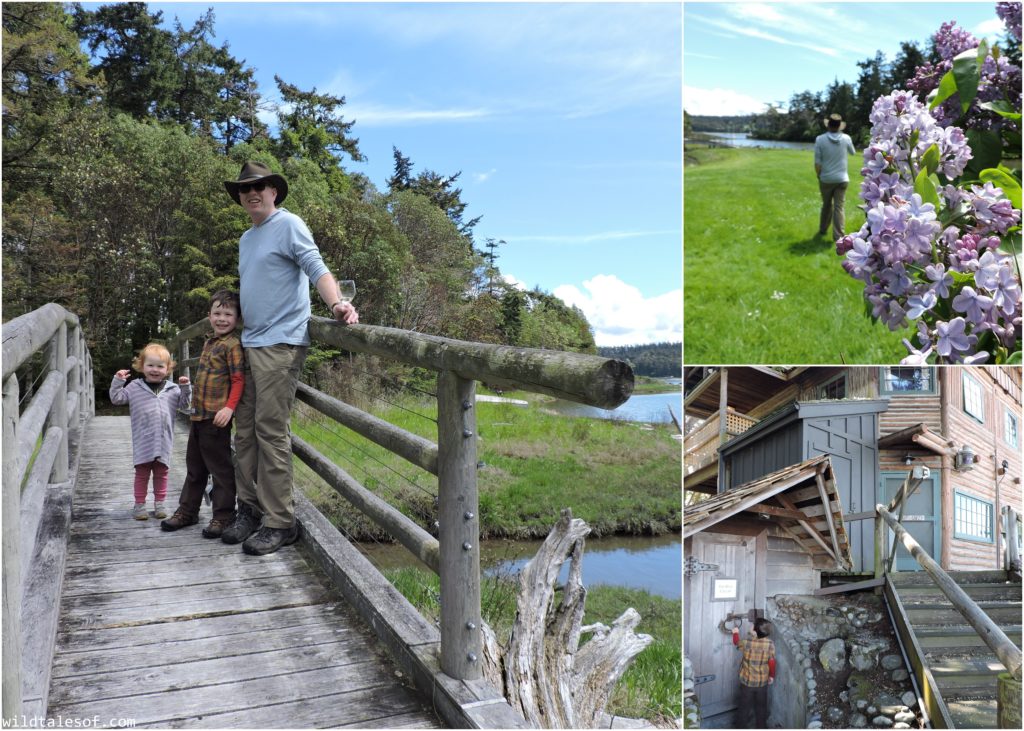 Langley:
We stopped into Spyhop for lunch before heading home on the ferry, and really enjoyed the casual & laid back atmosphere.  They specialize in burgers, which Slaed thoroughly enjoyed (I went with a delicious chicken wrap), and also have great kid selections.  Great place to catch the game too–I even saw on their facebook page that they'll adjust their hours to accommodate sports team (Sounders, Huskies, Seahawks, etc) start/end times!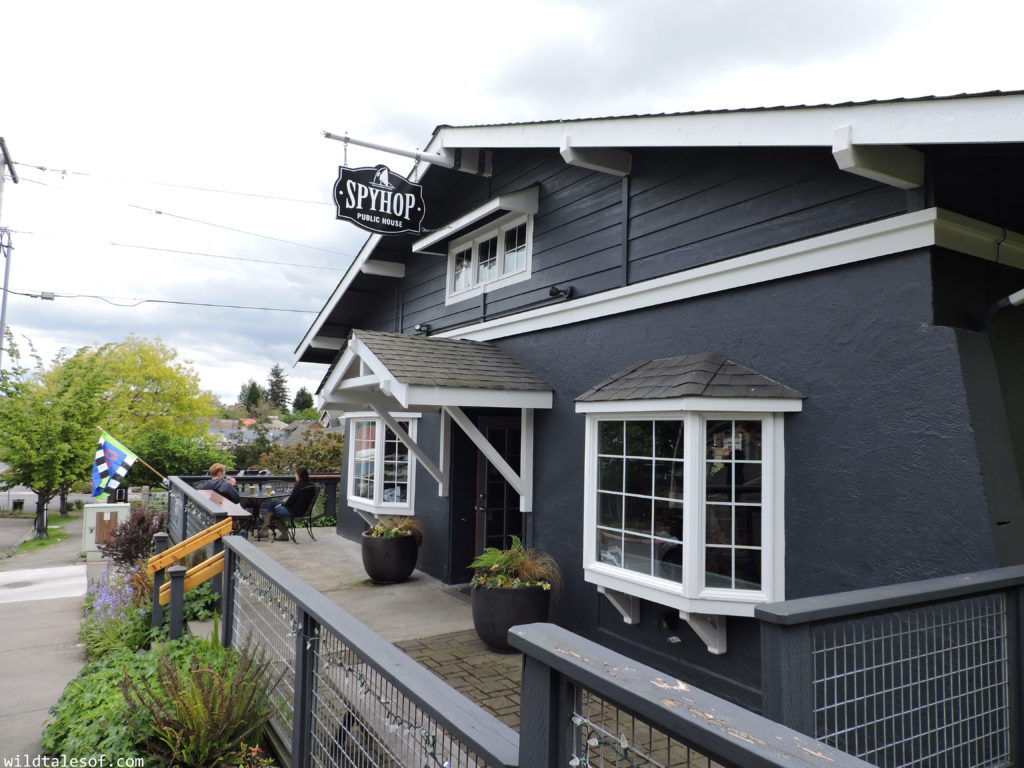 We dined at the Braeburn back when Bergen was a baby, and had such a memorable visit.  I peeked in during our last time in town, and this breakfast and lunch spot is still going strong.  It felt like dining in someone's home (check out their coffee mug collective if you go) in the best of ways!  Their food consists of a lot of classic breakfast and lunch options made with the best locally sourced ingredients they can find—honest to goodness cooking!
Useless Bay Coffee Co. is a great place to grab coffee to go so you can linger around town, but also has plenty of room to dine-in.  If you stay, enjoy one of their scrumptious baked goods for breakfast or try one of their famous panini–I have my eye on the Tuscan!
Where to Stay on Whidbey Island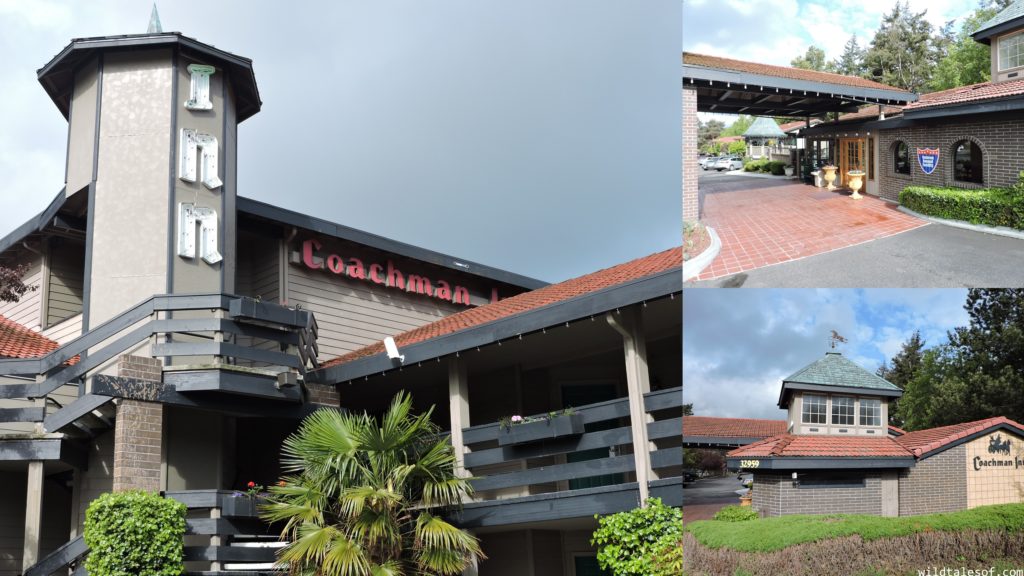 The Coachman Inn
The Coachman Inn is a wonderfully family-friendly hotel/motel located in Oak Harbor (north Whidbey Island). From the moment we arrived to check-in, staff was friendly and made us feel welcome.  We had the pleasure of staying one of their 2-bedroom, 2-bathroom suites, which actually felt like more like a condo with a kitchen, dining room, and plenty of space to spread out!
The space was clean, well equipped (supplies for cooking, coffee, washer dryer), and we slept well on their cozy and comfortable beds.  Bergen slept in the 2nd bedroom, and thanks to a spacious entry way, we were able to tuck Georgia's travel crib into a cozy private corner.  Kids in their own sleeping spaces just makes things easier for us!
We took advantage of Coachman's delicious hot breakfast each morning during our stay, and enjoyed the selections.  The kids especially loved getting make their own waffles, and I appreciated the fresh local coffee that was always available!  While we weren't able to take advantage of the pool for this visit, the Coachman also has a small outdoor pool and hot tub available for guests.  The outdoor area is lovely, and I know we would fit time in for swimming had the weather been warmer!
It was a tad chilly at times during our Mother's Day weekend visit, but one of the best parts of our suite was the balcony! When the kids were napping or in bed for the night, Slaed and I would retreat there for a glass of wine and a chance to chat about the day or plan our next adventure.  I should also note that there are pet friendly rooms at the Coachman Inn! We love being able to bring our dog Norman along for our travel adventures, and appreciate this perk.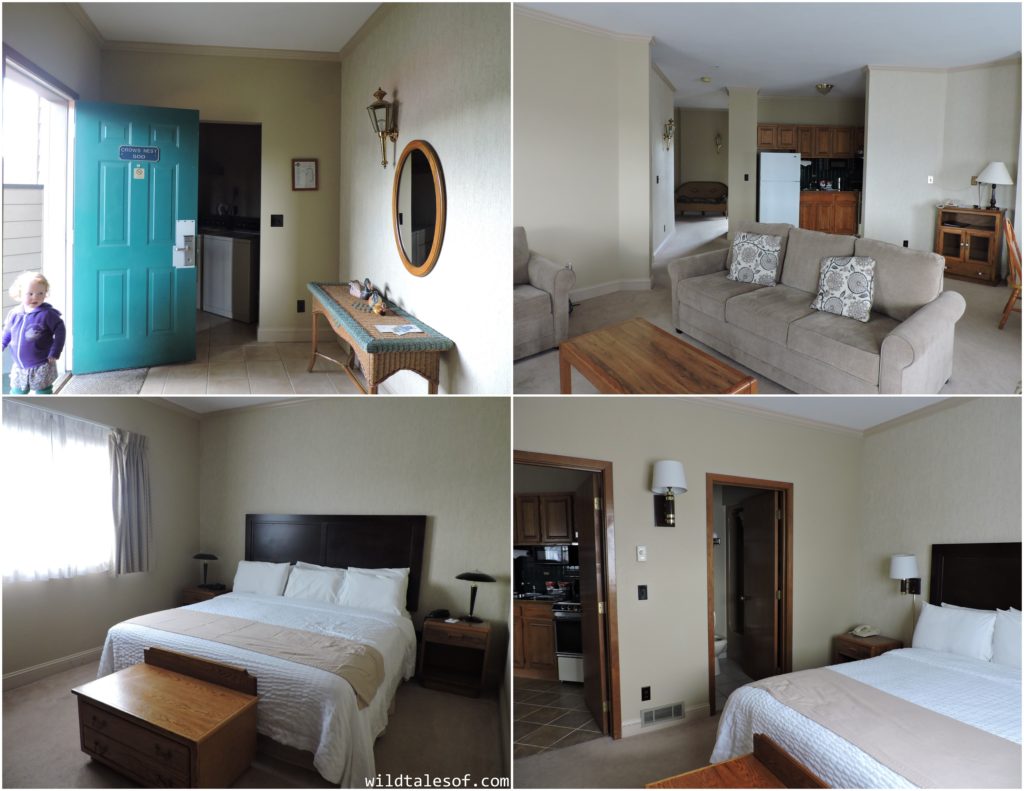 Have you visited Whidbey Island, Washington? Where did you eat, play & stay?
A very special thank you to Whidbey Camano Island Tourism for hosting us (including hotel stay and meal at Rustica) and arranging our itinerary during our stay in town. As always, all opinions expressed here are my own.
Come join the conversation! You can keep up to date with each and every post by subscribing to the blog via email. We'd also love to have you join us on all of our adventures by "liking" our facebook page and following us on twitter! If you enjoyed this post, please "like it", "tweet it" or "pin it"!