Dads can be so hard to shop for because they often already have everything they need! Nonetheless, I have 7 unique ideas for the travel and outdoor loving father in your life! These gift are meant to inspire, make outdoor and travel a little easier and more comfortable, and add a some fun into his adventures with the kids.
Gift Guide for the Travel and Outdoor Loving Dad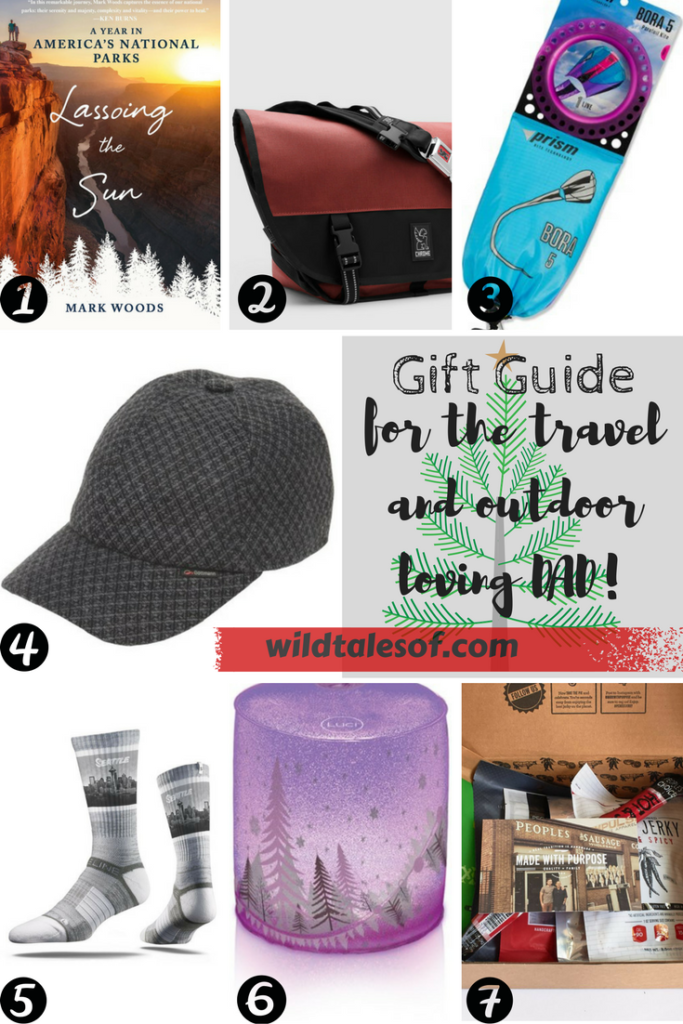 1. An Inspiring Book.
Time with a good book is invaluable! Separately, Slaed and I have enjoyed countless books over the past year, but the one book we both read (and loved) was Lassoing the Sun by Mark Woods.  You can read my review here, but if the Dad on your list loves the outdoors, travel, and good storytelling just know that it's the perfect choice!
2. Tough Messenger Bag
While they might not want to admit it, Dads need a place to put all the supplies and goodies that are necessary when taking care of the kids.  He might not be so keen on carrying around a fancy diaper bag, so one of the messenger bags from Chrome is the perfect solution! Slaed has a mini version, and it's great for keeping track of water bottles, snacks, and all the other essentials for his adventures with the kids.
3. Kite
Kites are just plain fun! I purchased this Prism Designs Single-line kite for Slaed a few years ago, and it often comes with us when we travel! He recently took it to the beach when we were in Maui, and I couldn't stop smiling watching him run around as he tried to get it to fly.  This one is easy to use, light weight, and small enough to pack in your carry-on. You can also read our kite adventure story from Long Beach, Washington!
4. Warm Hat
When we were at the Seattle Children's Museum of all places, our kids happen to be playing by a Dad with an stylish yet function hat! We made sure to stop and chat with him to get the details.  The Gottmann baseball caps are made of wool (some have gore-tex), and feature flaps that can fold down for added warmth.  There are several different styles (here's another), so you're sure to find the right one for the Dad in your life.
5. Socks!
Yes, yes, socks can be that stereotypical gift that everyone gives and gets, but these socks are different! Strideline makes comfortable, quality socks that can be personalized! Color, fun graphics, favorite sports team, favorite city are just some of the categories available.  Slaed and I both have green and blue Seattle socks (work for the Seahawks and the Sounders) that we love wearing to games, and get so many compliments on!
6. Lantern
These solar-powered lanterns from MPowerd really come in handy for the traveling outdoor dad. We have one that we use for camping, and love it.  They are light weight, and pack up small, and don't require batteries! Just make sure you "charge" it in direct sunlight before you need it.
7. Beef Jerky.
Since so many Dads just don't need more "stuff", I love giving consumable gifts.  This fall we got to try the beef jerky from People's Choice, and we've really enjoyed their unique ingredients and seasonings. I loved all the flavors in the box we received, but a few of my favorites include the carne seca limon, orange honey teriyaki, and the garlic ginger.  Yum! Beef Jerky packs easily (we brought several packs along on our trip to Maui), and is a quality snack that will actually curb hunger!  Plus, People's Choice is a great company–all their beef jerky is handmade with all natural ingredients.
Any more ideas to add to our list? Please share your thoughts by leaving a comment! You should also check out our Gift Guides from 2015, 2013& 2012, plus our last minute gift guide. 
Please note: Some affiliate links are used throughout the post.  If you purchase through our links, we receive a small commission.  Thanks for taking a look! 
Come join the conversation! You can keep up to date with each and every post by subscribing to the blog via email. We'd also love to have you join us on all of our adventures by "liking" our facebook page and following us on twitter! If you enjoyed this post, please "like it", "tweet it" or "pin it"!