Here come the Holidays! I must admit–the thought of a Holiday Gift Guide just a couple of days ago made me want to run for the hills, or maybe crawl under a rock.  I've decided to lighten up a bit though, and just let the holidays happen.  I want to be present, enjoy the reason for the season, and appreciate how excited my children get at the sight of twinkle lights, Christmas trees, and ornaments.  Plus, gift giving is so much fun!
Here are my picks to help inspire and equip young travelers and outdoor adventurers:
Gifts for the Young Traveler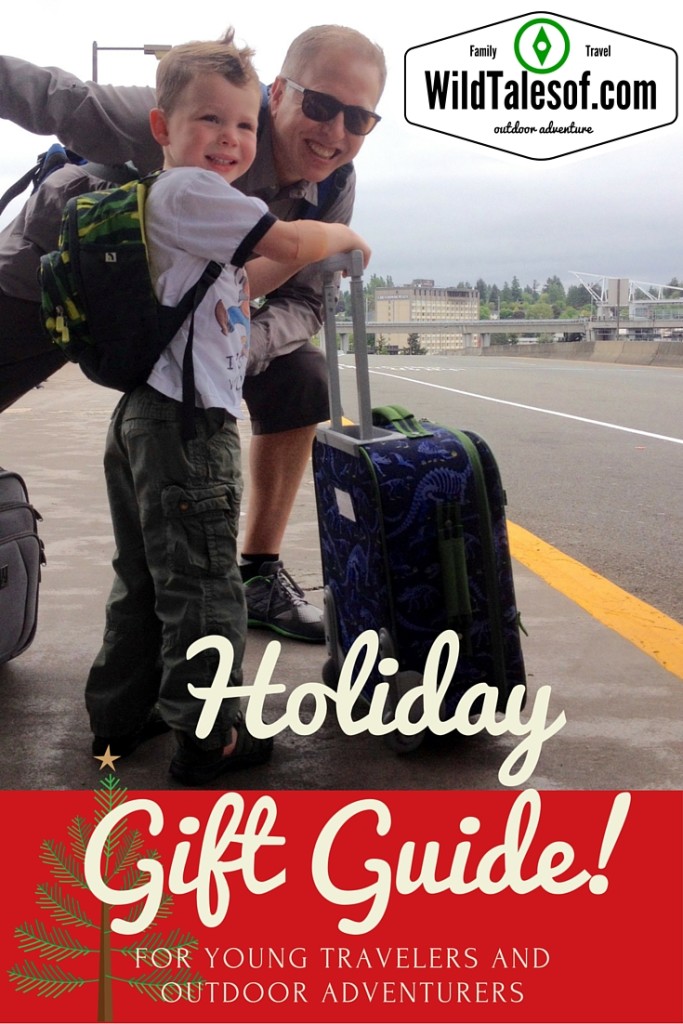 Find a backpack that is the appropriate size for the young traveler in your life, and as a bonus fill it with a few inspiring books.  For toddlers and preschoolers, we recommend the Sprout backpack from the North Face.  Bergen has had his since he was 2 years old, and it's still going strong with almost daily use (he's now 4-years old). The backpack works well as his carry-on for air travel, and easily fits beside him in the car for road trips.  He also uses it for school and day hikes!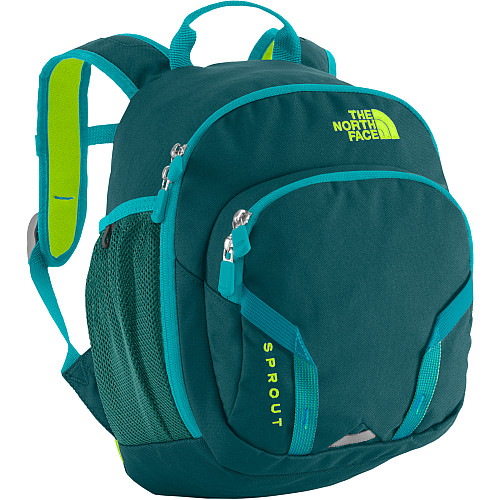 Once young travelers reach a certain age, they can start packing and hauling their own suitcase.  Really! Bergen has had the Pottery Barn Small Rolling Suitcase since last Christmas, and it's worked so well for him! It's the perfect size, and we've found that even for longer (10+days) trips, there is enough room for his clothes, and even a few books and toys.
While we like to limit screen time at home, it's hard not to allow some indulging when we are on the road (or in the skies).  Bergen gets the chance to play (educational) games and watch (educational) shows and movies on our Kindle Fire when we travel, and headphones are a must! We recommend the Wired Headphones from Kidz Gear.  They have a volume control, soft ear pads, and are designed for ages 2 and older.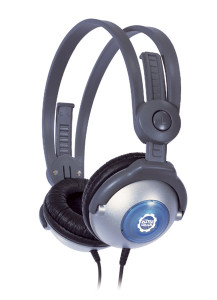 Instead of giving more "stuff" to your loved ones, why not inspire them to explore their state with a parks pass that gives them "free" entry into all the parks for a full year? Trails, historical sites, natural wonders, nature centers, and more are just waiting to be explored! In Washington State, we have the Discover Pass.  It provides access to over 100 state parks, and it's only about $35!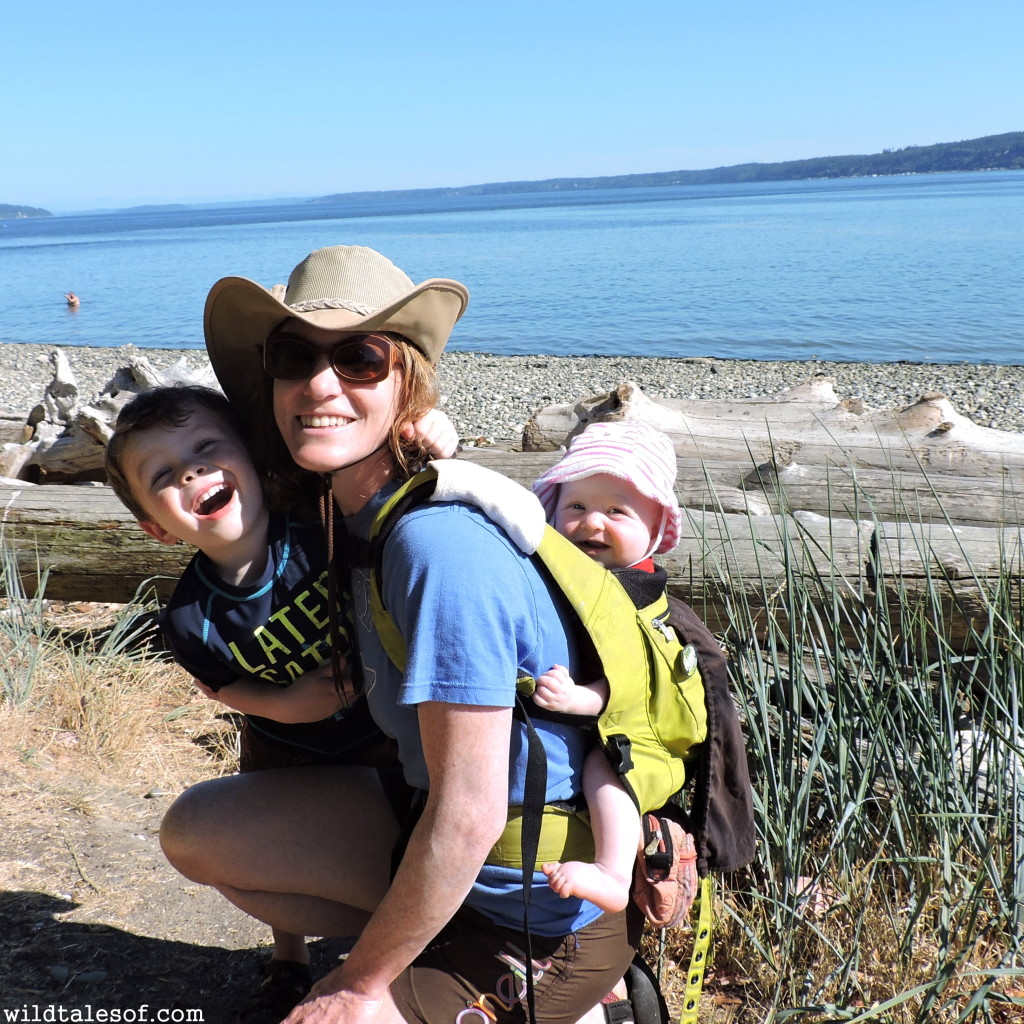 Outdoor Gear for the Young Adventurer
There are so many different types of balance bikes on the market these days, and they make such a great gift for young adventurers.  Bergen started using a balance bike when he was 2 years old, and it's given him so much joy and mobility! We particularly love the Kazam Balance Bike.  It's well built, has a seat that easily adjusts to accommodate growth, and it has a middle platform for Bergen to rest his feet as he glides along. We prefer the "V2S" model–it features real air filled tires with medal spokes rather than plastic.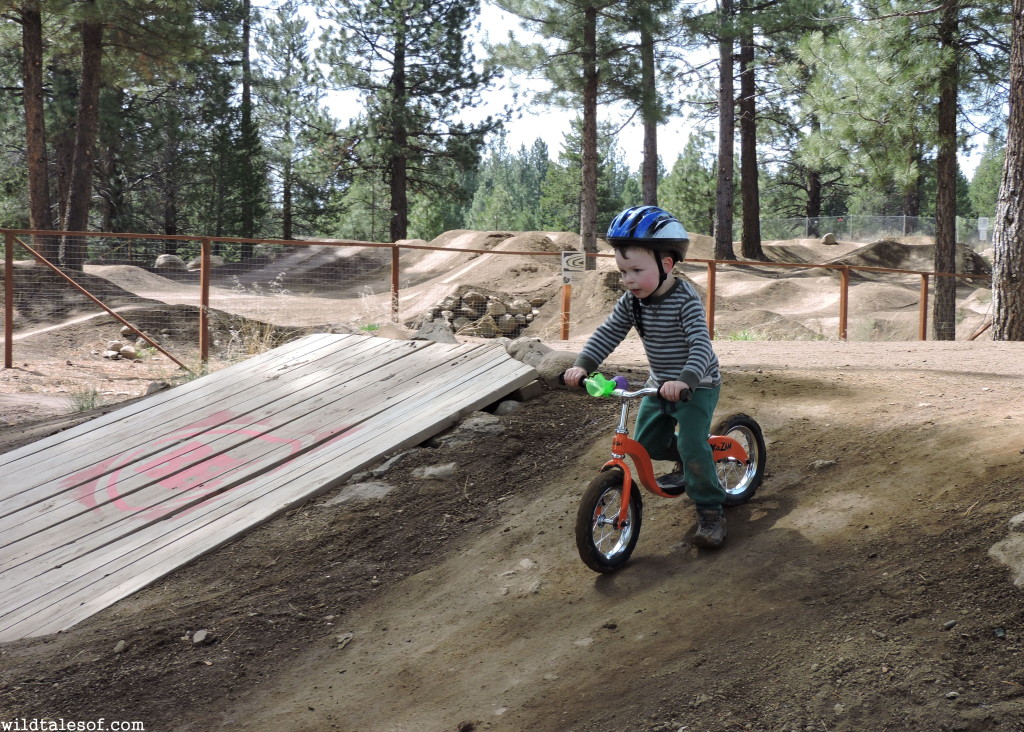 Scooters have a fairly quick learning curve, and provide so much mobility for kids.  They are also light weight & many can easily be folded or collapsed for travel.  We recently reviewed the mini from micro kickboard here on the blog.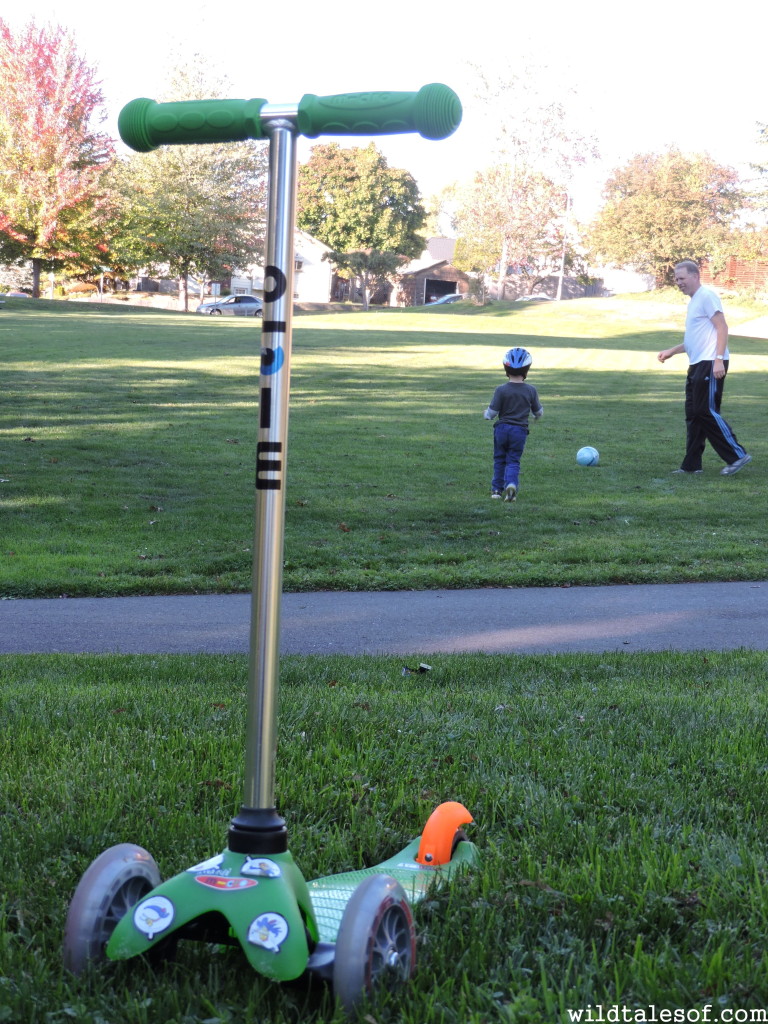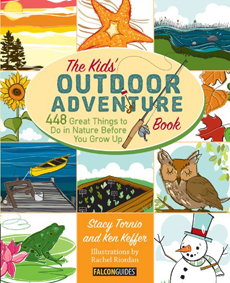 I absolutely love this book! Bergen and I refer to it at the start of every season, and always come away with fun ideas that inspire us to get outside.  The contents remind me to savor the things that make each season special.
Whether it's on the top of the tallest sand dune on the east coast, on the beach, or on a hill in Discovery Park here in Seattle, there's something thrilling about flying a kite.  We recommend the Stowaway Parafoil from Prism Kites.  It makes the whole process simple: No assembly, easy to use & travel with, comes in it's own stuff sack, AND it's indestructible!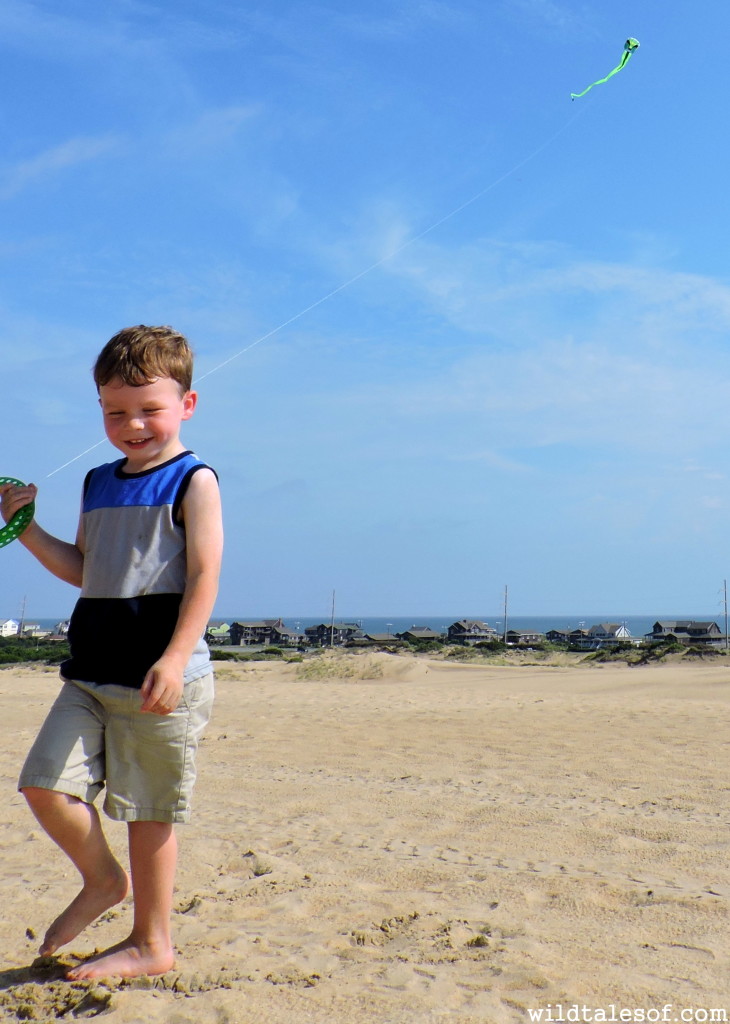 Learning to identify the bugs, trees, flowers, and birds you see outdoors opens up a whole new world of exploration.  We recommend Mac's Laminated Field Guides and the Pocket Naturalist Fold-out Field Guides.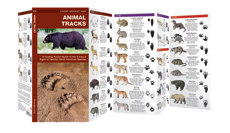 Outdoor Clothing and Accessories
Wool socks make great stocking stuffers, and most recently we've introduced to wool pants by Ella's Wool.  Bergen now wears them under his rain pants for forest school days and he prefers them to long underwear.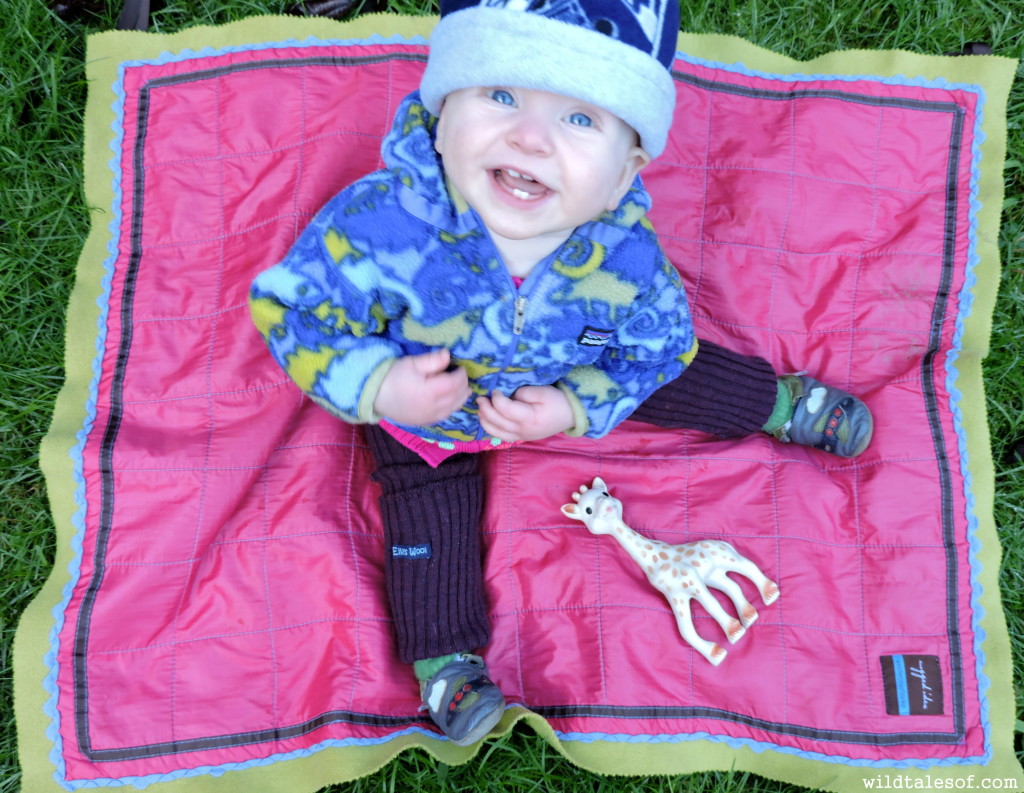 It's a lot safer for young outdoor adventurers if they don reflective gear and lights when they are outside after dark, but it's also a lot more fun! We recommend this kids headlamp from Black Diamond.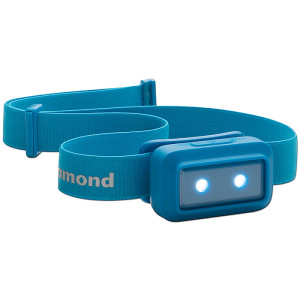 Imagine your little adventurers stomping around joyfully in puddles, and at the same time keeping their feet warm and dry.  The MyMayu boots are my favorite rain boots for kids.  They're effective, fold down small, dry quickly, and don't have that clunky, bulky feeling like most rain boots out there.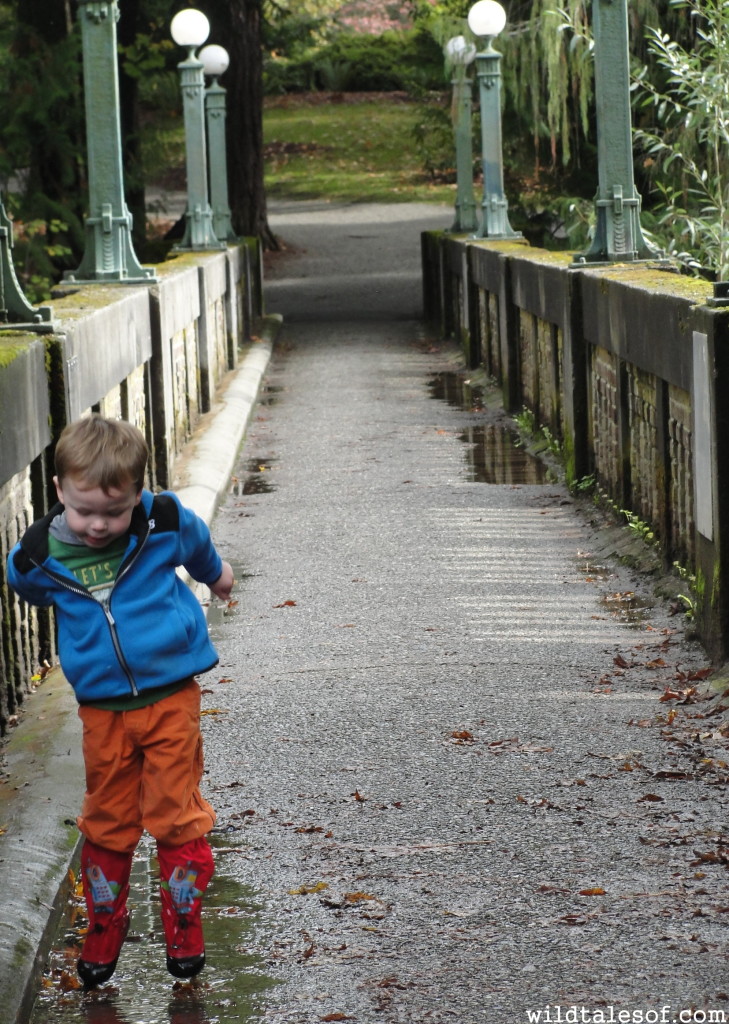 Especially when getting outdoors with little ones, rain suits make it so easy to keep everything covered in one single package. We recommend the rain suits from Oakiwearand Tuffo.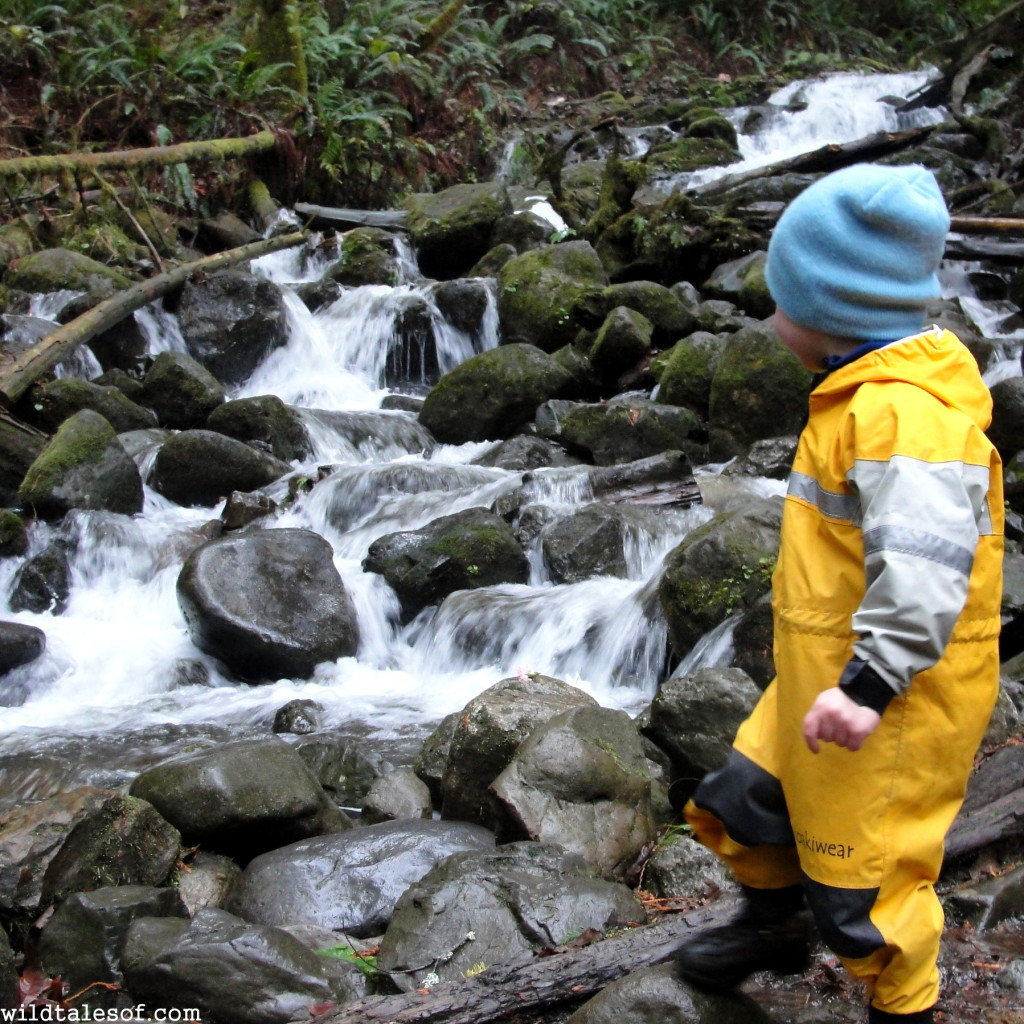 Do you have any ideas to add to any of our categories? Please share your thoughts by leaving a comment! You should also check out our Gift Guides from 2013 & 2012. 
Deal Alerts:
Sierra Trading Post–Take 20% if you spend $125 or more, and 25% off if you spend $200 through 12/2/15

Almost everything on OutdoorPlay's site is 60% off through 12/10/15!
There's More! Some Awesome Ideas from my Outdoor Family Blogger Friends:
Please note: Some affiliate links are used throughout the post.  If you purchase through our links, we receive a small commission.  Thanks for taking a look! 
Come join the conversation! You can keep up to date with each and every post by subscribing to the blog via email. We'd also love to have you join us on all of our adventures by "liking" our facebook page and following us on twitter! If you enjoyed this post, please "like it", "tweet it" or "pin it"!