Imagine waking up and stepping outside your front door onto a covered porch.  In front of you, a babbling stream greets you, bringing an overwhelming sense of peace to your day.  Surrounding you from above are towering evergreen trees helping you to feel centered even though tasks, responsibilities, and to-do list items try to impose.
Then as your eyes dance from the calming water to the majestic trees, you realize that the entire area is covered in a blanket of fresh white snow.  Truly a winter wonderland that, despite the chill in the air, feels like heaven.
Sounds like a dream, right? Well, this is actually what we experienced just a few weeks ago during our stay at Mounthaven Resort near Mount Rainier National Park.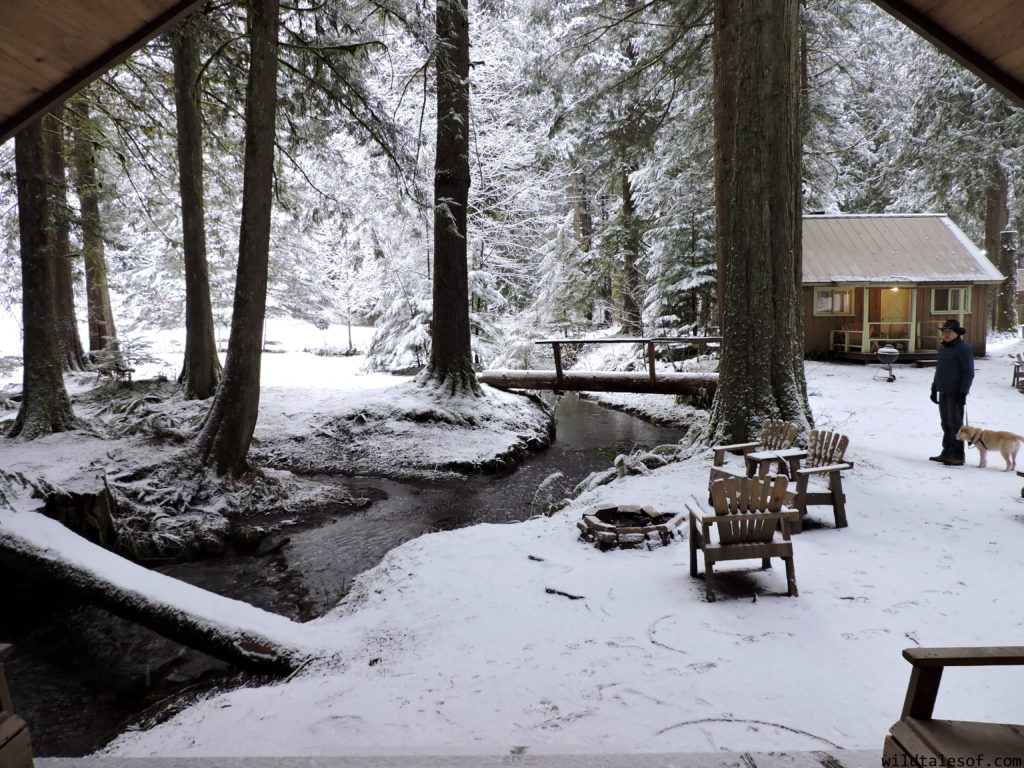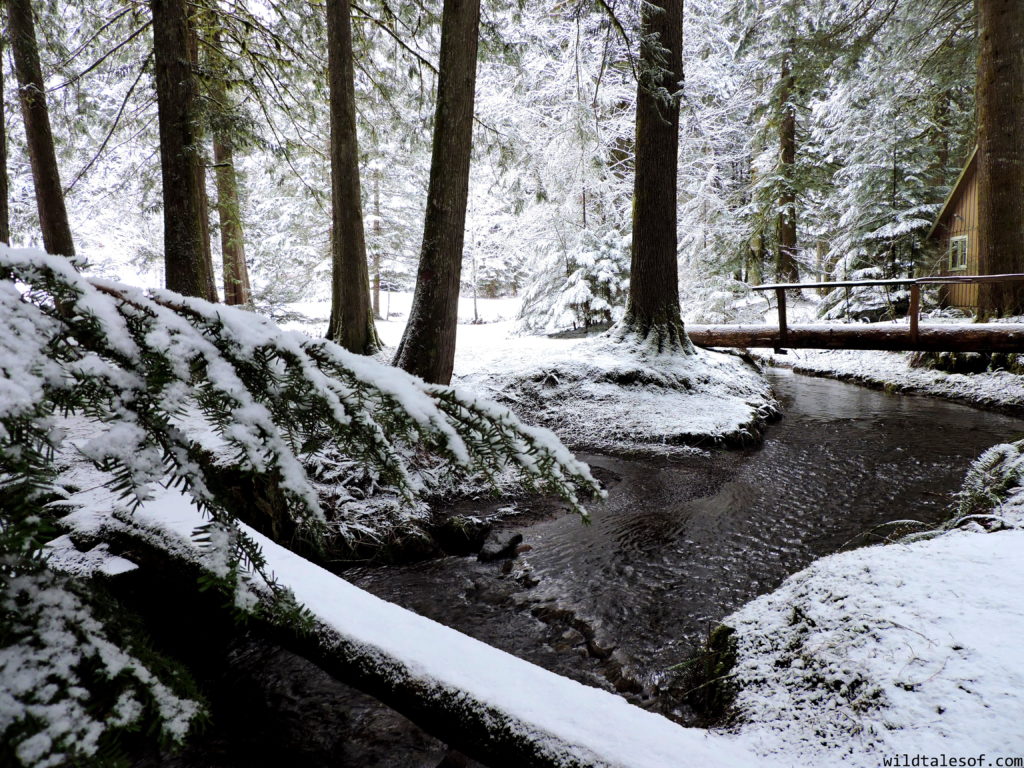 Mounthaven Resort is located in Ashland, Washington, just half a mile from Mount Rainier's Nisqually (south) entrance.  The 7-acre resort offers 9 cabins and 3 vacation homes, along with 16 RV sites and spots for tent camping, and is open year-round.
For our late February stay, we lodged at the Maple cabin, a 2-bedroom, 1 bathroom retreat complete with full kitchen and living/dining room.  In the master bedroom, there's a queen-sized bed, and in the 2nd bedroom, a queen-sized bed along with a twin.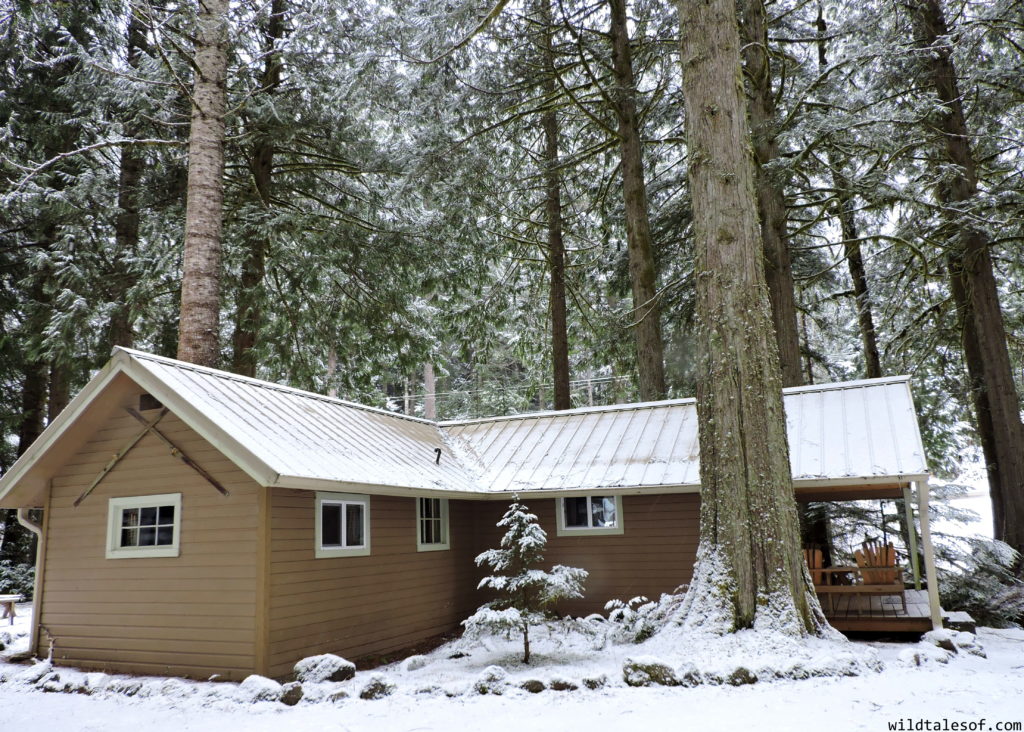 We immediately appreciated the covered porch, not only a place to sit and enjoy the creek and forest views, but a practical space to dry off and begin the "de-layering" process after an adventurous day in the park.  The front door opens right into the kitchen, dining, and living room area: all one cozy space with a wood burning stove.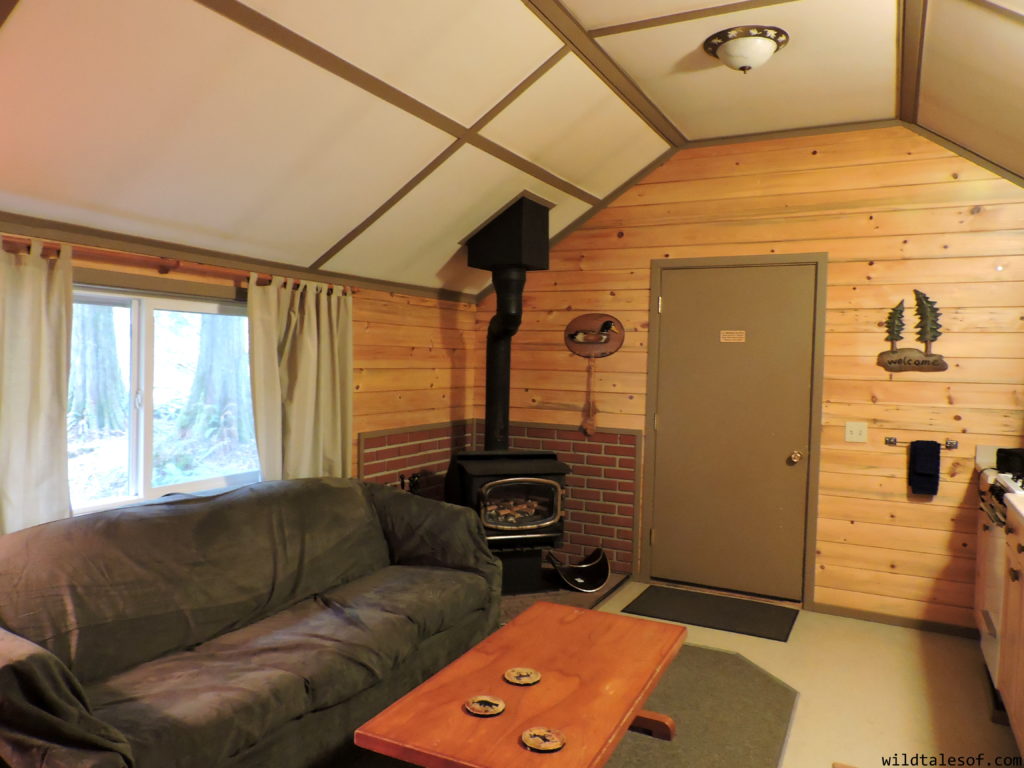 While we didn't fully utilize the kitchen, other than warming up the muffins we brought from home for breakfast, had we stayed longer, I know we would have liked to cook some of our meals here.  It's a small area, but has everything needed including full refrigerator, full stove, microwave, coffee maker, and plenty of counter space for preparation.
I also adored to outdoor-themed dishware! Along with the promise of fresh snow and that babbling creek, I couldn't wait to get up and pour my cup of coffee into the inviting mug.  Sometimes, it's the little things that help you get going in the early morning!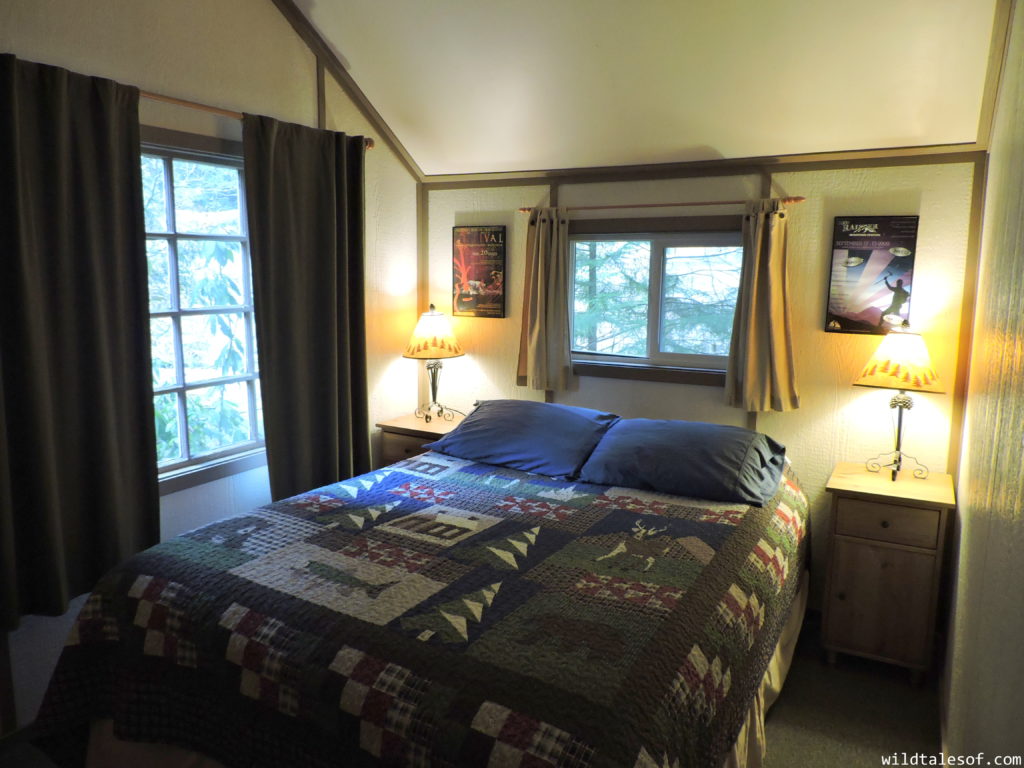 The master bedroom, where Slaed and I slept, is on the small side, but has everything necessary for a good night's sleep, and plenty of room to store and organize our things.  With all of our coats, jackets, and other layers, I was happy with the hooks available, and I was also glad to find a luggage rack for my suitcase.
We found the bed to be quite comfortable, and loved all the forest-themed decor from the lamps to the quilt.  And since I could hear the creek just outside the window, I didn't so much mind the snow plows rumbling down the road in the early morning hours.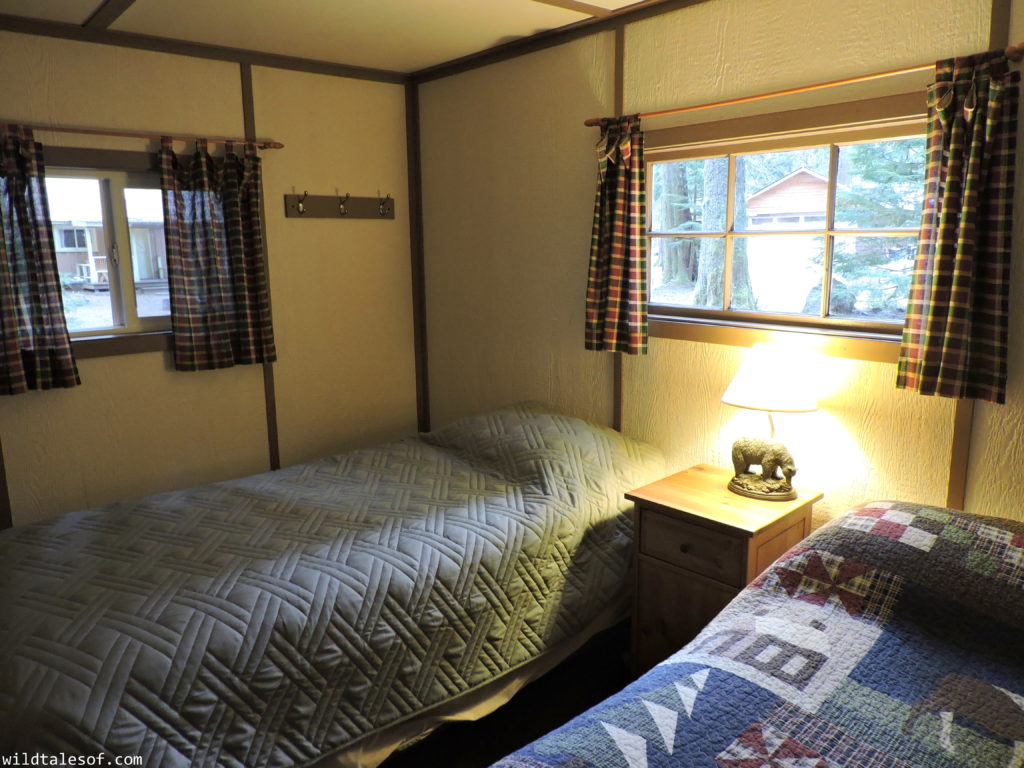 Bergen and Georgia (5 years and 2 years) slept in the 2nd bedroom.  Bergen slept in the queen bed, and we were able to move the twin bed over to make room for Georgia's Lotus Travel Crib.  There were lots of cozy cabin touches, that bear lamp is my favorite, in this room as well, and I love the versatility of the sleeping options.
For a cabin of this size, the bathroom is spacious.  The four of us were able to get ready for bed in the evening, and prepare for the day in the morning without feeling crowded.  Slaed mentioned how nice shower was after freshening up in the evening, and a kind of laughed. I thought to myself, "How great could it be?" But when I took my turn in the morning, I knew exactly what he meant! No wimpy shower head, and plenty of hot water to go around.  We also appreciated the toiletries provided since for such a short trip, we like to keep packing items to a minimum.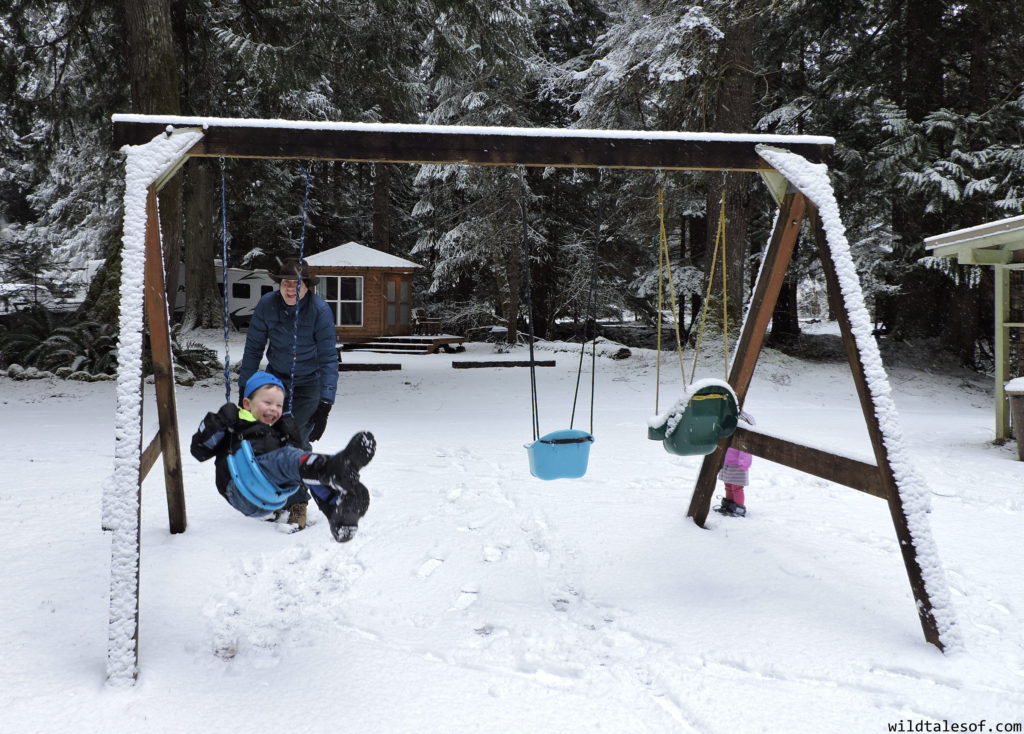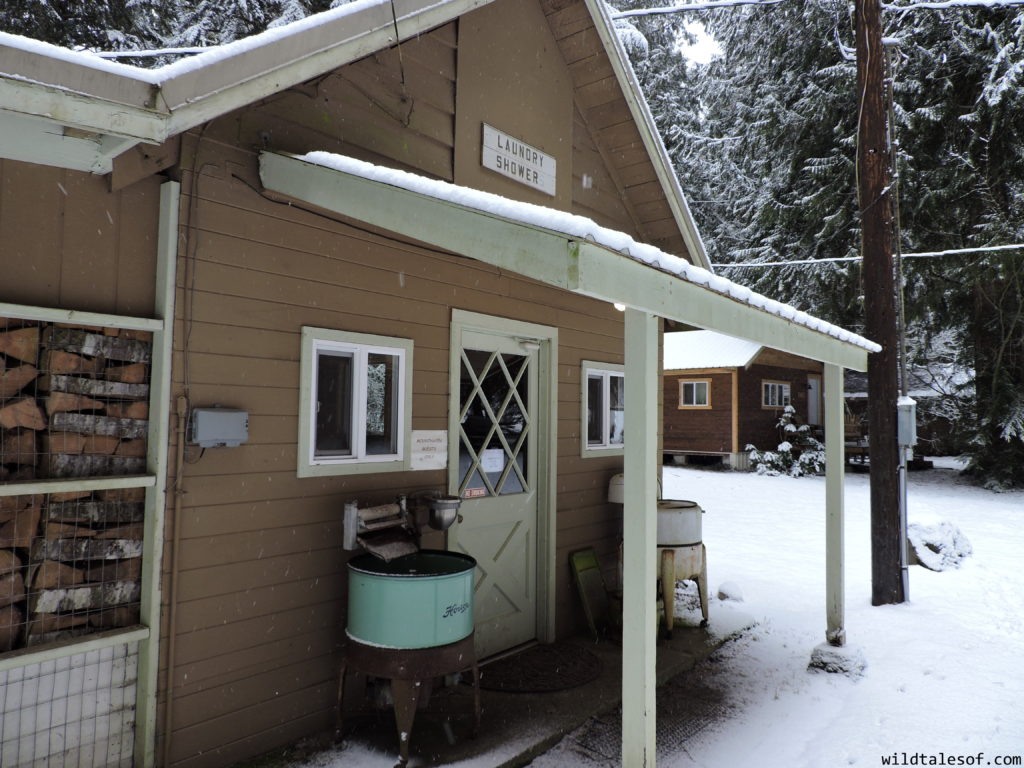 Amenities
All cabins and homes have a private entrance.  Occupancy limits range from 2 people in the one room cabins to 9 people in their larger cabins and vacation homes.
Hot tubs are available in the fall, winter & spring in some cabins.
All cabins have indoor fireplaces (along with gas heat).
Depending on size, cabins are equipped with either a kitchenette or full kitchen. Coffee, tea, and hot chocolate are provided!
Fire pits and barbecues are outside of each cabin.
Coin operated laundry facility is available for all guests, and is available 24-7.
Play area with swings and see-saw located just in front of the laundry facility, and there is also equipment for other sports including basketball, badminton & horseshoes.
Trails and walking paths, plus, owners Zandy and James are happy to help with hike/activity suggestions within Mount Rainier National Park.  Also keep an eye of for visiting wildlife.
Games, books & puzzles are available in the office to borrow.
Free parking.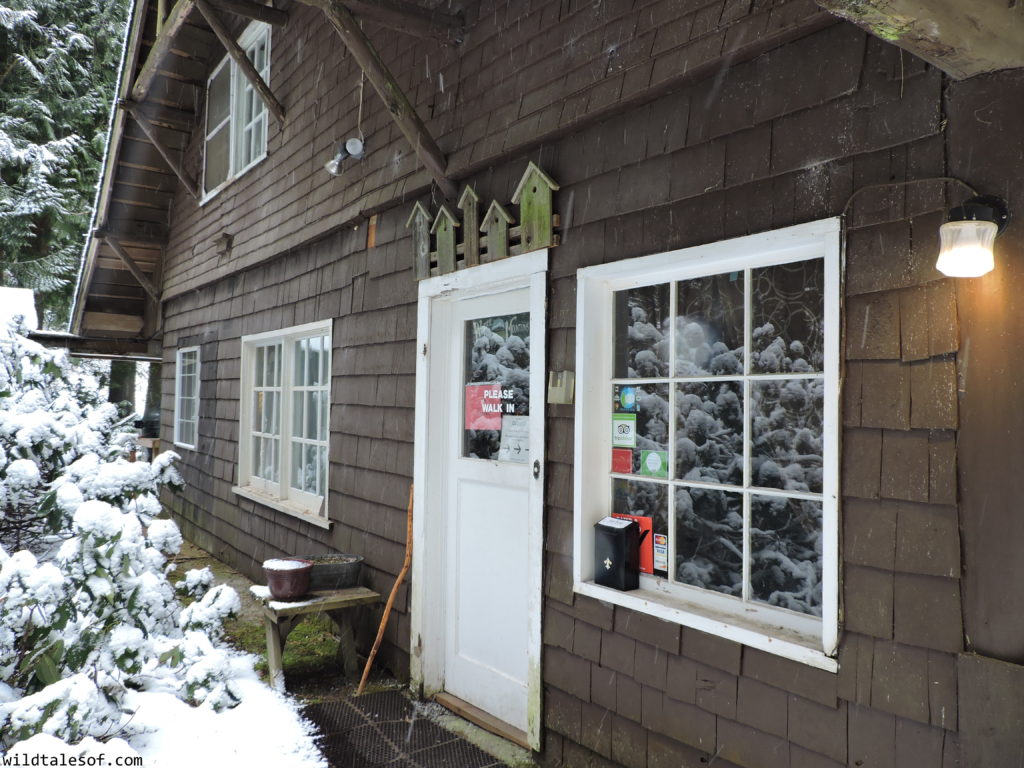 Info to Know:
Mounthaven Resort is located in Ashford, Washington, just 1/2 mile from Mount Rainier National Park's Nisqually entrance:

38210 SR 706 East
Ashford, Washington 98304
(360) 569-2594
mounthaven@live.com

The resort's history dates back to 1920, and has changed hands a few times over the years.  The current owners, James and Zandy Ball, are clearly passionate about their little piece of paradise, and work hard to maintain the property (includes cabins, RV sites, tent spaces, and vacation homes). They were both friendly, and eager to help make our stay as enjoyable as possible.
Rates start at $120 per night for a one-room cabin all the way up to $200 per night for one of their vacation homes.  Prices vary based on season with summer being their "high" season.  RV sites are $47 per night, and tent sites are $30 per night.
Check-in is between 4pm and 8pm, check-out 11am.
Small pets are considered.  Call ahead to check with owners.
All cabins are smoke-free.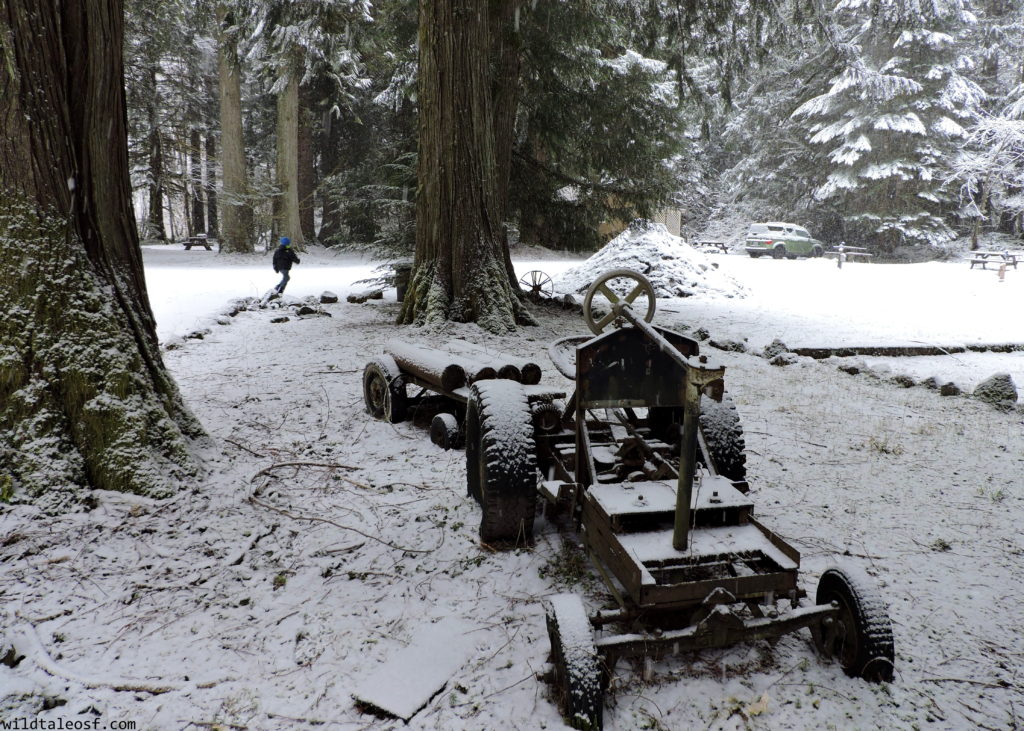 In case you haven't caught on yet, we
thoroughly enjoyed our stay

at Mounthaven Resort & know we will be back! We highly recommend the resort to families looking to adventure in Mount Rainier National Park.
Have you rented a cabin for a family vacation? Tell us about a recent lodging option that you loved!
Come join the conversation! You can keep up to date with each and every post by subscribing to the blog via email. We'd also love to have you join us on all of our adventures by "liking" our facebook page and following us on twitter! If you enjoyed this post, please "like it", "tweet it" or "pin it"! 
Special thanks to the Travel Tacoma + Pierce County, Washington for hosting us at Mounthaven Resort in exchange for our honest review on the blog.  As usual, all opinions expressed here are our own! Questions? Don't hesitate to email us at wildtalesof@gmail.com
More on Mount Rainier: