When we visit Portland, Oregon, we usually stick to the downtown core with trips to outlying neighborhoods to visit friends.  In fact, early on with Bergen when he was a baby, and then a toddler, we took the train down from Seattle and didn't even use a car! With Portland's advanced public transportation system, this is easily accomplished.
A recent article in the Seattle Times led us to expand our Portland area horizons though.  There is more to the area than the city itself, and we thought it was high time we incorporate a road trip to the Columbia River Gorge.  Even with its close proximity to Portland, we'd never traveled to this area famous for its amazing waterfalls, wind surfing, and GORGEous views of the Columbia River cutting through the rocky landscape.
There is much to do and see in this region, and with a day trip (and 2 young children), we barely scratched the surface.  This of course means we are already dreaming about return trips. In the meantime though, here's what our adventure along the Columbia River Gorge entailed, all of which we highly recommend!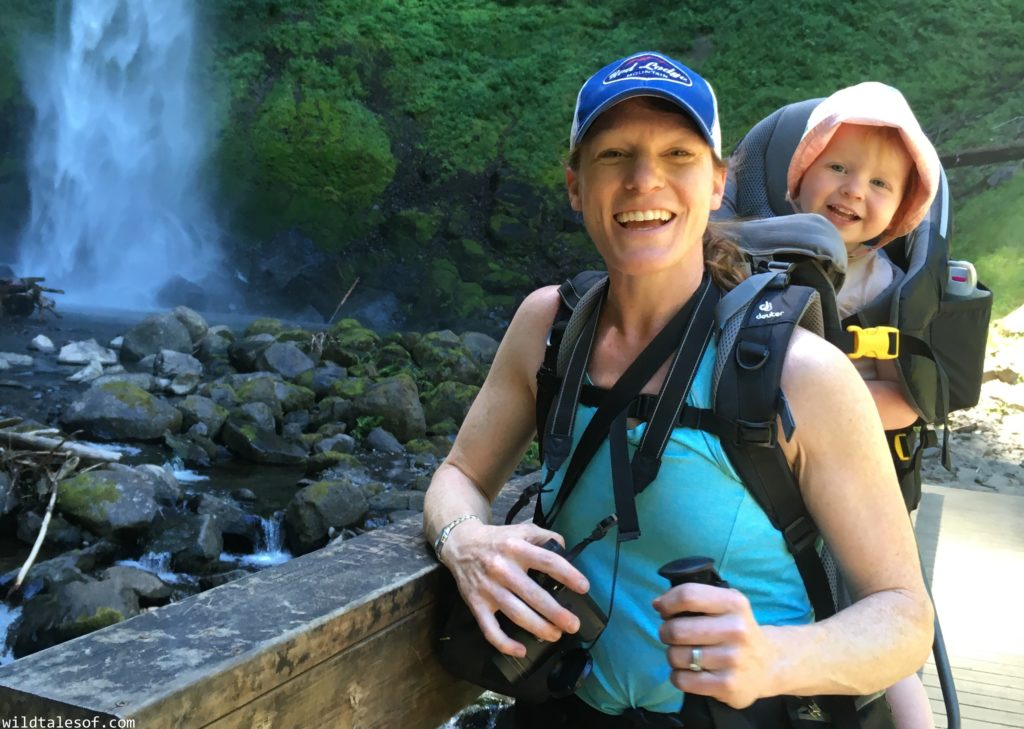 Columbia River Gorge Day Trip
The Columbia River Gorge, considered one of Oregon's 7 Natural Wonders and designated as a National Scenic Area, stretches from just east of Portland, Oregon all the way to the confluence of the Deschutes River.  For our day trip, we traveled from our rental condo in Northeast Portland to the town of Hood River with several stops in between.  Here you'll find our rough itinerary with plenty of photos that will hopefully illustrate the amazing natural beauty of this area!
Breakfast in NE Portland
We decided to fuel up before hitting the road at a bagel shop we'd noticed when exploring the neighborhood the night before.  Spielman Bagels has seriously delicious bagels as well as great coffee.  We loved this spot so much that we even went back the next morning for more!  Bagels are of course available to take away, but there is also plenty of room (and highchairs) to sit and dine in the shop.  Spielman's is popular, so since we'd arrived fairly early, we were able to get our order in right away, but folks poured in after that!
Drive from Portland to Hood River
With full bellies, we hopped onto East I-84, and started our journey.  Our plan was to go right to Elowah Falls, a waterfall just east of the more well known Multnomah Falls, but I ended up failing as a navigator and we passed the exit we were supposed to take! The views of the gorge and other waterfalls seen right from the highway were just too captivating, and I wasn't reading the directions carefully enough.
Rather than backtrack, since we didn't realize our mistake until much later, we decided to press on to Hood River and spend some time there. Lucky for us, just as we arrived, their Saturday Farmer's Market was just starting! We indulged on Early Robin cherries (similar to Rainier cherries, but they ripen earlier), listened to live music, and played a round of corn hole while the bubble machine delighted the kids.
After the farmer's market, we wandered around downtown Hood River.  We tossed around the idea of waiting for Full Sail Brewery to open to take a tour, but in the end thought it was best to skip, and continued on with our adventure.
Hood river to back to Portland
Now we were in a predicament.  Too early for lunch, but the cherries weren't quite enough of a snack to tide us over before our hike.  On our friend's recommendations, we headed to the town of Cascade Locks (about 25 minutes from Hood River), and got to experience the ice cream cones at Eastwind Drive-In.  These are the biggest soft-serve ice cream cones I've ever seen!  We made the mistake of over ordering, so be warned! 2 medium cones, and 1 small cone is WAY too much for a family of 4.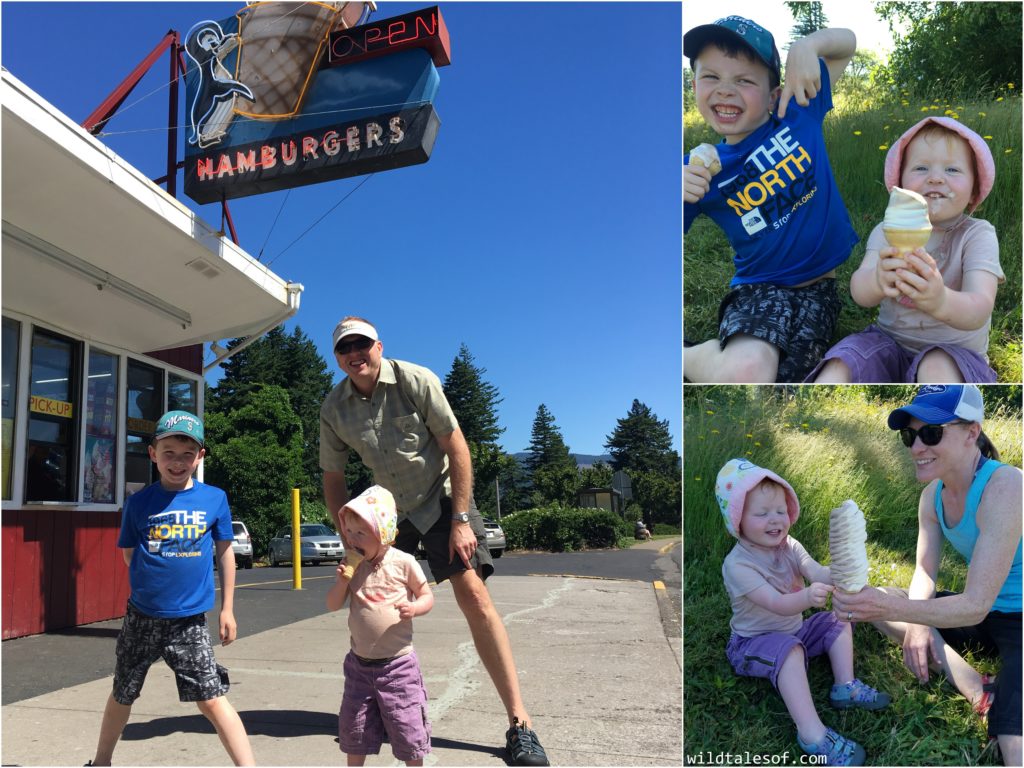 Now that we had sufficiently gorged ourselves on soft serve, we were ready for the main event: A hike to Elowah Falls.  At just 1.6 miles round trip and little elevation gain, the hike to Elowah Falls is suitable for children, and fairly easy.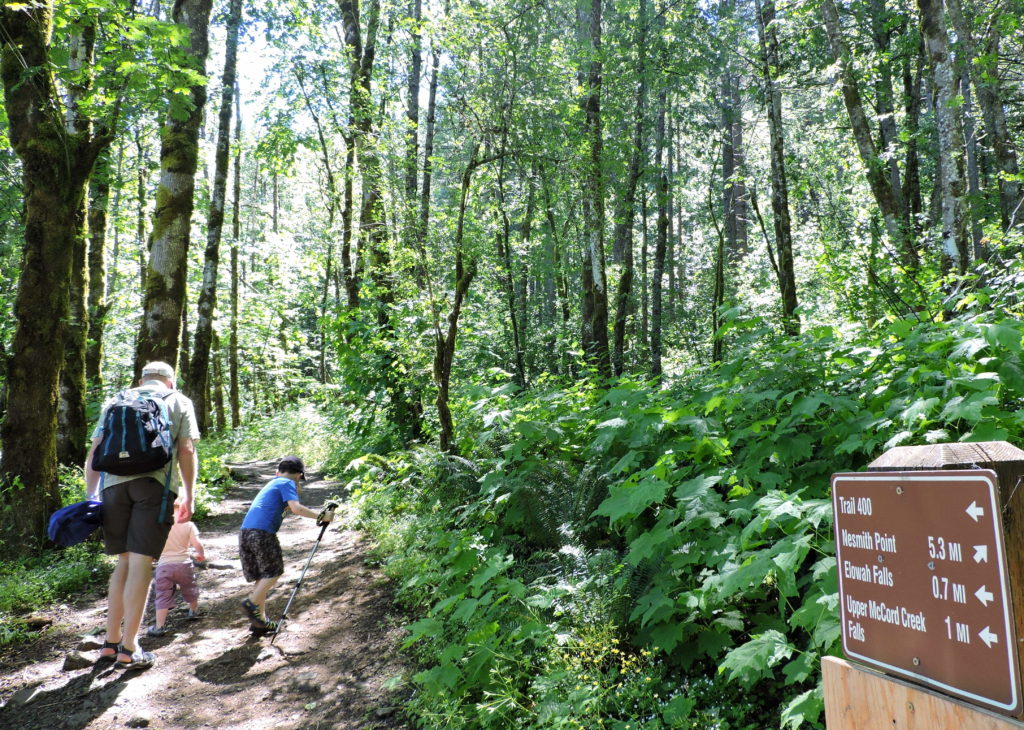 Georgia, our 2-year old, hiked about half way before we moved her into the backpack carrier for the remainder.  As we approached the falls, I was giddy with excitement.  They are a spectacular display of nature's power.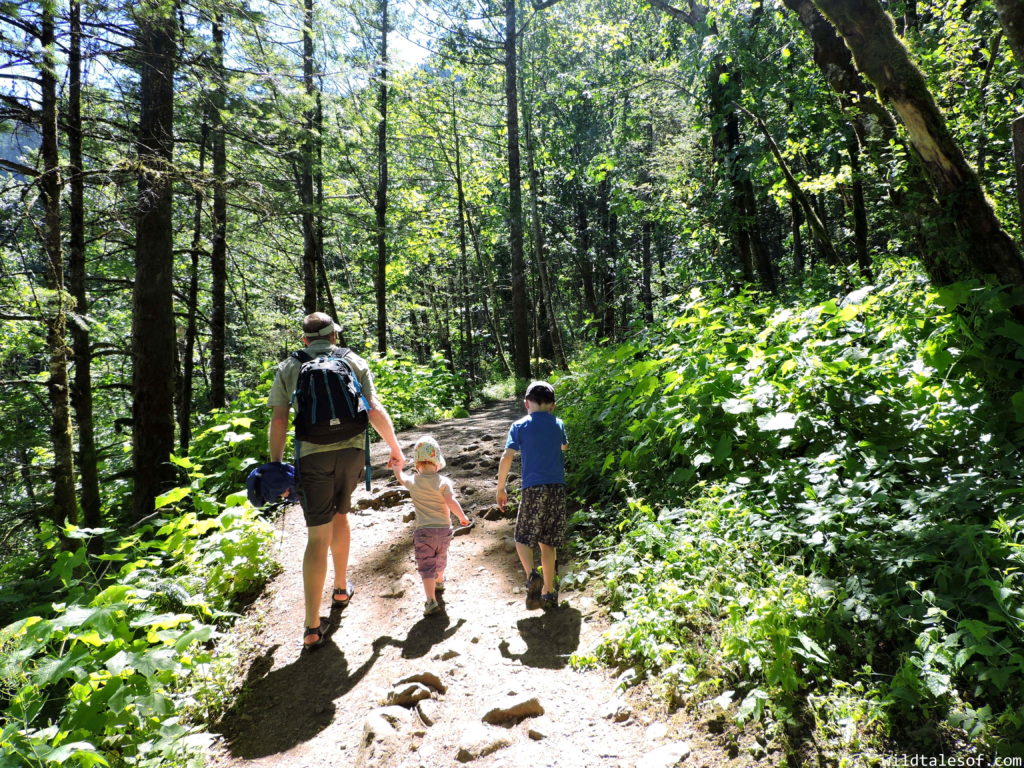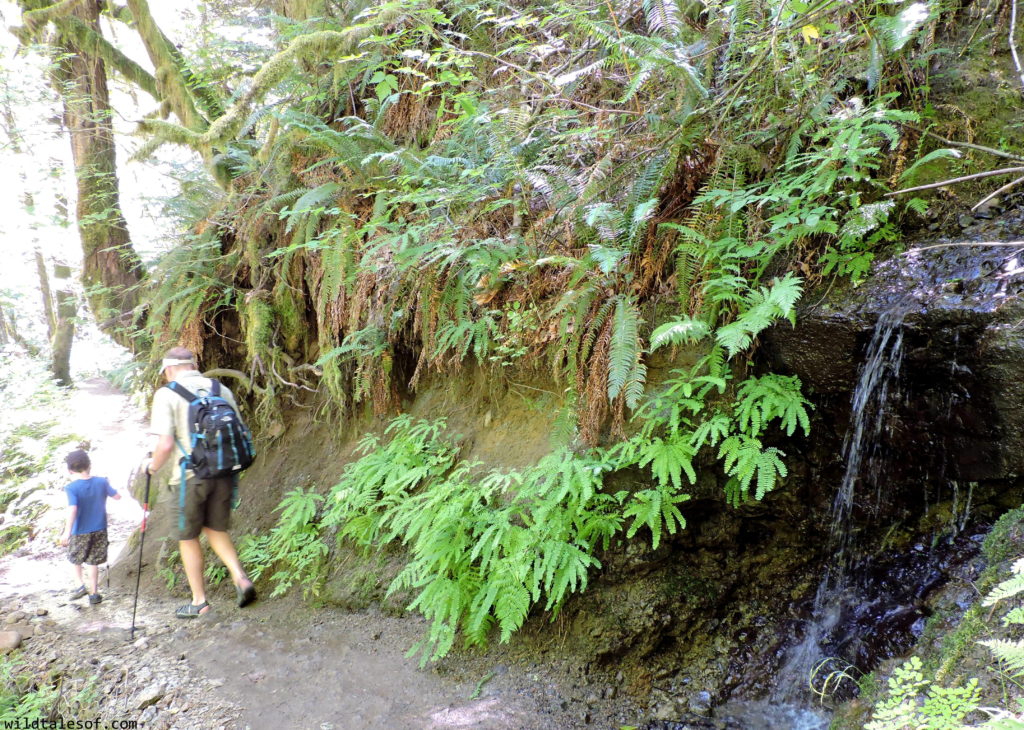 Of course we heard the falls before we could see them, and as we followed the trail, they are revealed little by little.  There are several great spots to stop and view the falls at different angles, and because of the structure of the cliffs, we got wet! Photographing was a tad tricky due to all of the mist and sunlight streaming through!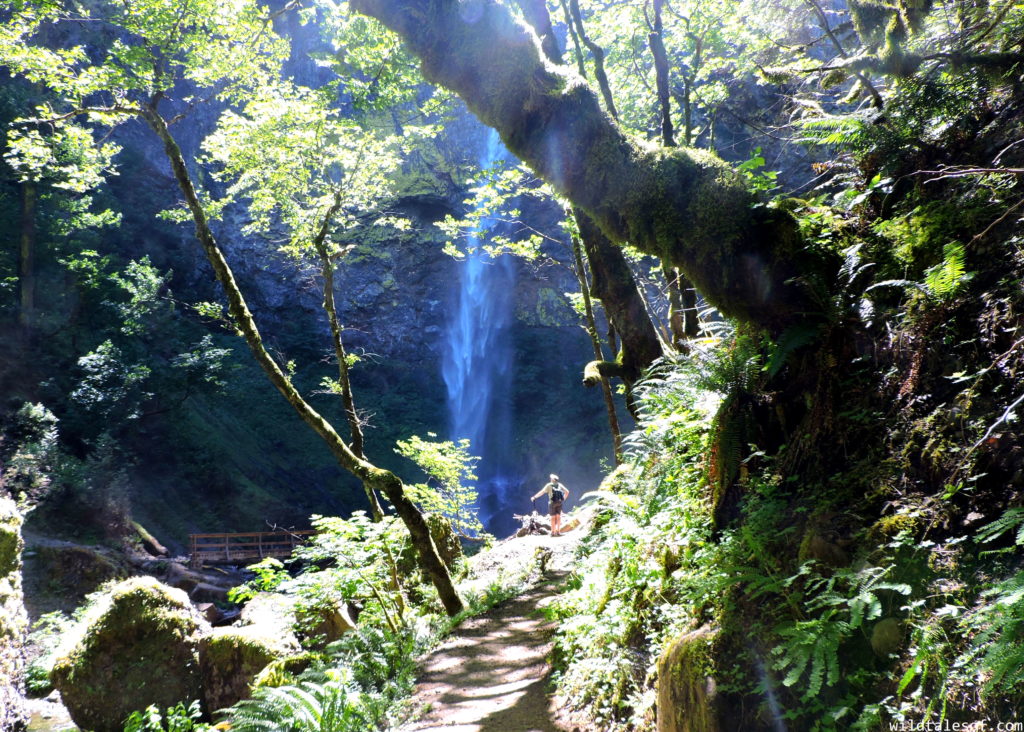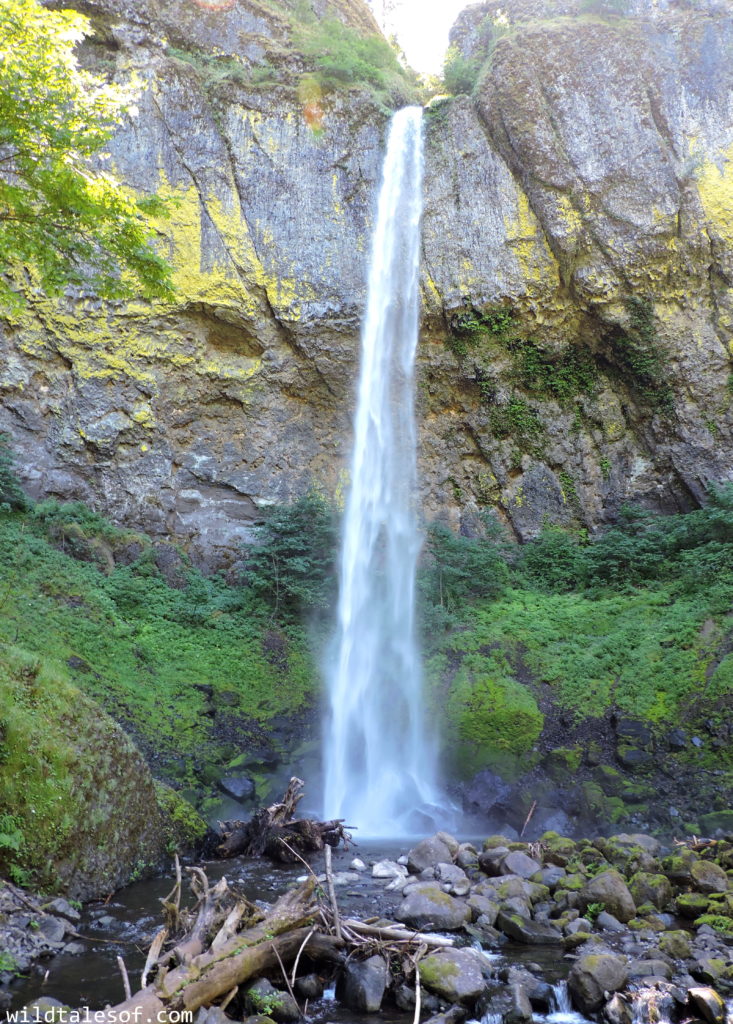 The advantage of our Columbia River Gorge adventure is that we didn't have to travel far for an unforgettable experience in nature.  The short drive and short hike allowed us to still have time for a lunch stop.  I guess Slaed wasn't really paying attention when I suggested we go to the McMenamins Edgefield.  He heard food and McMenamins, and didn't think too much about it as we navigated to Troutdale, known as the western gateway to the Columbia River Gorge.
However when we sat down at a table in the Edgefield's Power Station Pub, it finally dawned on him! For years he'd dreamed of coming here.  The Edgefield is McMenamins' first hotel, and is more than just a place to sleep, eat, and drink.  It's a resort complete with movies, a salon and spa, pools, and even a golf course.  Needless to say, we had a lovely experience.  Great food, great service, and great excitement over finally getting to visit a location, Slaed had heard about for so long.  Since nap time was quickly approaching though, our time was cut short, so we now have plans to return, and hopefully stay the night!
Side note: If you live in (or are visiting) the Pacific Northwest, and don't know about McMenamins, make sure to visit their website and learn more! We love dining at their pubs, and have stayed in (and have family ties to) their Bothell, Washington location, The Anderson School.  
Now that we have a taste of the beauty of the Columbia River Gorge, I know we'll make a point to return to see more waterfalls, more charming small towns, and more memorable food experiences.
Columbia River Gorge Notes:
As I mentioned, there is so much more to explore in this area.  Our good friends who live in Portland gave us more ideas than we were able to get to on our 1/2 day visit. I thought I'd share a few of their insights!
If you visit Multnomah Falls (the most popular of the area waterfalls), visit EARLY in the day to avoid crowds, especially in summer. The falls are visible from the highway, and even that quick glimpse is spectacular.
Another amazing waterfall, probably reserved for when the kids are a bit older, is Oneonta Falls, accessible from the Horsetail Falls trailhead near Warrendale.
For great views of the Columbia River Gorge without the hassle of hiking, our friends recommend the Vista House located near the town of Corbett.  The building, designed as a comfort station for motorists, turns 100 next year (2018)!
Have you visited the Columbia River Gorge in Oregon? Tell us about your adventure!
Come join the conversation! You can keep up to date with each and every post by subscribing to the blog via email. We'd also love to have you join us on all of our adventures by "liking" our facebook page and following us on twitter! If you enjoyed this post, please "like it", "tweet it" or "pin it"!