We love staying in hotels that have been around for years and years for their charm, history, and character, but there's also something to be said about a staying somewhere that's brand-new.  The words modern, fresh, and contemporary come to mind when I think of our experience at Victoria, BC's DoubleTree Hotel.  We stayed here during our recent visit to Vancouver Island (you can view our 7-day itinerary here), and we were quite pleased with the visit!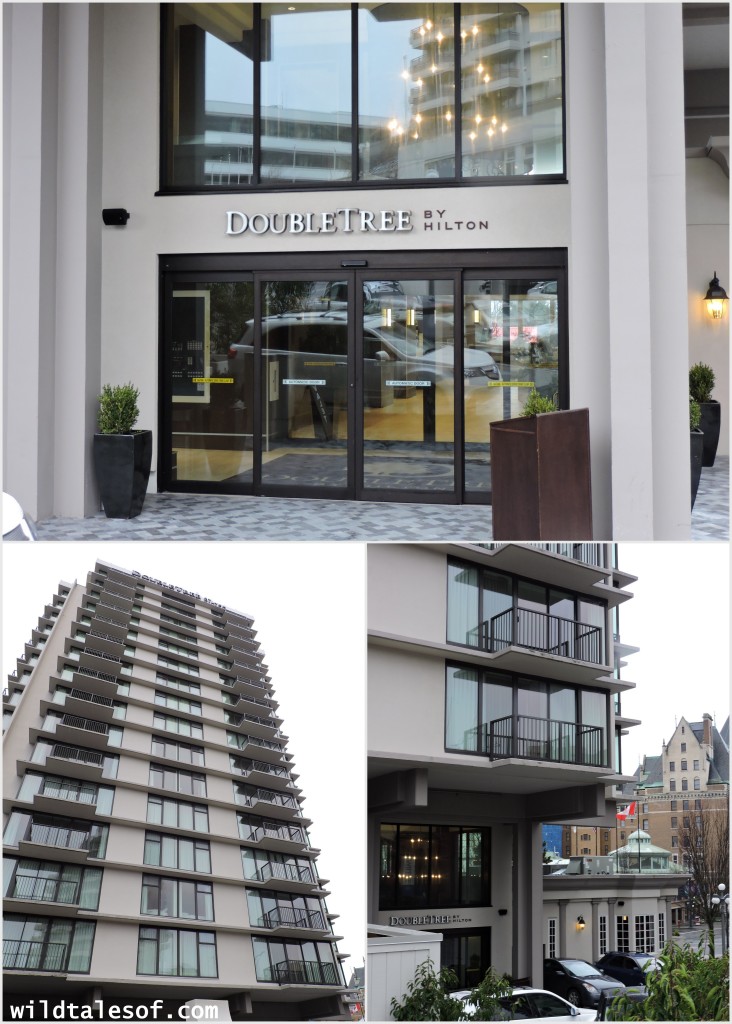 We'll get into the specifics of our room and some of the amenities and details of the hotel itself, but first our general impressions & highlights:
Just a 5 minute walk to so many of Victoria's most popular attractions including the Parliament Building, Royal BC Museum, and the Inner Harbor.
We experienced such friendly and helpful service from the staff at the DoubleTree Victoria.  From assisting us with our mountain of luggage, providing us with everything we needed to make our room as comfortable as possible, and pointing us in the right direction as we navigated the city, the staff members always had a smile for us, and made us feel welcome.
There was SO much space in our 1-bedroom suite providing us with plenty of space to spread out, and not feel like we were living on top of each other.  It really felt like a home away from home rather than a hotel room, which can be rare in urban accommodations.  To give you an idea of the space that the family suite provides, I prepared a quick video:
Our Room
As I mentioned above, we were able to spread out in a spacious 1-bedroom family suite.  Initially we were disappointed to learn that we'd only be on the second floor thinking that we'd be missing out on the wonderful views that the property boasts.  Not the case! Even on the 2nd floor, we had a great view of the inner harbor, legislative buildings (lit up at night), and if the weather would have cooperated the ocean and surrounding mountains.
Our 1-bedroom family suite included a bathroom with tub, large hall closet (very important for our luggage and clothing storage), private bedroom with king bed, dining and kitchen area with table, large living room with pull-out queen sofa bed, and a nice balcony with view.  More details here:
Private Bedroom: King Sized-bed, Television, tall windows with view, closet large enough to house Georgia's crib (provided by the hotel)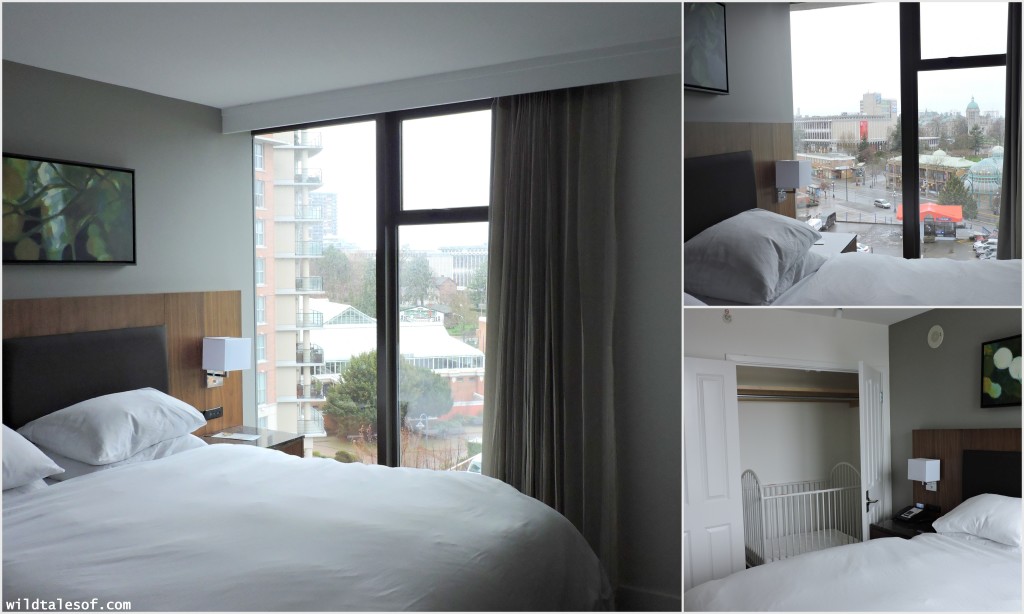 Dining and Kitchen Area: Table for 4, mini-fridge, microwave, keurig coffee maker, sink, and storage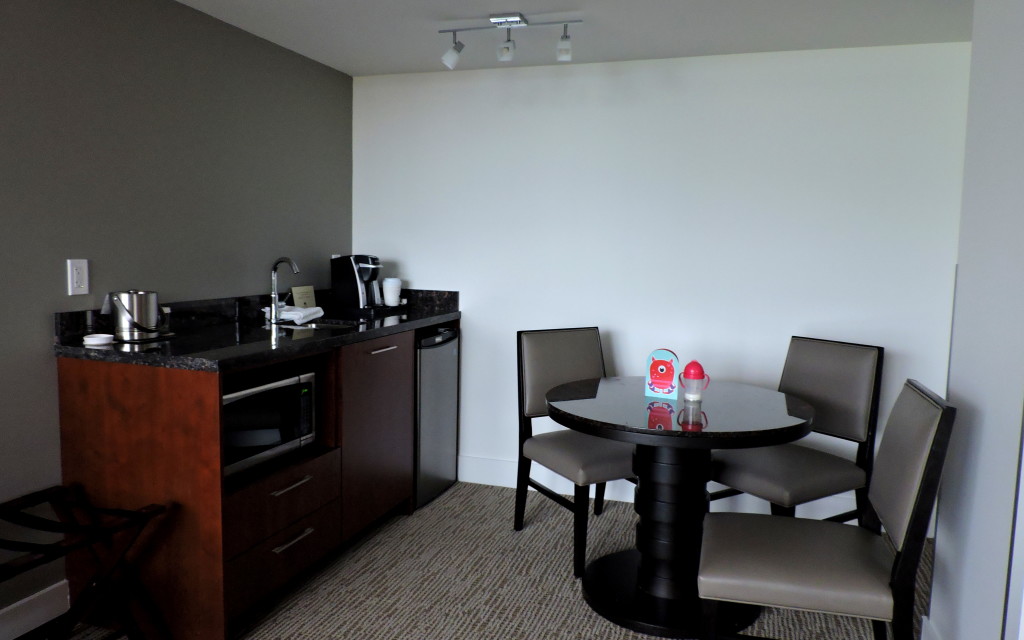 Living Room: Queen-sized pull out sofa bed (where our 4-year old slept), comfortable chair, coffee table, television, desk and storage, beautiful view from the balcony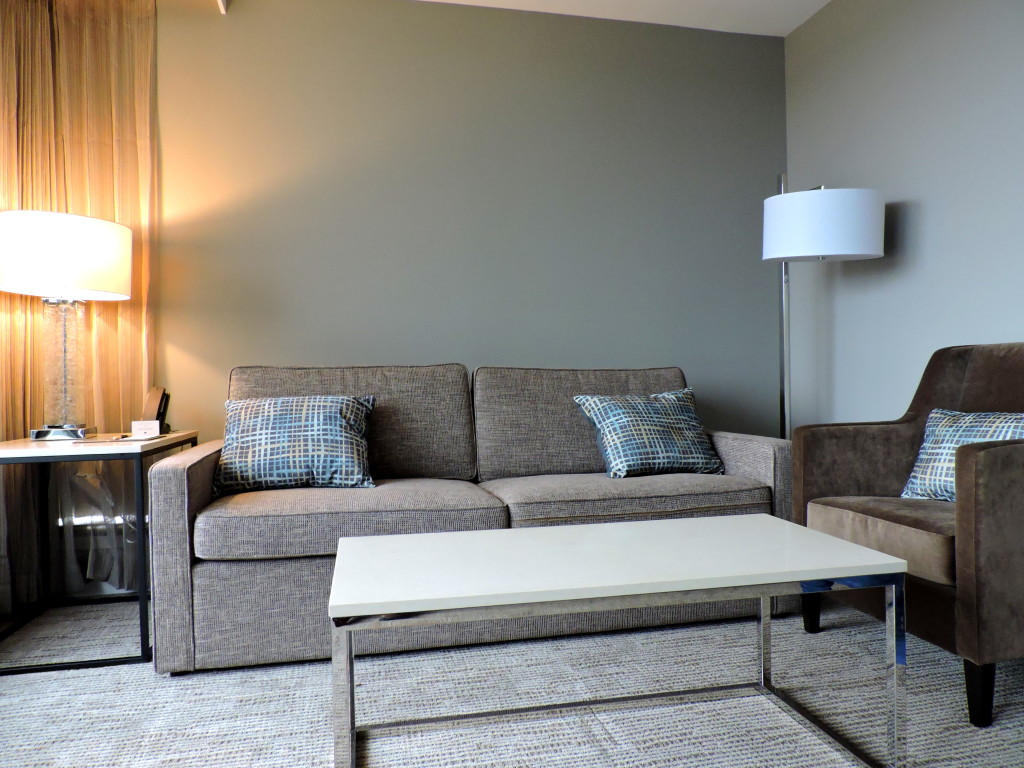 DoubleTree Victoria, BC offers several different suite options (1-bedroom, 2-bedroom, boardroom, penthouse, etc) in addition to regular guest rooms (all one room) and handicap accessible rooms.
Cookies & Breakfast
It's the DoubleTree way to be greeted with a chocolate chip cookie (for each and every guest) when you arrive, and the DoubleTree Victoria, BC is no different! We absolutely love this tradition, and as you might imagine so does our 4-year old.  This small token goes a long way in my book.  Traveling with kids can be stressful and tiring, and after all the work it takes to get somewhere, all the luggage, all the planning, those bites of tasty goodness are so appreciated! Tip: Even though cookies are handed out at check-in, if you ask, DoubleTree staff will usually provide you with more if you are staying more than 1 night!
A continental breakfast is included for DoubleTree guests who make reservations through their "bed and breakfast" option as well as those guests who have reached the "Gold Status" of the Hilton Hhonors Loyalty program. We had the breakfast buffet (located just off the main lobby) each morning during our 3-night stay, and found it to be superior compared to the "typical" hotel breakfasts served.  Usual items (just extra delicious & served on real plates with silverware & glasses) such as waffles, eggs, bacon, oatmeal, cereals, fresh fruit, juices and pastries are available, and brewed coffee was brought right to us by request.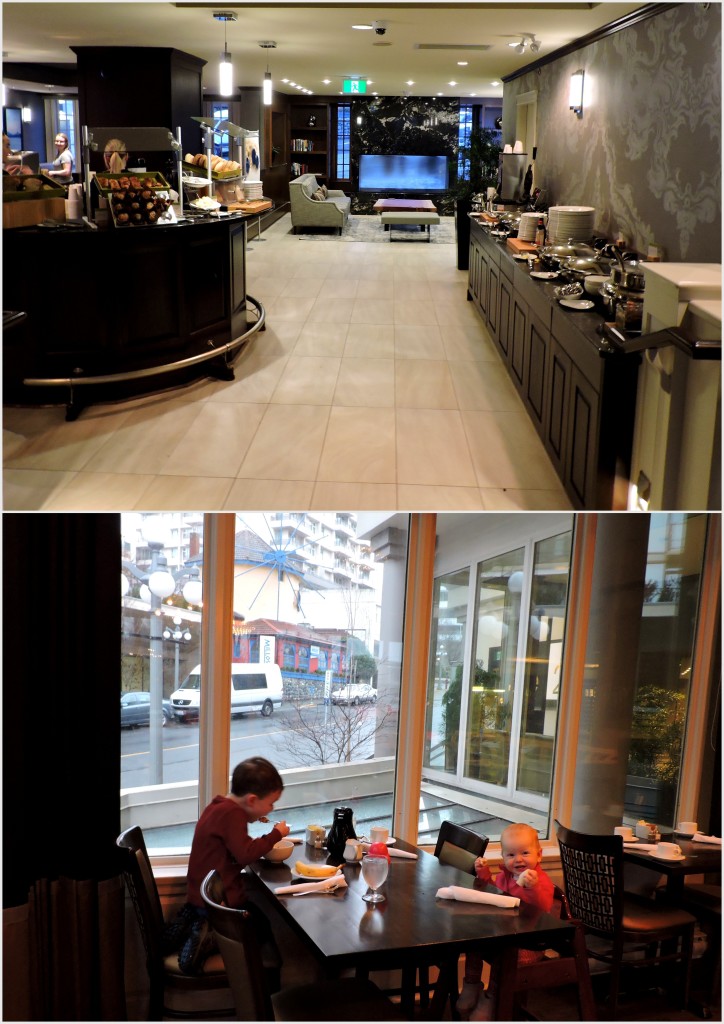 Amenities
1 & 2 bedroom suites available in addition to their regular guest rooms. Accessible rooms also available.
Fitness room: Cardio machines and free weights are available; open 24 hours a day
Business Center: Computers, printer, copy machine, fax machine & meeting rooms available
Free High speed internet: Wifi was easy to access, and worked well in all areas of the hotel.
3 Restaurants (Table 21, Bart's Pub & Doubles Lounge) are on site, plus the Breakfast Buffet
Info to Know
DoubleTree Victoria, BC is located in downtown Victoria just steps away from the inner harbor and parliament building :

777 Douglas Street,

Victoria,

British Columbia,

V8W 2B5,

Canada

1-250-940-3100

Opened in 2015 : 181 suites on 19 floors, rates starting at C$179 with discounts available for Hilton Honors members (March 2016)
Check in 4pm, check out 11pm
Small Pets Allowed
Cribs available by request
Mini-Refrigerator and microwave in each room.
Non-smoking
Valet parking Only ($C20 per day)
What's to be desired?
We know it's not always possible with every hotel, but our little fish would love and appreciate the addition of a pool.  Such a great way for kids (and parents) to wind down after a big day of sight seeing and travel activity.
While there was some artwork on the walls of our 1-bedroom family suite, some of the walls seemed sparse and needing of some adornment.  We understand though that the hotel is still new and may still be working on furthering their decor.
Have you stayed at a DoubleTree property? We'd love to hear about your experience. Been to Victoria, BC? We'd love to know your favorite sights and restaurants! Let's chat in the comments.
Wondering what we were up to in Victoria? Our 7-day Vancouver Island itinerary including Victoria & Tofino. 
Come join the conversation! You can keep up to date with each and every post by subscribing to the blog via email. We'd also love to have you join us on all of our adventures by "liking" our facebook page and following us on twitter! If you enjoyed this post, please "like it", "tweet it" or "pin it"! 
Special thanks to the DoubleTree Victoria, BC for providing us with a small discount on our 3-night stay in exchange for our honest review on the blog.  As usual, all opinions expressed here are our own! Questions? Don't hesitate to email us at wildtalesof@gmail.com