In typical winter in the Pacific Northwest fashion, our morning to explore Victoria BC's Inner Harbor and Parliament area brought us grey skies, wind, and rain.   Though as you can imagine, if you've read our blog at all, we got outside and faced the nasty inclement weather anyway.  We only had a few days in town, and a full itinerary of things we wanted to see!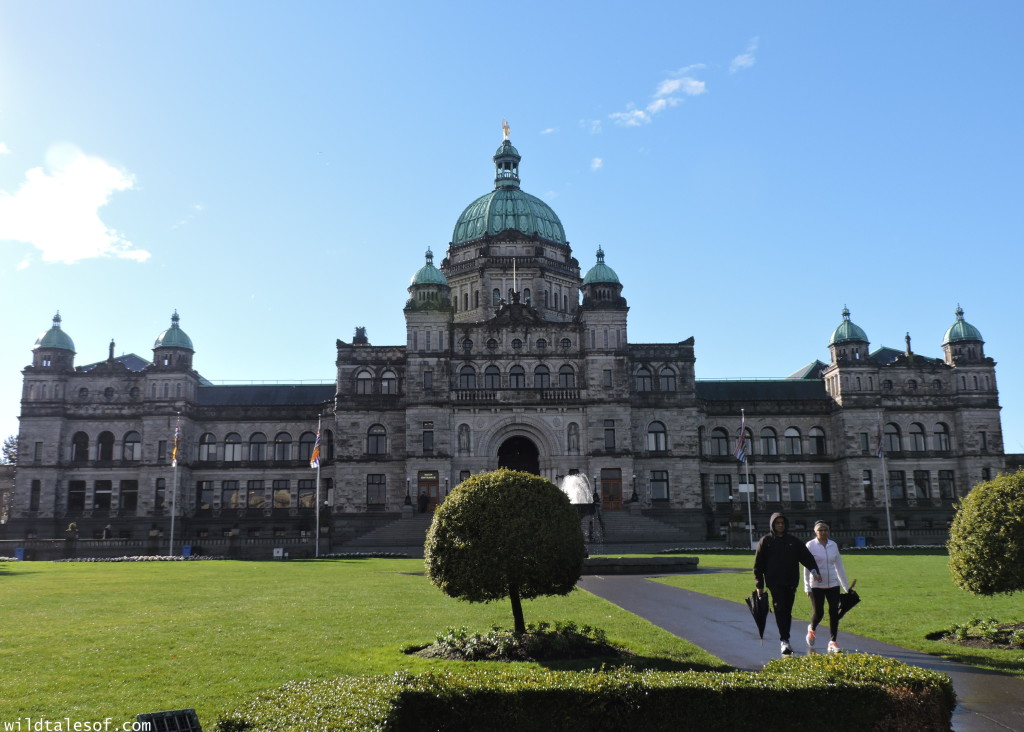 Mother nature had a surprise for us though! After drenching ourselves watching seaplanes & boats, and touring the grounds around the legislative buildings, we slipped into the parliament.  We gave ourselves a quick orientation, learned about some history, and marveled at the architectural details within the building, not taking too terribly long though because a 4-year old and 1-year old can only take so much. 
To our delight, when we walked back outside, it was like we'd walked into a brand-new day! Our spirits were completely lifted; we felt energized continuing on to see more sights. It's amazing the effect the weather can have on our outlook! Yes, we can get past a little bit of rain, but boy do we appreciate the sun when it makes an appearance.
You can see the before and after here in our quick video tour of the Inner Harbor and Parliament, but (apologizes) make sure to turn the volume way down or completely off.  For some reason, the sound quality of the music did not transfer well.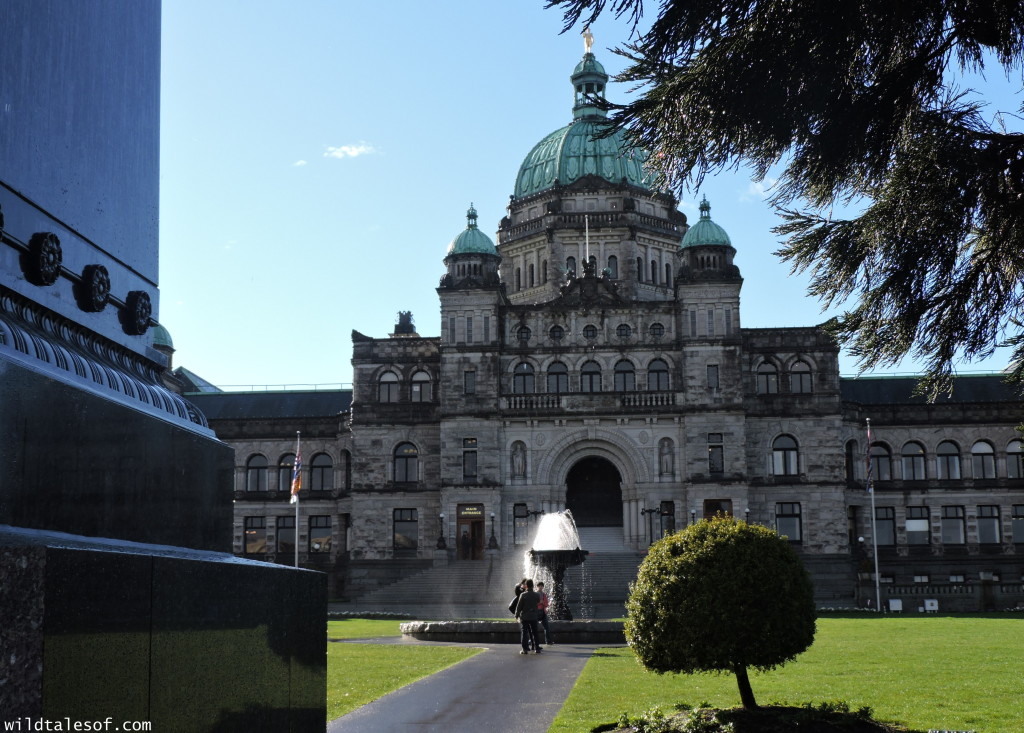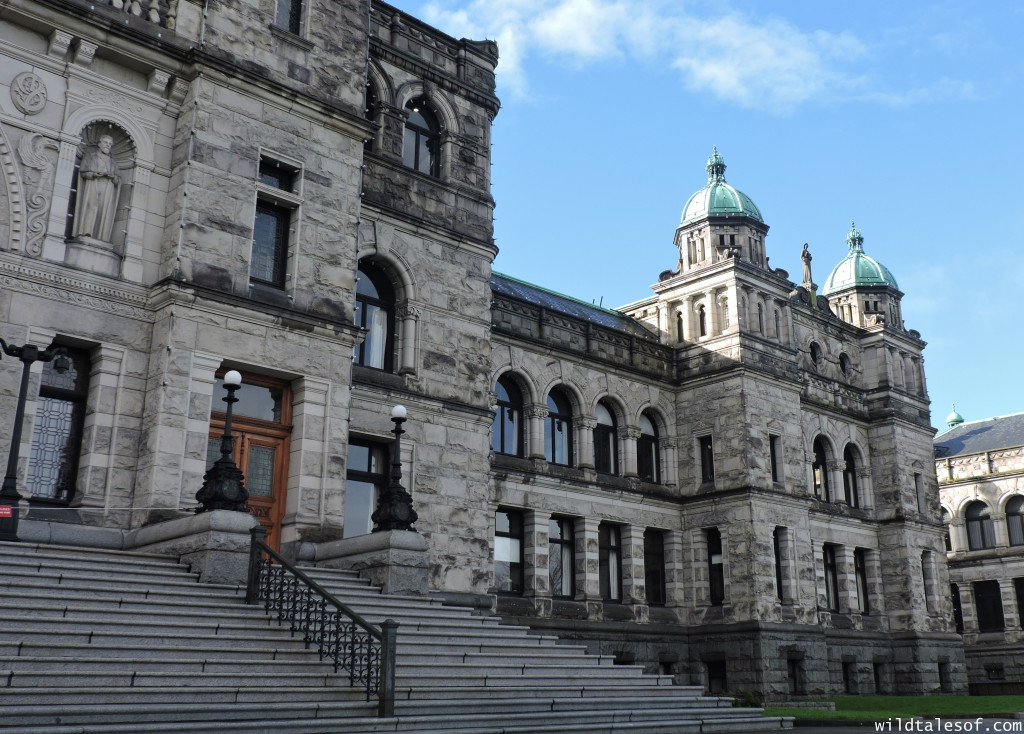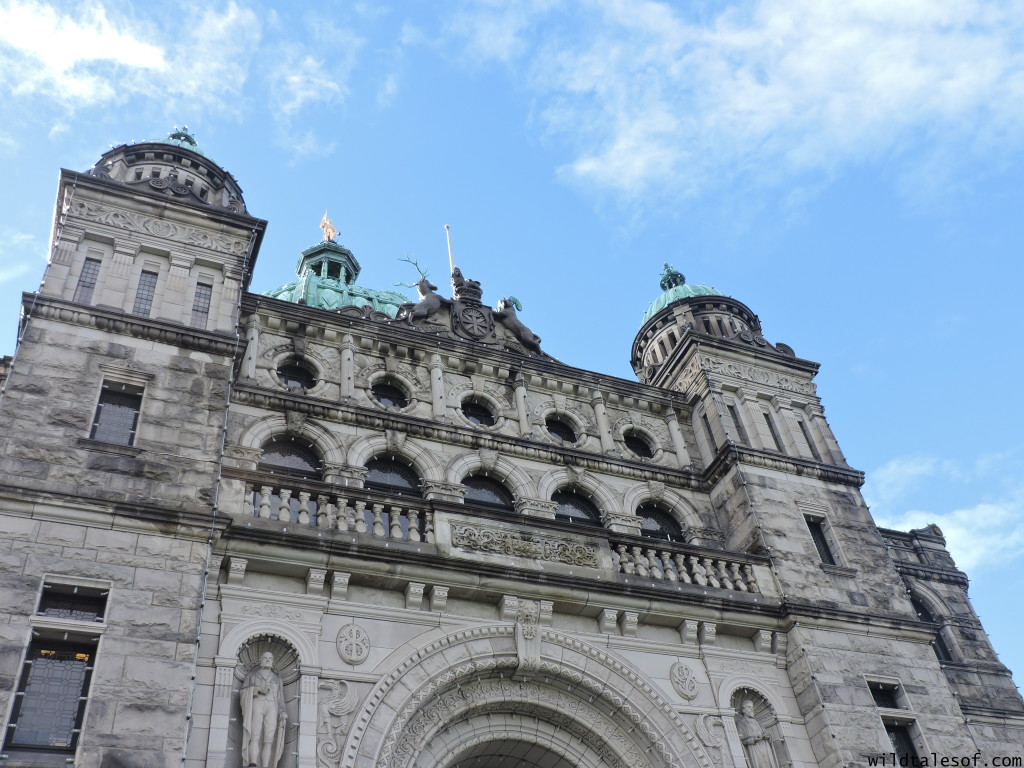 Visiting Victoria BC's Inner Harbor and Parliament with Kids
We don't have a lot to pass along in terms of advice because the area and it's beauty, history, and significance really speaks for itself! However, we did learn and notice a few things during our visit that may help as you plan:
Wander and Explore Outside.
Yes, even in the rain and wind we enjoyed ourselves, and got to see so much of what makes Victoria special and unique.  Wander around the docks to notice the different types of boats, ships, and vessels.  Look out on the water and see if you notice any seaplanes taking off or landing! Take note of all the different statues and fountains.  I particularly enjoyed the display of Canadian providence flags, and Bergen loved looking for totem poles.
Quiet inside the Parliament Building!
You really do have to be quiet, and explain to your kids the importance of whispering (or not talking at all) while inside the parliament building, especially when the legislature is in assembly.  We thought we were following the rules just fine, and ended up being spoken to by one of the guards.  It was actually my husband Slaed and I who were the ones being too loud as we called each other over to see some stunning architectural aspect. Whoops!
Grab a self-directed guide book.
It might seem like just one more thing to deal with, but picking up one of the self-directed guide books really added to the interest and engagement of our experience. We learned about the significance of different architectural aspects and details within the parliament building, and we could actually talk about the importance with each other.  To us, if we are going to take the time to visit a place, we might as well learn something along the way!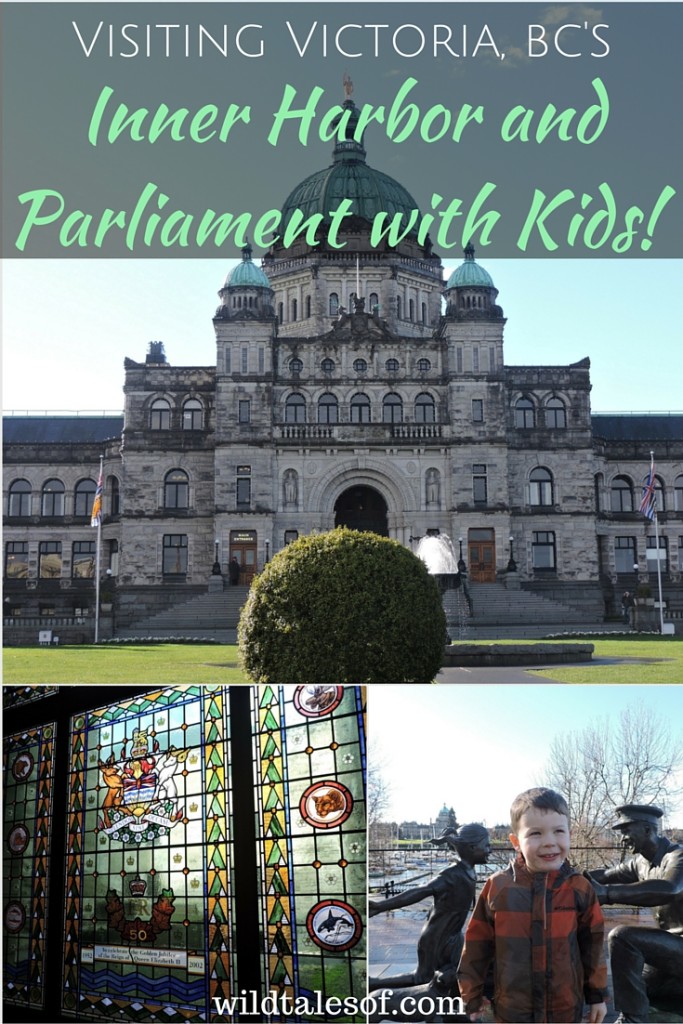 Info to Know:
Location of Victoria, BC's Parliament Building:

501 Belleville Street
Victoria, BC V8V 1X4
Hours: Monday-Friday 8:30 am-5:00pm

Check the Legislative website for tour information.
Have you visited Victoria, BC? We'd love to hear your about your favorite experiences! Curious about more of our trip to Vancouver Island? Check out the following posts:
Come join the conversation! You can keep up to date with each and every post by subscribing to the blog via email. We'd also love to have you join us on all of our adventures by "liking" our facebook page and following us on twitter! If you enjoyed this post, please "like it", "tweet it" or "pin it"!