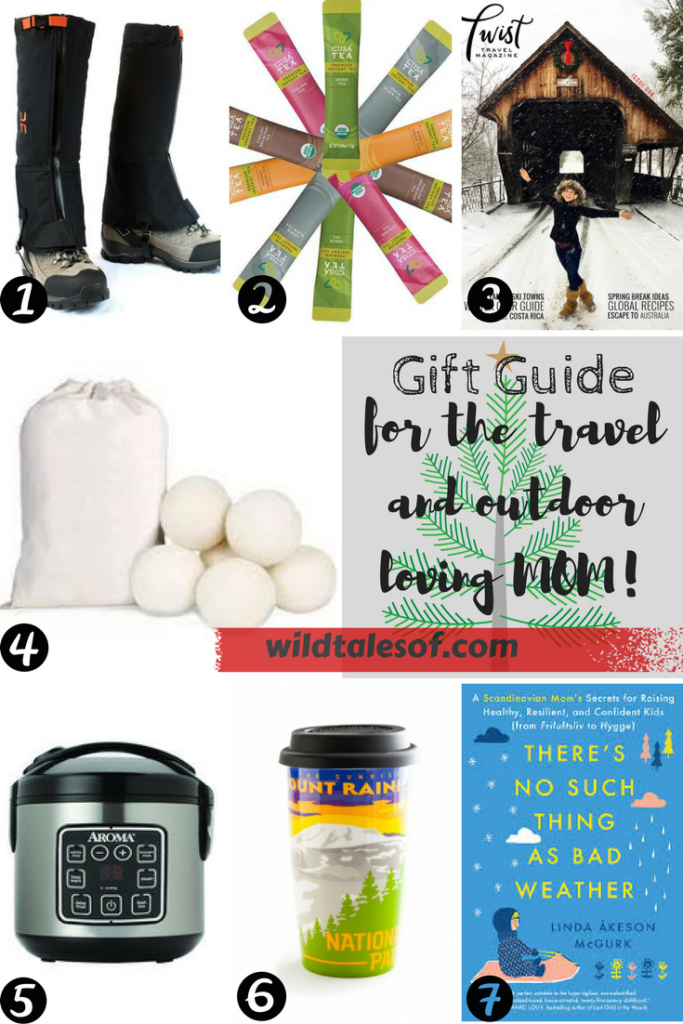 Gift Guide for the Travel & Outdoor-Loving Mom
Being an travel and outdoor-loving mom, I have some insight into exactly what might be appreciated by this special group of women.  I hope this 2017 edition of our gift guide gives you some ideas to gather gifts that inspire, equip, and simplify the life of the adventurous women in your life!
1. These lightweight gaitors from Hillsound will protect adventurous ankles, feet, and boots from all the mud and muck of the trail–especially necessary here in the Pacific Northwest.  I love the waterproof zippers that allow for easy on and off.
2. We reviewed Cusa Tea earlier this fall.  I credit Cusa to helping me kick my coffee habit (going strong for 2.5 months!).  This instant tea makes such a great gift–beautiful packaging, and delicious, quality tea in seconds.
3. Available in digital and print, Twist Travel Magazine  ("a new twist on family travel") is designed to help women live a travel-inspired life.  Not only is Twist gorgeous (I could browse those photos all day!), but it's chock full of inspiring, helpful, and practical information for the adventurous woman.
4. These dryer balls might not seem like a flashy holiday gift, but they've made such a difference in our laundry routine that I had to include them! Made of 100% wool, they are a sustainable (and chemical free) alternative to using dryer sheets.
5. Our rice cooker gets used at least once a week, and we are so grateful for it's gift of TIME.  We can program our rice to be complete by dinner time, and can then go about our daily routine of outdoor time in the late afternoon. We've gotten more creative with it over the years, adding vegetables to steam along with the rice, and also experimenting with other grains such as quinoa.  A crock-pot also helps us in a similar way, but I figure most families already have one.
6. Rosanna Inc. has several National Park commuter mugs featuring Mount Rainier, Yellowstone, Yosemite, and more.  Sipping coffee or tea while dreaming about your favorite National Park…I like the sound of that!  She also designs matching patches!
7. "Children and nature make a really good fit." I love this quote from Linda Åkeson McGurk, also known as "Rain or Shine Mamma", and author of There's No Such Thing as Bad Weather (Oct 2017).  I enjoyed learning more about Swedish culture, and also received encouragement from her for weaving outdoor time into everyday life.  Great mix of story, and practical tips and insights.
Other inspiring books I read this year: Return to Glow (travel memoir), Dare to Do (adventure travel), and Mud Flats and Fish Camps (family adventure-travel memoir).
Any more ideas to add to our list? Please share your thoughts by leaving a comment!
Please note: Some affiliate links are used throughout the post.  If you purchase through our links, we receive a small commission.  Thanks for taking a look, and support our website! 
Come join the conversation! You can keep up to date with each and every post by subscribing to the blog via email. We'd also love to have you join us on all of our adventures by "liking" our facebook page and following us on twitter! If you enjoyed this post, please "like it", "tweet it" or "pin it"!