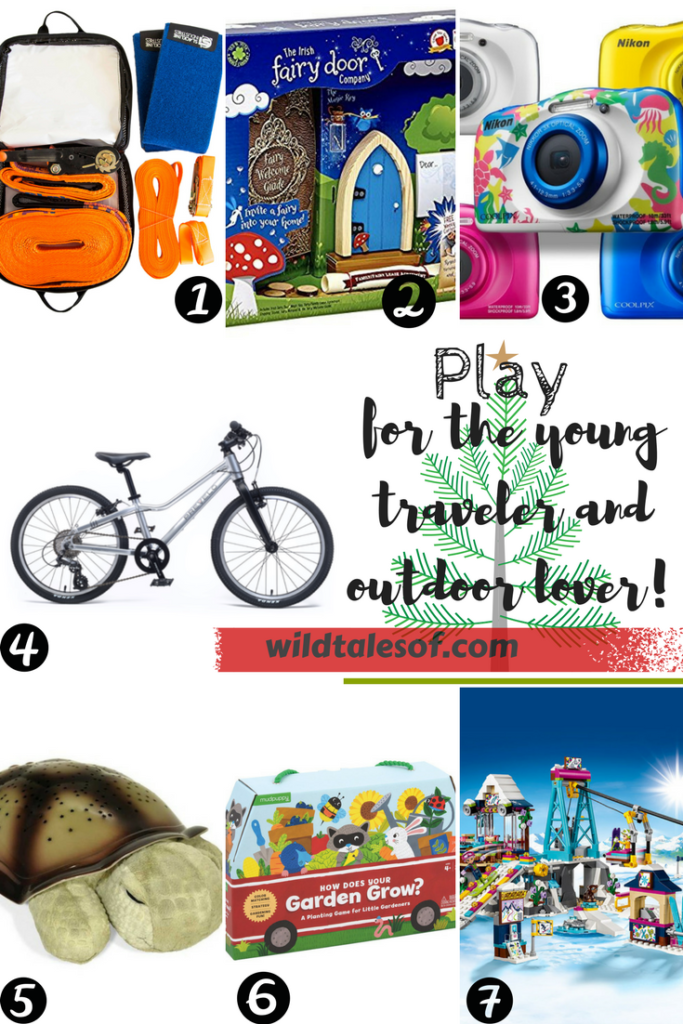 Play for the Young Traveler and Outdoor Adventurer
We are picky with our toy and play selection around here!   While the toy possibilities are endless, we strive to find items that are engaging, high quality, and stretch the imagination.  We hope this short and sweet gift guide helps you brainstorm some ideas for the young traveler and adventurer in your life.
1. We reviewed the Playline Slackline for Kids (Slackline Industries) for Outdoor Families Magazine earlier this fall.  Great for beginner slackliners as it comes with a special overhead help line that aids kids with balance and proper positioning. Turns (almost) any outside area into an instant playground!
2. Talk about imagination! The little fairy and forest lovers in your life be delighted by this set. If you want fairies to come around, you've got to give them a fairy door and place to live!  These lacing cards from eeboo would also make a good gift for fairy lovers. Improves fine motor skills and keeps idle hands busy!
3. The Nikon COOLPIX W100 camera was Bergen's big Christmas gift last year.  He uses it regularly, and we've found it to be the perfect starter camera for kids.  Waterproof (33 feet), shockproof (5.9 foot drop), and freezeproof (down to 14 degrees F)!
4. Bikes make great Christmas gifts! Brands that we recommend include KaZam (balance bike), Woom (transition from balance to pedal), Prevelo (upgrade to a gear bike).
5. The Twilight Turtle projects a dreamy night sky (set on a timer) onto the ceiling.  Not only is it a great toy and companion, Bergen's lives on one of his book shelves, but it would also provides consistency for traveling kids.  Small enough to pack in a suitcase, the turtle can be used as a security item (like a lovie or blanket). Kids can see their starry sky in hotels and vacation rentals all over the world!
6. How does your garden grow? is an adorable and award-winning game (ages 4+) for the budding gardener in your life. I love the game's simplicity, and link to the outdoors!
7. How fun would it be to put together your own Lego snow resort? This set includes a ski lift, mountain top restaurant, and tons of cool snow sport accessories.  If 585 pieces seems overwhelming, we also love the Lego City Van + Caravan, and the Lego Creator Lakeside Lodge.
Do you have any ideas to add to any of our list? Please share your thoughts by leaving a comment! You should also check out our Gift Guides from 2016, 2015, 2013& 2012, plus our last minute gift guide. 
Please note: Some affiliate links are used throughout the post.  If you purchase through our links, we receive a small commission.  Thanks for taking a look, and supporting our site! 
Come join the conversation! You can keep up to date with each and every post by subscribing to the blog via email. We'd also love to have you join us on all of our adventures by "liking" our facebook page and following us on twitter! If you enjoyed this post, please "like it", "tweet it" or "pin it"!