Season's Greetings! It's that time of year again.  As much as I love giving, I can get bogged down with all the possibilities.  In case you might be feeling the same way and want some ideas for things that kids will actually need, use, and play with, I have over 20 gift ideas for the young adventurer in your life!
Here you'll find gifts to help kids get outside (gear), gifts to inspire a life of travel and adventure (books), and gifts to light up your child's playful spirit (toys and games).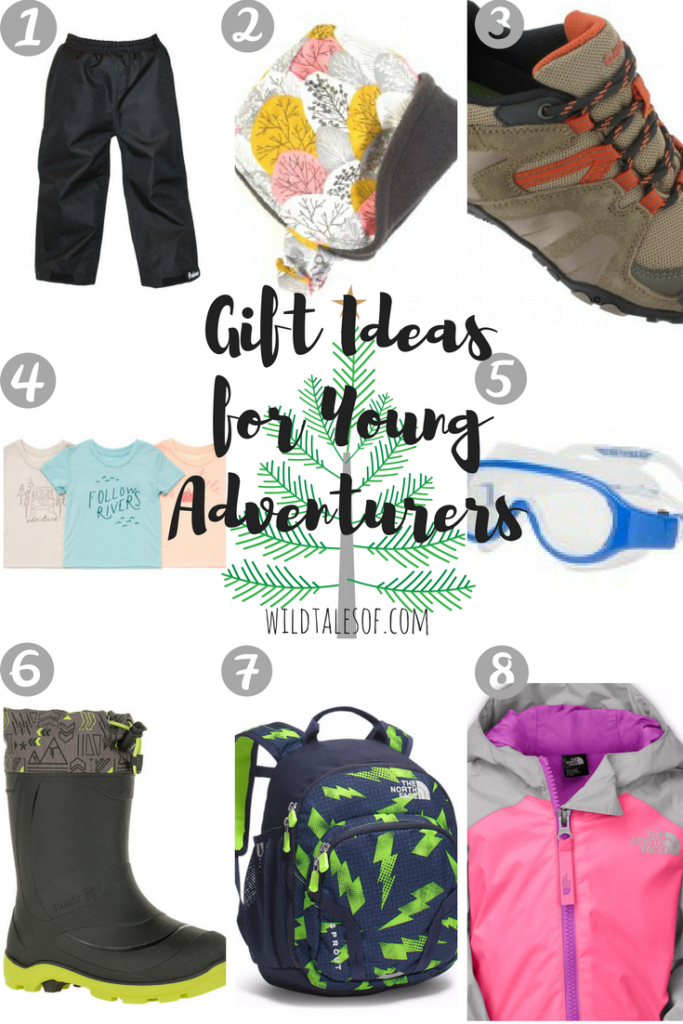 With Bergen in forest school for the 2nd year, we've tested a lot of different rain pants! These from Oakiwear are my favorite because of the neoprene cuffs at the ankle.
Last winter, Georgia was constantly tossing her hats off, and thus we were constantly backtracking to find them! Then I came across Urban Baby Bonnets in my instagram feed.  Not only are they adorable, but they feature a snap closure, and therefore, Georgia could not manage to tear them off her little head!  There are so many beautiful fabric choices available, and I love supporting small handmade businesses.
Active outdoorsy kids (or those aspiring to be!) need a good pair of hiking boots or shoes.  The folks at Hi-Tec offer quality footwear at reasonable prices. You can find my review of the women's hiking boots from Hi-Tec here.  And if you are looking for an everyday sneaker for active kids, check out the Troy sneakers from M.A.P. Footwear.
4. Chasing Windmills Merino Wool Tees and Hoodies
If I could dress the kids in their Chasing Windmills tees and hoodies everyday, I would! I love the graphics on the t-shirts, and the hoodie is a nice warm layer that's not too bulky, plus they have thumb holes!
5. Babiators Submariner Googles
As a special surprise, we got Bergen these goggles right before our recent trip to Maui.  They are comfortable, don't leak (when worn properly), and of course, help Bergen see well under water!
6. Rain Boots
Good rain and snow boots are essential for cold and/or rainy climates.  We purchased Kamik boots for Bergen last year and they are still going strong.  I love that the liners can be removed and washed.  Most importantly though, they keep Bergen's feet dry and warm! We are also fans of the MyMayu Explorer boots, and Oakiwear's Neoprene Muck Boots.
7. Adventure Backpack
Bergen received this North Face backpack for his birthday this year.  It goes everywhere–school, trips, and even for errands around town.  The Tarn 12 Pack from REI and the Schmusebar from Deuter are also great options.
8. Rain Coat
We are very pleased with the rain coats from the North Face.  Bergen has a coat similar to this one (includes a removable insulated inner), and Georgia has this toddler version that we often pair with a fleece. The rain suit that we received from Oakiwear when Bergen was just 2 years old is still going strong.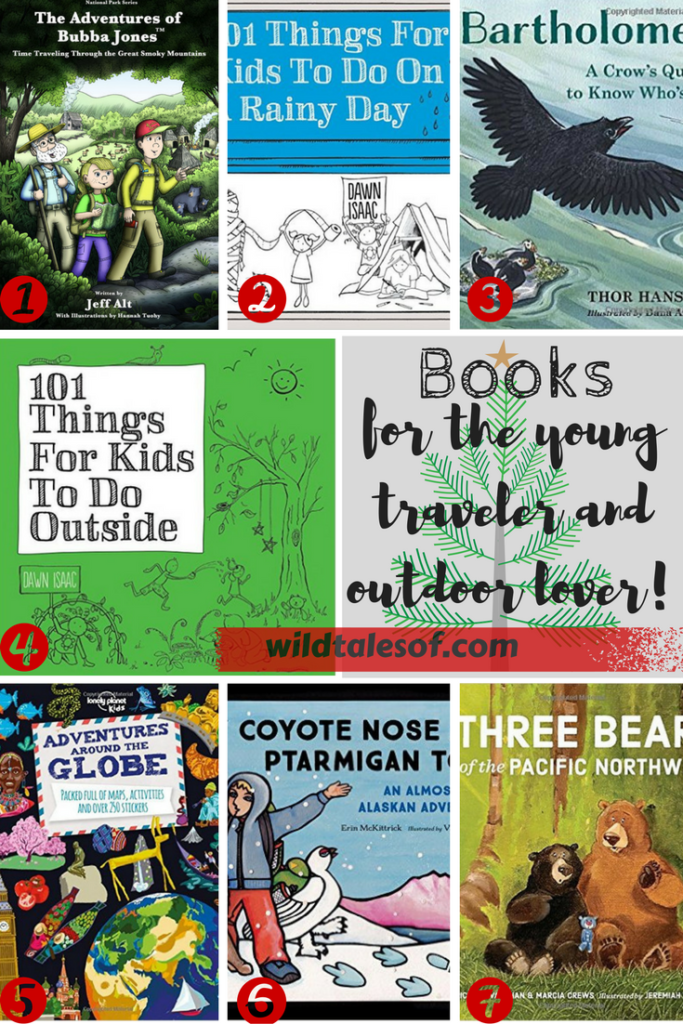 1. The Adventures of Bubba Jones
Magic, adventure, travel, and the great outdoors come together in the new Adventures of Bubba Jones series.  Bergen and I are currently reading Time Traveling Through the Great Smoky Mountains, and I'm really enjoying getting to know the park in a whole new way! The next book in the series by Jeff Alt takes place in Shenandoah National Park.
2. 101 Things for Kids to do on a Rainy Day
As much as I'd like to be, we can't always be outside, so I love that this new book gives us ideas for ways to bring the outdoors in.  Bergen and I will be busy this winter with projects inspired by this book including making bath bombs and constructing toy parachutes! And as you might have guessed, all 101 of the activities are screen-free!
I have so much fun reading this rhyming story aloud! It's allowed us to get to know and appreciate the legendary bird that can often get a bad rap, the CROW! The illustrations are beautiful, and readers will get to know many of the classic Pacific Northwest animals.
4. 101 Things for Kids to do Outside
This book is full of so many wonderful ideas for exploring and playing outside.  I love that the activities are broken down into categories in the back (seasons, interests, etc). You can read more about the book in this post from last spring.
5. Adventures Around the Globe
Bergen loves this activity book geared towards kids 3 years and up.  He especially enjoys decorating the geographic scenes with stickers from each continent, and is learning so much about our world along the way.  A great pick for those times when kids have to wait–restaurants, car trips, plane rides, etc.
6. My Coyote Nose and Ptarmigan Toes: An Almost-True Alaskan Adventure
I fell in love with Erin McKittrick's writing after reading her family's adventure story of trekking across Alaska–Small Feet Big Land.  My Coyote Nose and Ptarmigan Toes is her first children's book, and it's a delightful read that's almost a kid's version of their journey!
7. The Three Bears of the Pacific Northwest (board book)
There is a longer version of the story, but I love the board book copy because of it's portability and travel "friendliness"! If your kids have ever lost a beloved item, they'll be captivated by this cute tale of a little (stuffed) blue bear who loses his owner.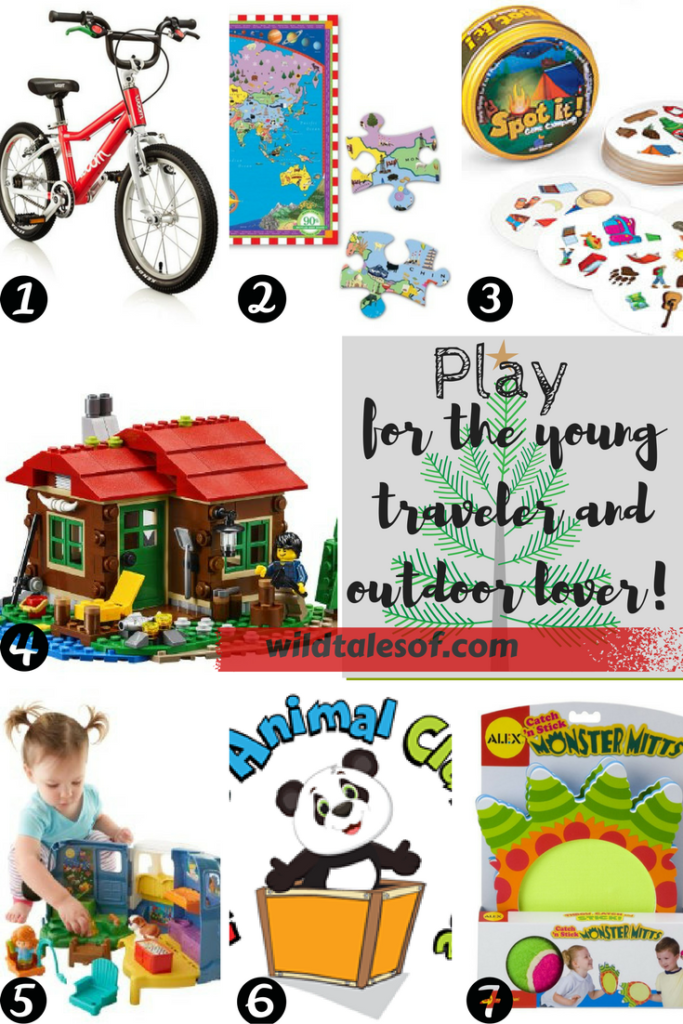 1. Woom Bike
If a bike is on your adventurer's wish list this year, make sure you purchase one of high quality! We are so impressed with Bergen's Woom 3–you can read all about it in our review here, and also learn more about his transition from balance bike to pedal bike here.
We have a whole collection of eeboo puzzles (they're the best!), but this world map puzzle is my favorite.  I love all the learning and wanderlusting that happens when we put it together.
Slaed received this game in his stocking last year, and we've had so much fun playing it on our camping trips.  Small, compact, and easy to pack.
4. Lego Creator Lakeside Lodge
Bergen started really getting into Legos this summer, and since he finds so much joy (and occupies himself so well), I've become more aware of all the amazing sets out there.  We are such fans of "cabin camping" and this lakeside set is so perfect. I actually bought it for my nephew's birthday recently!
Georgia is always drawn to the "Little People" toys at Bergen's preschool, so I thought we might gift her a set for her birthday or Christmas.  Imagine how excited I was to find a camping version–I can't wait to play!
When your child is signed up for Alex's Animal Clubhouse, they receive a box (in the mail, can be one time or monthly) focused on one particular animal.  Along with a plush toy, the box contains an activity booklet with facts and information, and various extras like pencils, magnets, stickers, and erasers.  Bergen LOVED opening his November box, and the soft stuffed panda is his new sleeping companion. Perfect gift for animal lovers!
We always keep gear in the bottom of our stroller.  The contents switches from time to time (soccer ball, basketball, chalk, etc), but the family favorite is our Velcro tennis game–something so satisfying about catching that ball!
Do you have any ideas to add to any of our categories? Please share your thoughts by leaving a comment! You should also check out our Gift Guides from 2015, 2013 & 2012, plus our last minute gift guide. 
Please note: Some affiliate links are used throughout the post.  If you purchase through our links, we receive a small commission.  Thanks for taking a look! 
Come join the conversation! You can keep up to date with each and every post by subscribing to the blog via email. We'd also love to have you join us on all of our adventures by "liking" our facebook page and following us on twitter! If you enjoyed this post, please "like it", "tweet it" or "pin it"!