When we returned from our week stay on St. John in the U.S. Virgin Islands, aside from falling in love with this beautiful island, we learned one valuable lesson for beach travel.  That lesson? Don't over pack!
St. John, along with the rest of the Caribbean is laid back.  And especially since we were staying at house with a washer and dryer, there was no need to pack outfits for everyday.  When you have amazing (and world renowned) beaches to visit every day, the basics are all that's necessary.
After traveling to Maui as a family of 4, we shared our beach vacation packing list for families.  That packing list will get you started, but the Caribbean as we learned is a whole different animal.  That being said, we wanted to highlight some essentials.  We found the items on the following list to be extremely helpful in keeping us comfortable and protected from the elements (mostly sun, bugs, & humidity) while on the island.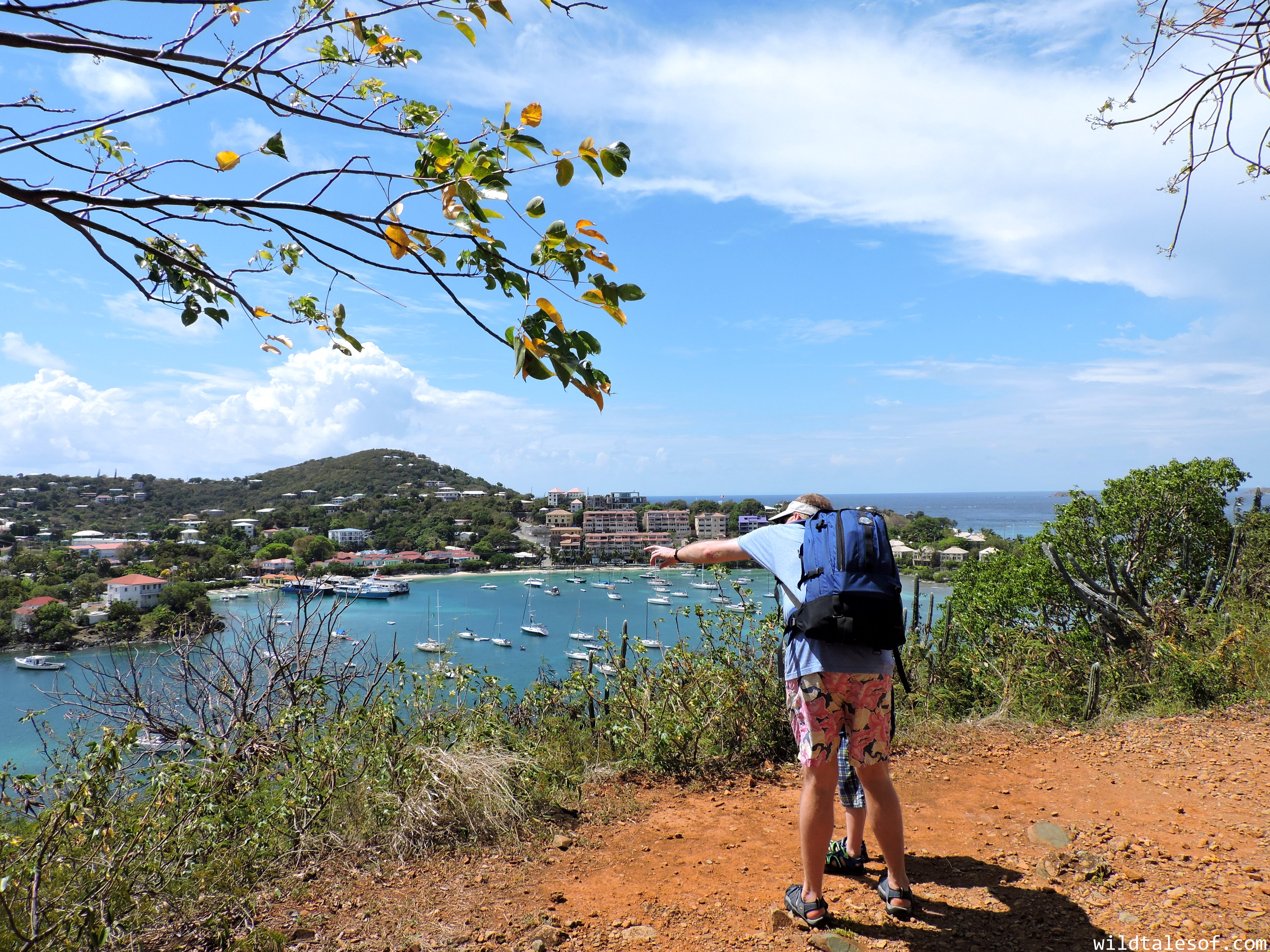 Caribbean Vacation Packing Tips for Families
Sun Protection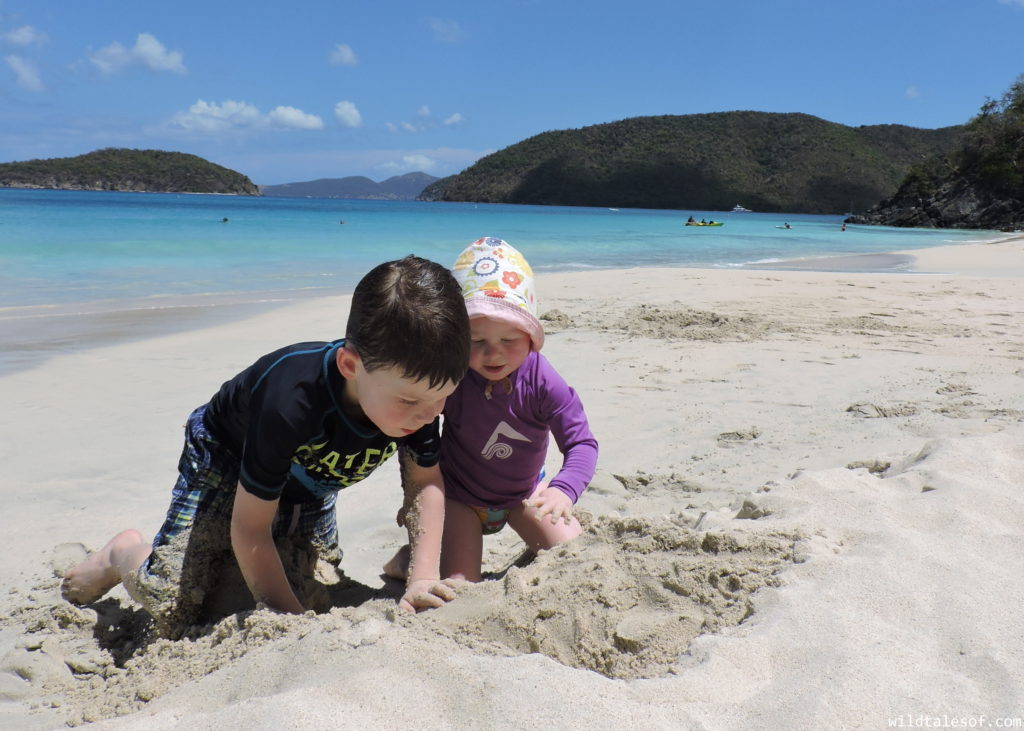 The sun has a way of making and breaking a vacation.  Lack of sun, and you're upset with the depressing gray skies. Too much of it, and you are miserable with painful burns and even heat exhaustion.  Here's how we protected ourselves from the sun while traveling on St. John: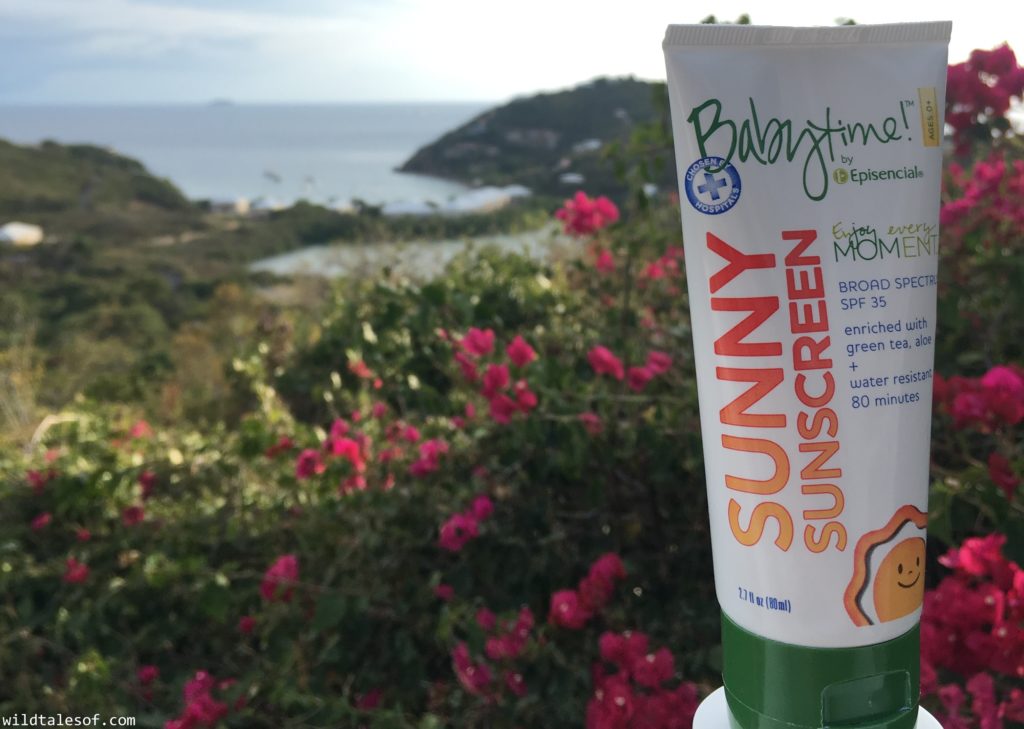 Bug Protection
While the mosquitoes on St. John were certainly not as bad as we anticipated, they are still a huge issue! The worst times of day are dawn and dusk, so it was important for us to either avoid them or heavily protect ourselves from the biting pests at that time.
Bug Spray:  We brought a several options!

Avon Skin so Soft Bug Guard

-Portable and easy to use wipes.  We found them to be effective, and they do not contain deet.  It was also nice to not have to spray, since you risk getting the repellent on places you don't want (hands, eyes, mouth, etc.)
Repel Lemon Eucalyptus-Also a deet free product.  We were less worried about using this repellent on the kids, and also found it to be effective.  We especially liked using it when we hiked.
Ben's Tick and Insect Repellent Wilderness Formula-This repellent gets extremely high ratings in terms of keeping the mosquitoes away.  It worked for us, though we used it sparingly, and only sprayed it on when it was prime mosquito time, such as when we were eating dinner outside or when we visited the beach at sunset. Contains 30% deet.

Bug Shirts:  Slaed and I purchased long-sleeved Bugsaway shirts from Ex Officio, and wore them when we hiked the Reef Bay Trail on St. John.  Since it was a guided forest hike and we knew it would be slow (large group) and there would be a lot of stopping (viewing ruins, learning about flora, etc.) we wanted to be super protected.  The shirts worked very well, and neither of us were bothered by the long sleeves.  It was more of a relief knowing we had a defensive barrier between us and the mosquitoes.
Being "Bug Wise":  Aside from protective products and clothing, as I mentioned above, it's just important to know when mosquitoes are most active (usually dawn and dusk).  Research the specific area you are headed to, and also talk to locals about best practices for their locale.  Always be prepared!  Another tip: Ocean breezes tend to keep mosquitoes at bay, so the closer you are to the shore, the better!  But that doesn't work the same for calm water!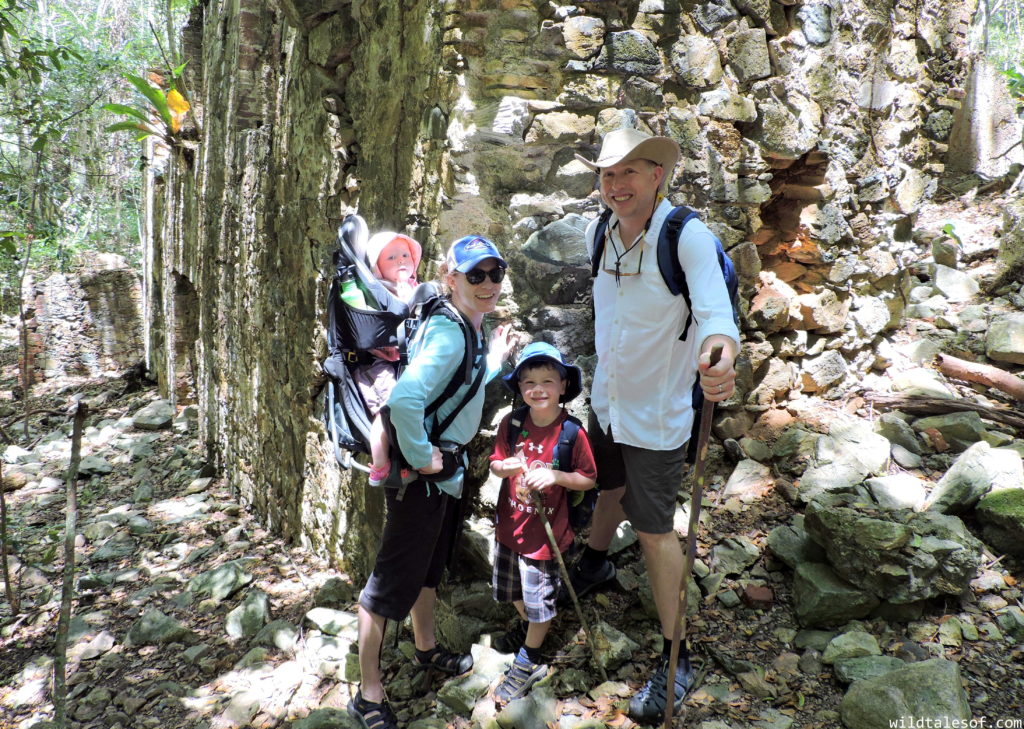 Foot Protection
I can't vouch for other Caribbean islands, but we did a ton of walking and hiking while on St. John (and Puerto Rico), so we recommend bringing more than just flip flops, and casual sandals.
Supportive Sandals

: While we all opted against full on hiking shoes, even though we did get into some serious hikes, we did bring supportive sandals.  Here are our sandals of choice!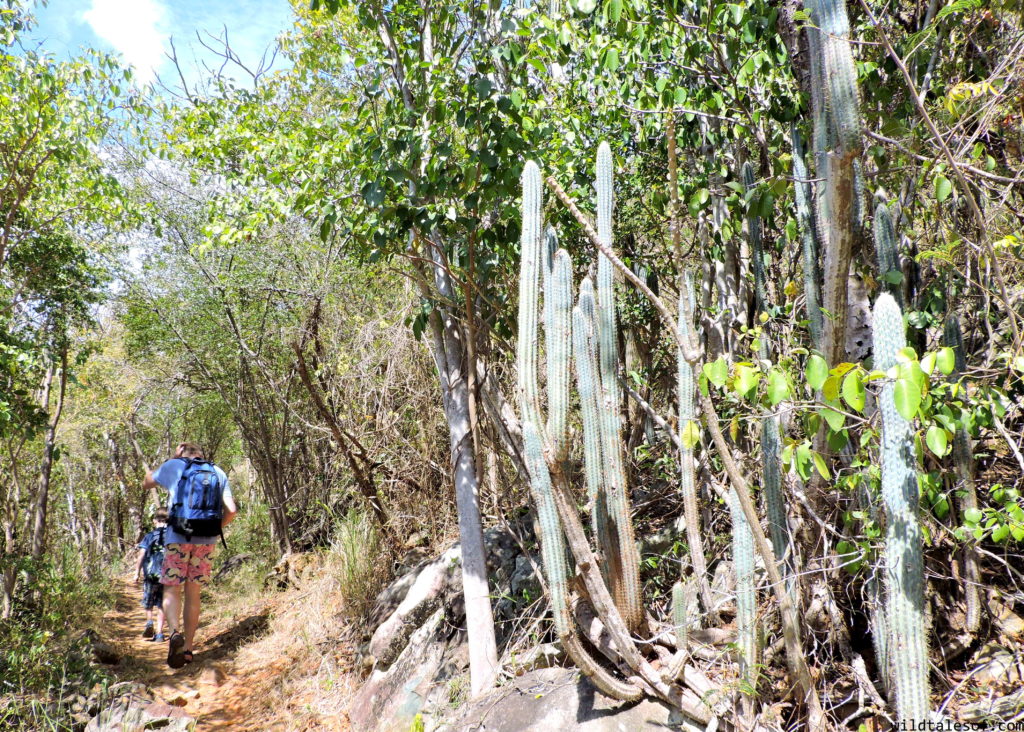 Bonus!
You know that gross sticky feeling that you get after spending time outside in the heat and humidity? You also might experience it after a hard workout?  While on St. John, I tested out Purequosa's Coastal Body Spray.  It can be used in place of a shower when you just want a little refresh, and I found it great for the transition from beach to our next activity.  The spray is made with organic ingredients, and thanks to it's sanitizing properties, can even be used on workout equipment, shoes & clothes. It's also really good for your skin as it contains yucca, aloe vera, and eucalyptus. I was happy to have the spray as an addition to my toiletries, and appreciated that it didn't contain any stinky perfume smell!
Have you traveled to the Caribbean? We'd love to hear about your experience, and what you might add to our essentials list!
 Come join the conversation! You can keep up to date with each and every post by subscribing to the blog via email. We'd also love to have you join us on all of our adventures by "liking" our facebook page and following us on twitter! If you enjoyed this post, please "like it", "tweet it" or "pin it"!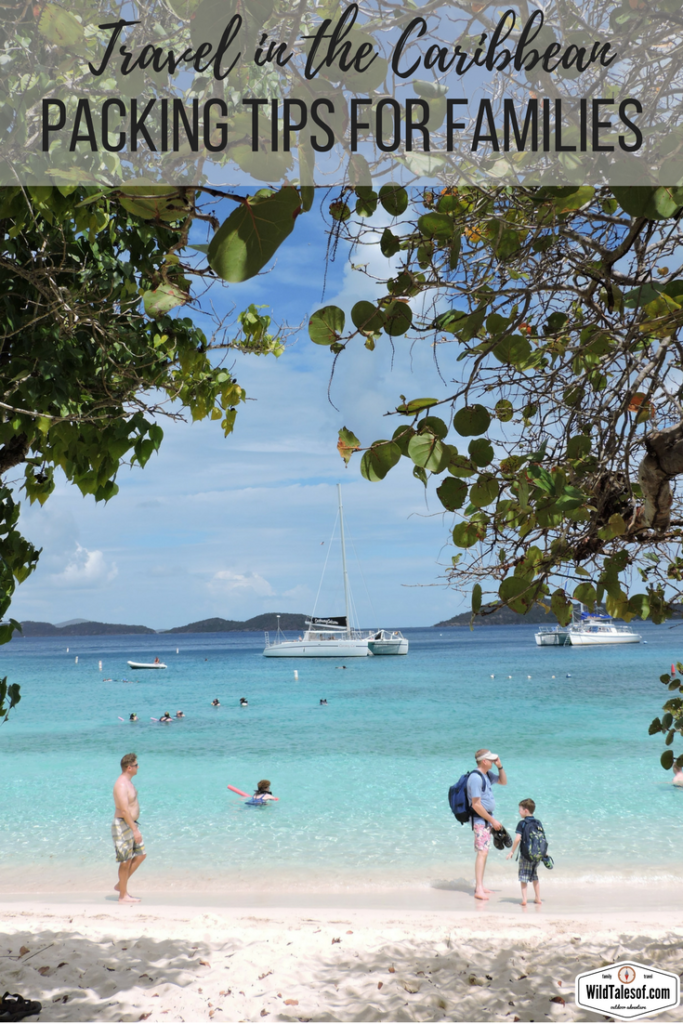 This post contains affiliate links.  Any purchases made through these unique links will provide us with a small commission, which will go toward keeping the blog running (at no extra cost to you).  Thank you for your consideration!